This is a sponsored post written by me on behalf of Dollar General. All opinions are 100% mine.
Prepare for the holidays with this delicious recipe for Red Velvet Cookies that you can make two different ways!
As the holidays roll around, one thing that always comes to mind, and that is hosting. Hosting can be stressful, so I'm always looking for easy solutions and recipes. One thing that is always needed at holiday event are cookies. We have our traditional cookie recipes for Thanksgiving and Christmas, but I wanted to try out a new recipe this year and so was born these Red Velvet Cookies.
Red Velvet is a favorite of mine. It wasn't until a few years ago that I actually tried red velvet cake and I immediately wondered how I'd gone so long with out. I've made Red Velvet Cupcakes and always steer towards red velvet at weddings and parties. But Red Velvet Cookies were something I'd never had or made. I decided that was something that needed to change. Because making homemade red velvet isn't exactly an easy endeavor I decided to try out making these cookies from cake mix. I've only tried cookies from cake mix once before, and they weren't the best. However, when I made these Red Velvet Cookies my mind was completely changed, as they were delicious!
[clickToTweet tweet="Worried about trying #cookies from a cake mix? These Red Velvet Cookies will convince you to! " quote="Worried about trying #cookies from a cake mix? These Red Velvet Cookies will convince you to! " theme="style1″]
Once I had my cookie idea then I had to start thinking about good options for hosting this holiday season. I love shopping at Dollar General for my hosting supplies. They have everything from prep to clean up for when you host your next get together and I love the savings! While I was in Dollar General I picked up this adorable Christmas tree platter, it's perfect to serve cookies on for a Christmas party. I also grabbed some cute disposable Christmas plates, which make for a beautiful look and makes clean up a breeze!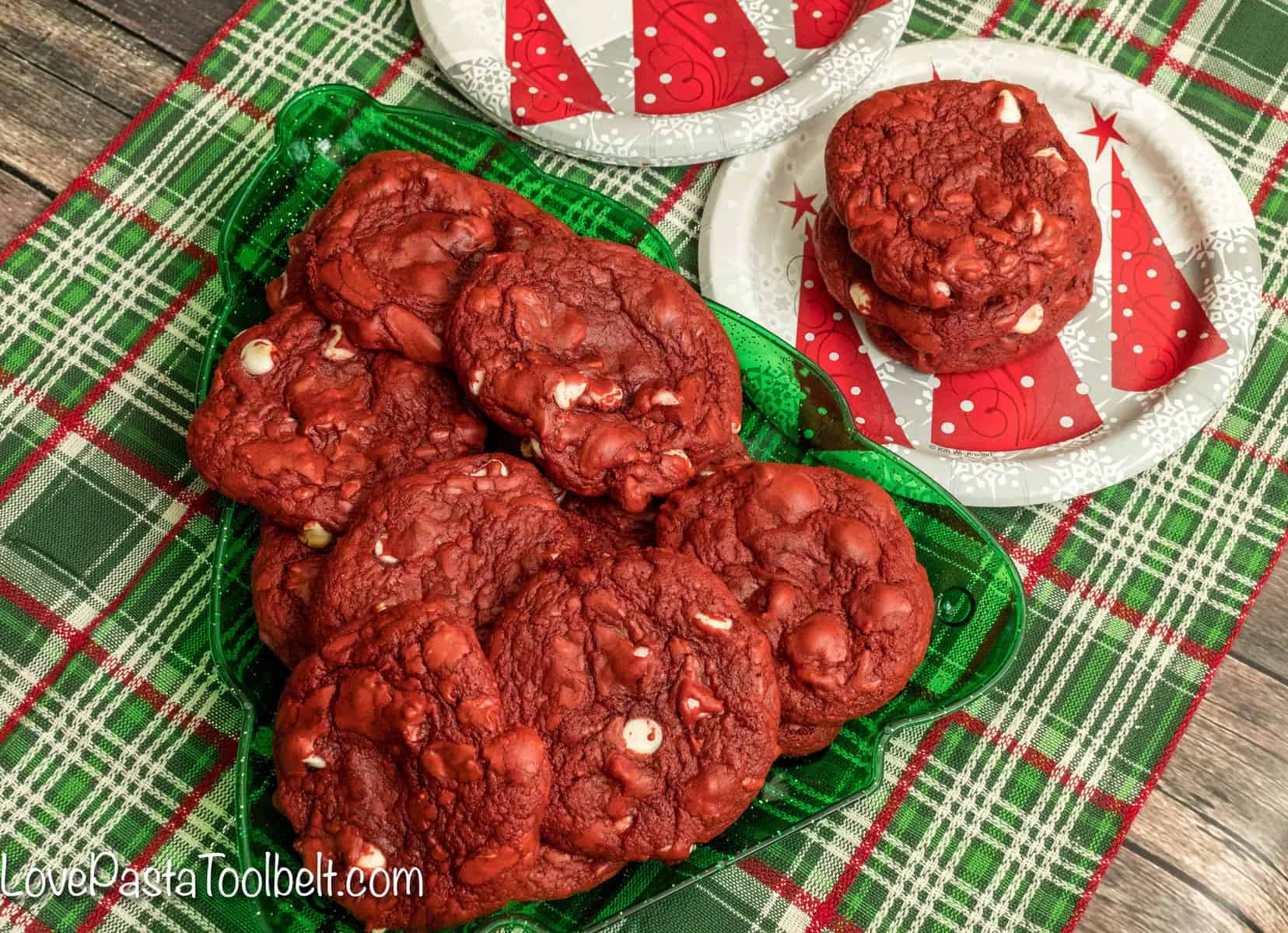 Now to talk about how to make these scrumptious cookies for your next party!
Ingredients:
-1 box Red Velvet Cake Mix
-3 eggs (or however many your cake mix calls for)
-1/3 cup vegetable oil
-2 cups chocolate chips or white chocolate chips
Directions:
In a large bowl mix together the cake mix, eggs and oil. Mix until smooth.
Next add the chocolate chips or white chocolate chips. Or if you want you can half the batter and make half with chocolate chips and the other half with the white chocolate.
Chill dough for 20-30 minutes in the refrigerator
Drop by spoonfuls onto an un-greased cookie sheet
Bake at 350 for 8-10 minutes
Allow to cool for 2 minutes on the cookie sheet then move to a rack to cool completely
I love that with these cookies you can make them two different ways, either with chocolate chips or white chocolate chips. After trying both I think my favorite was with the chocolate chips but I'm usually more partial to milk chocolate over white chocolate. But really both ways were so good.
I would love to hear what your tips are for making holiday hosting stress free? And You can find these products and more at your local Dollar General. What are your favorite items to grab from Dollar General for hosting?
How to Make Red Velvet Cookies Two Different Ways
Author:
Prep time:
Cook time:
Total time:
Ingredients
1 box Red Velvet Cake Mix
3 eggs (or however many your cake mix calls for)
1/3 cup vegetable oil
2 cups chocolate chips or white chocolate chips (or one cup of each)
Instructions
In a large bowl mix together the cake mix, eggs and oil. Mix until smooth.
Next add the chocolate chips or white chocolate chips. Or if you want you can half the batter and make half with chocolate chips and the other half with the white chocolate.
Chill dough for 20-30 minutes in the refrigerator
Drop by spoonfuls onto an un-greased cookie sheet
Bake at 350 for 8-10 minutes
Allow to cool for 2 minutes on the cookie sheet then move to a rack to cool completely