This post for Margherita Pizza Pasta has been sponsored by Kroger. As always all opinions are my own.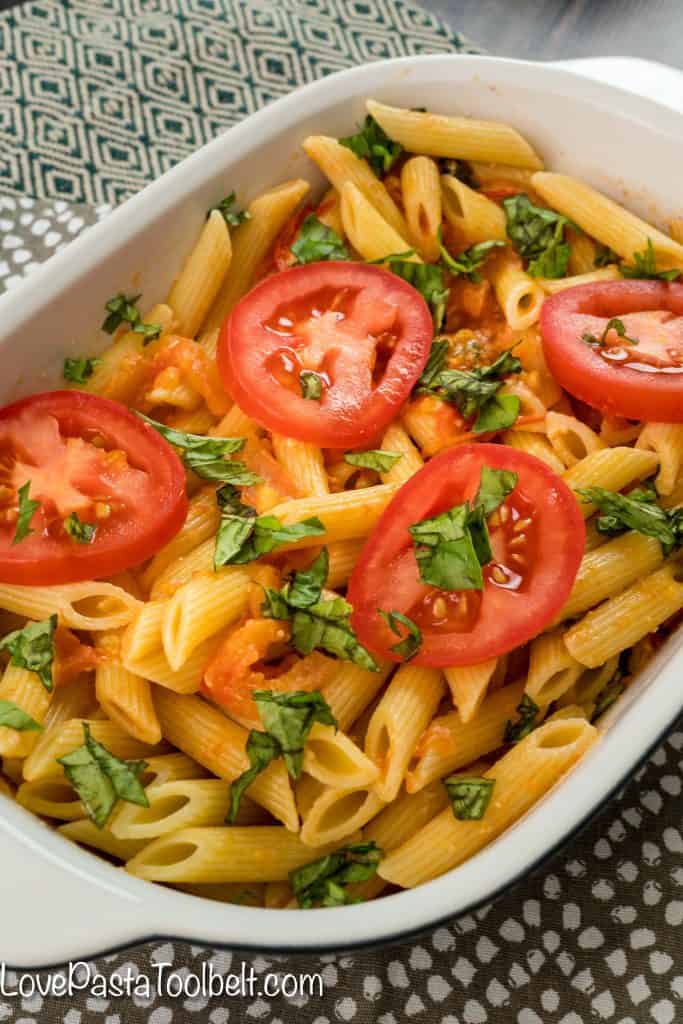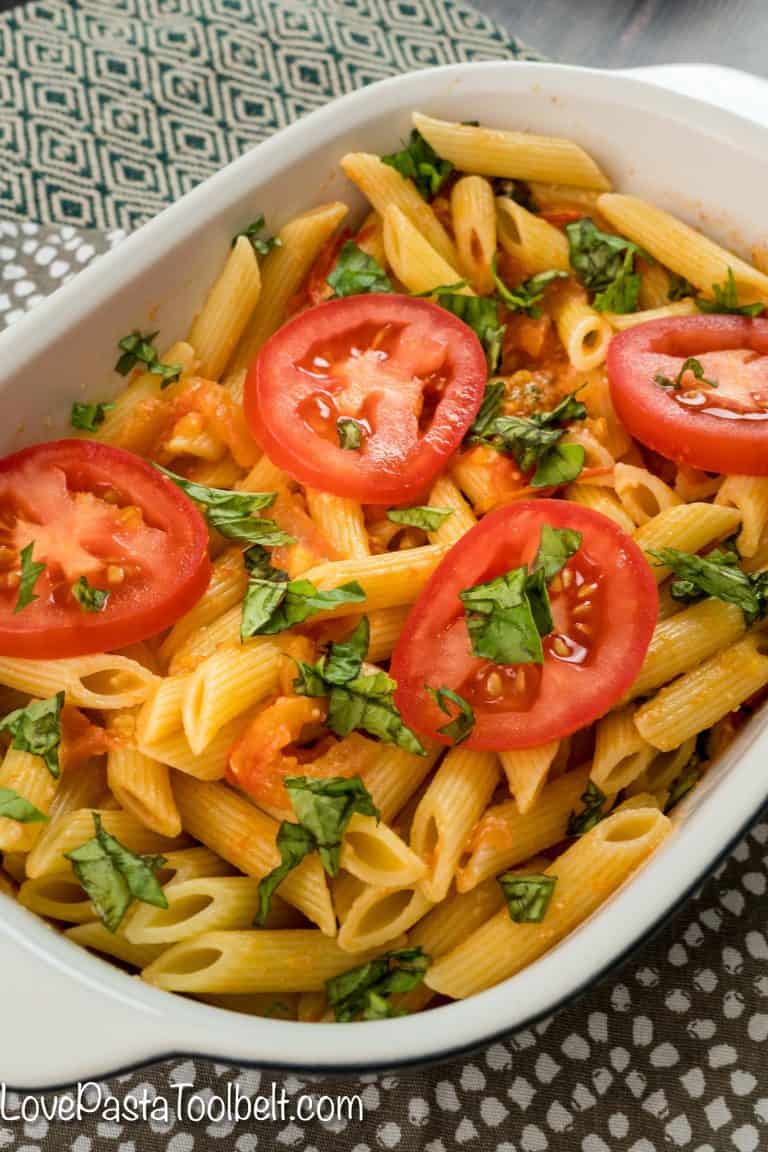 As a new mom one thing I'm always on the lookout for is convenience. When it comes to grocery shopping and cooking meals, it has been hard to keep up with that while also taking care of a baby. I'm always wanting to find easy recipes for dinner. I decided to create this Margherita Pizza Pasta after my friend Teresa introduced me to the Margherita Pizza. I had never had it before, but now I'm a big fan of the pizza. As a pasta lover, I thought how yummy it would be to turn this pizza into a pasta recipe.
I love all of the flavors in a Margherita Pizza so I wanted to make sure to incorporate them into this pasta. I've had different versions of the pizza, some with red sauce and some without. So I decided to cook tomatoes down to make into a sauce in order to keep it simple and light. I threw in the pasta, some fresh basil and mozzarella cheese in with the tomatoes and had a delicious dish. I also kept some tomatoes out to put on top of the pasta along with some of the fresh basil for garnish.
I added this Margherita Pizza to my menu and was able to order all of my groceries online with Kroger ClickList. Grocery shopping with a baby makes it a bit more difficult and time consuming, which is why I was so excited to discover that my Kroger was offering the ClickList service. Being able to sit down and meal plan on a Sunday afternoon and then order my groceries has been a life saver for me. All I have to do is put my order in the night before and then head out the next morning to pick up my groceries. I don't have to get K out of the car or worry about carrying a bunch of bags, plus her, out of the store.
Ingredients:
-4 Tomatoes
-8 oz. Penne Pasta
-2 teaspoons Olive Oil
-1/4 cup fresh basil, chopped
-1/2 cup mozzarella cheese
Directions:
Begin by thinly slicing the tomatoes and placing them in a saucepan, reserve a few tomato slices to top the finished dish

Add 2 teaspoons olive oil to the saucepan and cook the tomatoes on medium heat

Cook the tomatoes until they begin to break down
Meanwhile cook penne pasta according to package directions
Chop up your fresh basil, about 1/4 a cup but you can adjust this depending on your preferences

Once pasta is finished cooking drain and then mix in the saucepan with the tomatoes
Mix in the 1/2 cup mozzarella cheese and half of the basil
Serve and garnish with additional basil and tomato slices
One thing I love about this meal is that it can be made in 30 minutes. I can easily make it while K is taking her last nap of the day and have it ready for when Tyler gets home from work. After a long day it's the perfect meal to have on the menu.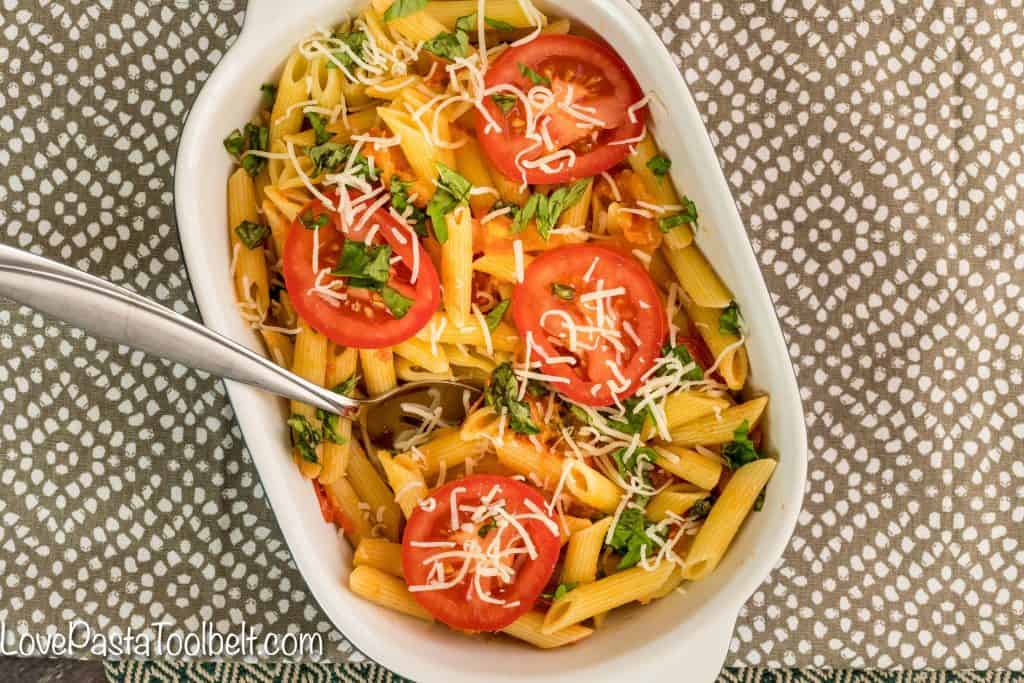 Have you tried out Kroger's ClickList service yet? It's such a great option for when you know your week is going to be very busy!
Margherita Pizza Pasta
Author:
Prep time:
Cook time:
Total time:
Ingredients
4 Tomatoes
8 oz. Penne Pasta
2 teaspoons Olive Oil
1/4 cup fresh basil, chopped
1/2 cup mozzarella cheese
Instructions
Begin by thinly slicing the tomatoes and placing them in a saucepan, reserve a few tomato slices to top the finished dish
Add 2 teaspoons olive oil to the saucepan and cook the tomatoes on medium heat
Cook the tomatoes until they begin to break down
Meanwhile cook penne pasta according to package directions
Chop up your fresh basil, about 1/4 a cup but you can adjust this depending on your preferences
Once pasta is finished cooking drain and then mix in the saucepan with the tomatoes
Mix in the 1/2 cup mozzarella cheese and half of the basil
Serve and garnish with additional basil and tomato slices