Cheesy Quinoa Stuffed Bell Peppers are packed with ground beef, tomatoes, quinoa and plenty of cheese. This recipe is sure to be a hit at dinnertime!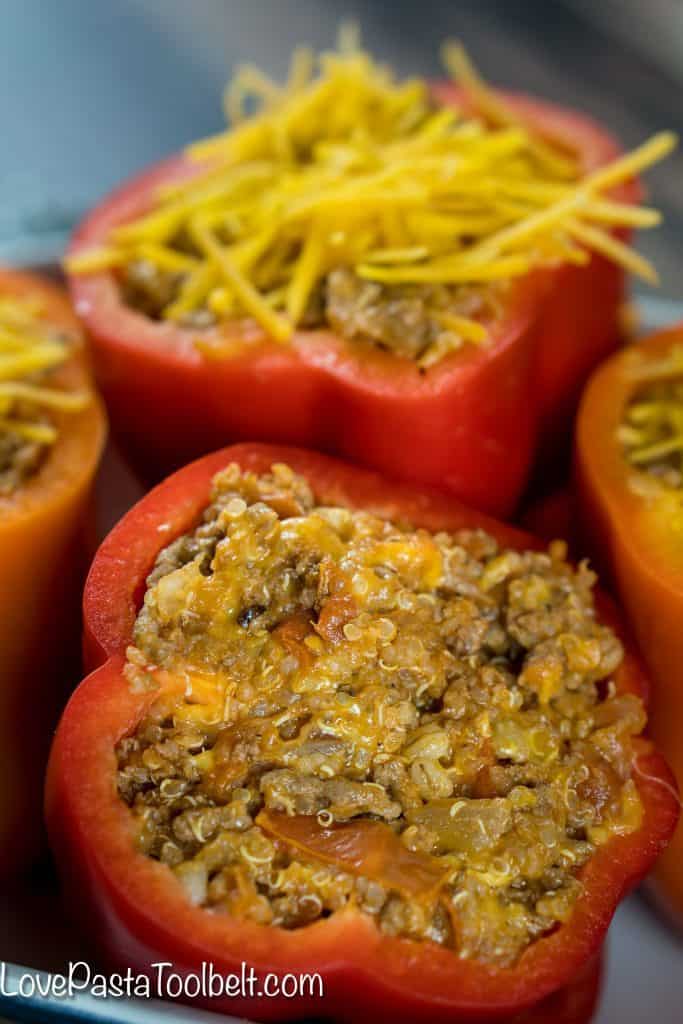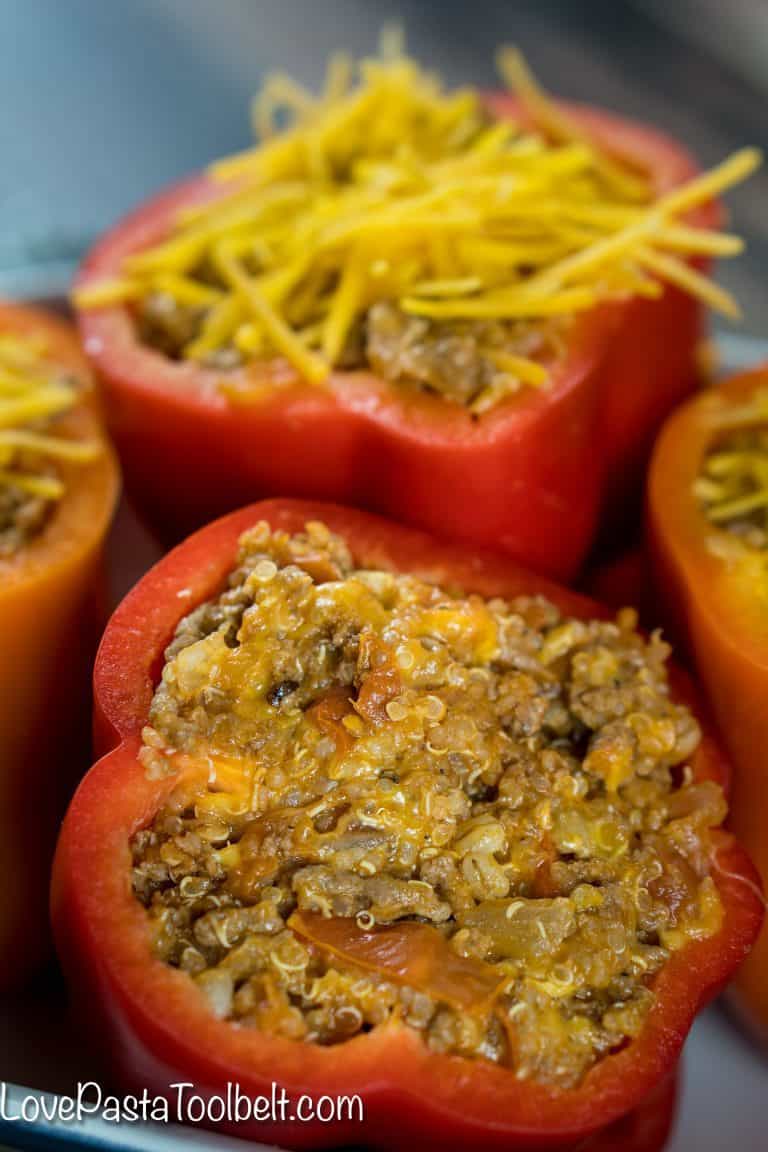 Stuffed Bell Peppers are one of my favorite meals. I've developed a love for bell peppers over the past couple of years, and now I want them in everything I make, well except desserts of course. I usually stuff mine full of rice and eat rice on the side. That's a lot of rice. In my effort to have meals with less carbs at least twice a week, I decided to come up with a new recipe for stuffed bell peppers that cuts out the rice but doesn't sacrifice the delicious taste. And so I bring you these Cheesy Quinoa Stuffed Bell Peppers.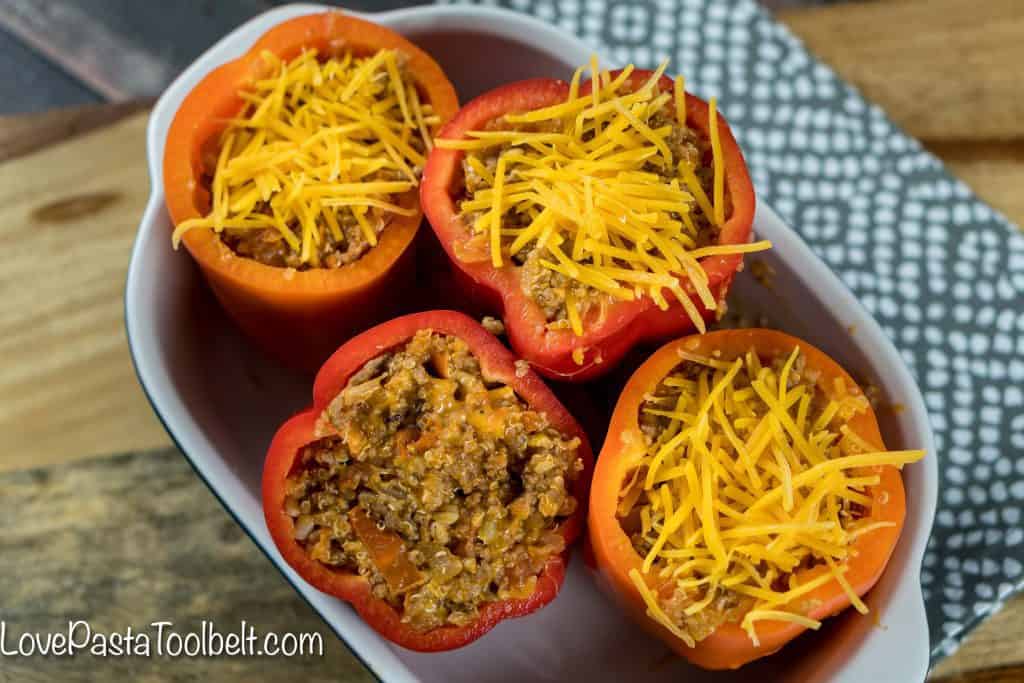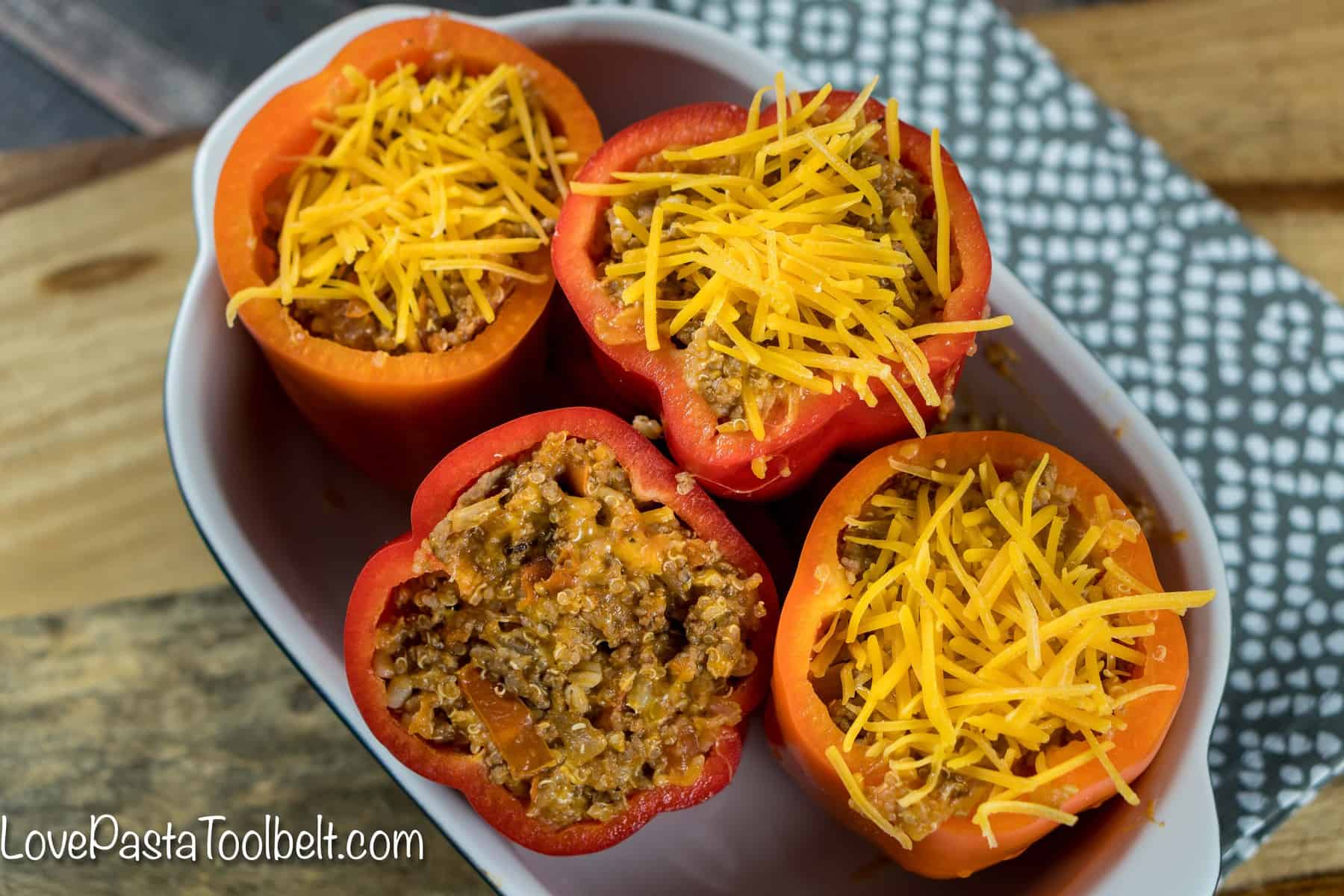 I decided to turn to quinoa as my replacement for rice in my stuffed bell peppers and to make these stuffed peppers with quinoa and beef. You could substitute ground turkey for the ground beef to make it healthier as well. That's just something I've not gotten up the courage to try because I'm afraid I will notice the difference in taste.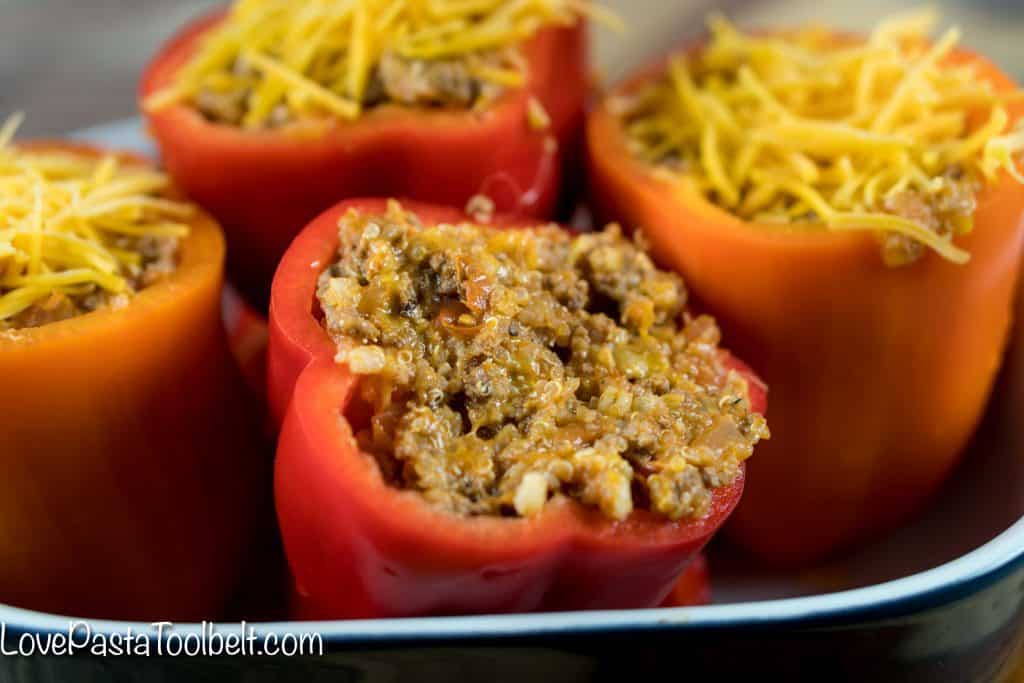 Ingredients: 
-4 large bell peppers (I usually do a mix of red, yellow and orange)
-2 Tomatoes, diced
-1/2 onion, chopped
-1-2 Tablespoons olive oil
-2 Tablespoons Tomato Paste
-2 cloves of garlic
-1 lb. ground beef
-1 1/4 cups cheddar cheese
-1 cup, cooked quinoa
Instructions:
1. Cut off the tops of the bell peppers and clean out the insides
2. Place bell peppers into a pot of water and turn on high, get the water to a boil and then boil for 5-10 minutes or until bell peppers are softened but not falling apart.
3. Remove bell peppers from water and allow to cool and dry on a paper towel.
4. Meanwhile, pour olive oil into a pan and cook chopped onion and garlic.
5. Once the onion and garlic are a little cooked them add in the ground beef and cook until done.
6. Mix the tomato paste in with the ground beef mixture and then add in diced tomatoes.
7. Cook until tomatoes begin to break down. Add 1/4 cup of water if it seems dry.
8. In a large bowl, mix together your cooked quinoa, ground beef mixture and 1 cup of cheddar cheese
9. Place bell peppers in a casserole dish and spoon your mixture into your bell peppers
10. Top with additional cheese and bake in oven on 350 for 20-25 minutes or until cheese is melted
I am a huge fan of the taste of bell peppers. I will say, I tend to cook my bell peppers longer than probably most people because I don't want them to have any crunch to them. If you prefer your bell peppers with a crunch, then I would stick to the lower end for boiling them, or go for the higher end (sometimes I even do 15 minutes) in order to have a softer bell pepper. Just be careful not to go too long, or it will be hard to get them to stand up to put the mixture in. Been there, done that.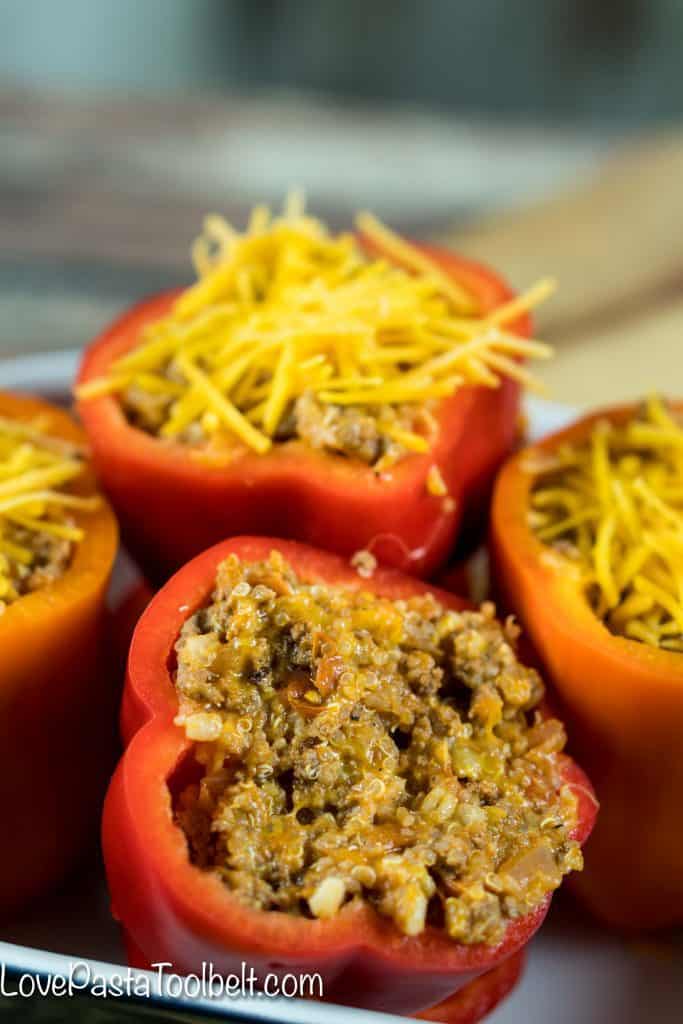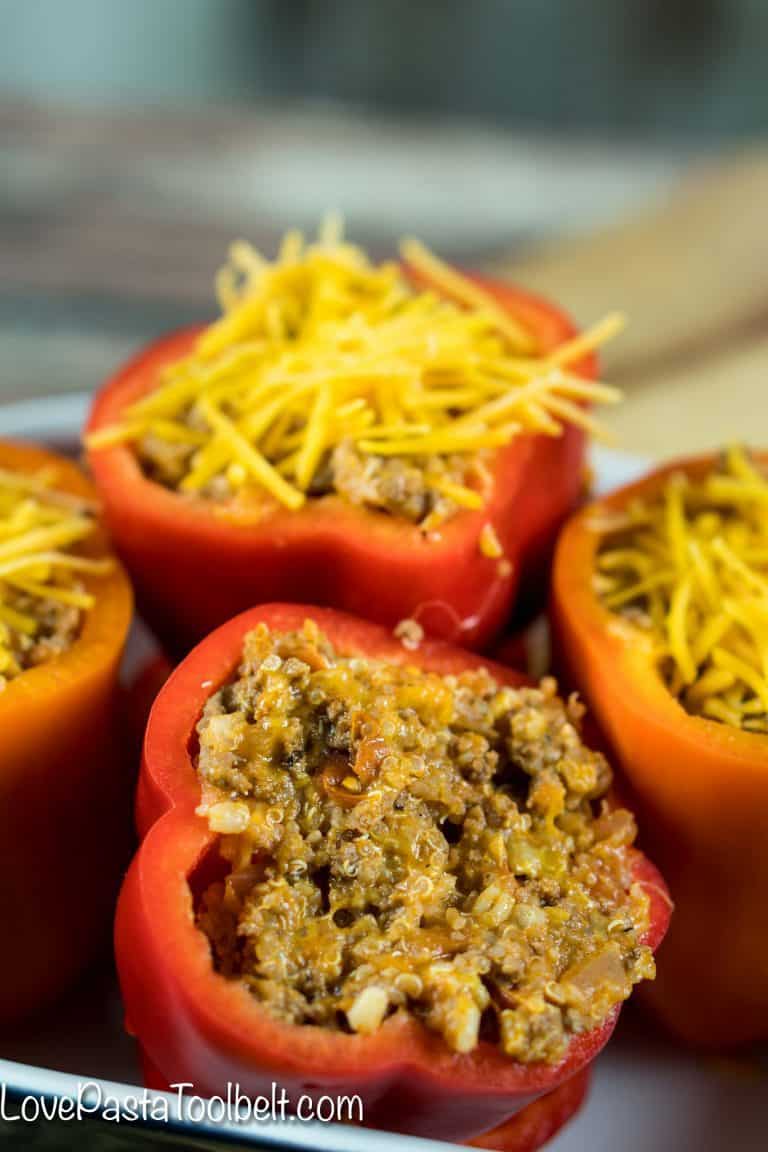 I would love to hear some of your favorite dishes with bell peppers?
Tip: Did you know they make frozen quinoa? Easy made in the microwave, a great time saver if you're looking for one!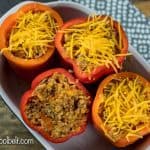 Cheesy Quinoa Stuffed Bell Pepeprs
Cheesy Quinoa Stuffed Bell Peppers are packed with ground beef, tomatoes, quinoa and plenty of cheese. This recipe is sure to be a hit at dinnertime!
Ingredients
4

Bell Peppers

Large

2

Tomatoes

Diced

1/2

Onion

Chopped

2

TBS

Olive Oil

2

TBS

Tomato Paste

2

cloves

Garlic

1

lb

ground beef

1 1/4

cup

Cheddar Cheese

1

cup

Cooked Quinoa
Instructions
Cut off the tops of the bell peppers and clean out the insides

Place bell peppers into a pot of water and turn on high, get the water to a boil and then boil for 5-10 minutes or until bell peppers are softened but not falling apart.

Remove bell peppers from water and allow to cool and dry on a paper towel.

Meanwhile pour olive oil into a pan and cook chopped onion and garlic.

Once the onion and garlic are a little cooked them add in the ground beef and cook until done.

Mix the tomato paste in with the ground beef mixture and then add in diced tomatoes.

Cook until tomatoes begin to break down. Add ¼ cup of water if it seems dry.

In a large bowl mix together your cooked quinoa, ground beef mixture and 1 cup of cheddar cheese

Place bell peppers in a casserole dish and spoon your mixture into your bell peppers

Top with additional cheese and bake in oven on 350 for 20-25 minutes or until cheese is melted
Recommended Supplies for making Cheesy Quinoa Stuffed Bell Peppers
(Affiliate links are included, if you make a purchase I make a small commission at no expense to you!)