Chicken Massaman Curry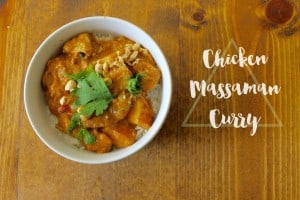 4 Tbsp Red Thai curry paste
1 inch ginger, grated
1 lb boneless skinless chicken thighs, cut into small pieces.
1 small onion, chopped
2 Tbsp brown sugar
5 Tbsp fish sauce
3 Tbsp worcestershire sauce
⅓ cup peanut butter
3 potatoes, cut into cubes
1 (13.5 oz) can coconut milk
1 fresh lime, juiced
2 Tbsp quick-cooking tapioca
Garnish with peanuts and cilantro, if desired
Rice
In a small bowl, mix together curry paste, ginger, brown sugar, Worcestershire sauce, peanut butter, coconut milk, lime juice, and tapioca.
In a crockpot, pour your liquid mixture, then add your potatoes and chicken thigh pieces. Put on high for 4 hours, or on low for 8.
Not using a crockpot? Bake your potatoes before you cut them. Sautee your chicken up until it's cooked all the way through, and set aside.
In a large saucepan, heat up the liquid ingredients and bring to a simmer until thickened. add chicken and potatoes.
Serve your curry over rice, and garnish with cilantro and chopped peanuts if desired. Enjoy!