Bringing home a new puppy soon? Be prepared with these 5 Tips for Bringing Home a New Puppy. These tips will get you started right for puppy parenthood!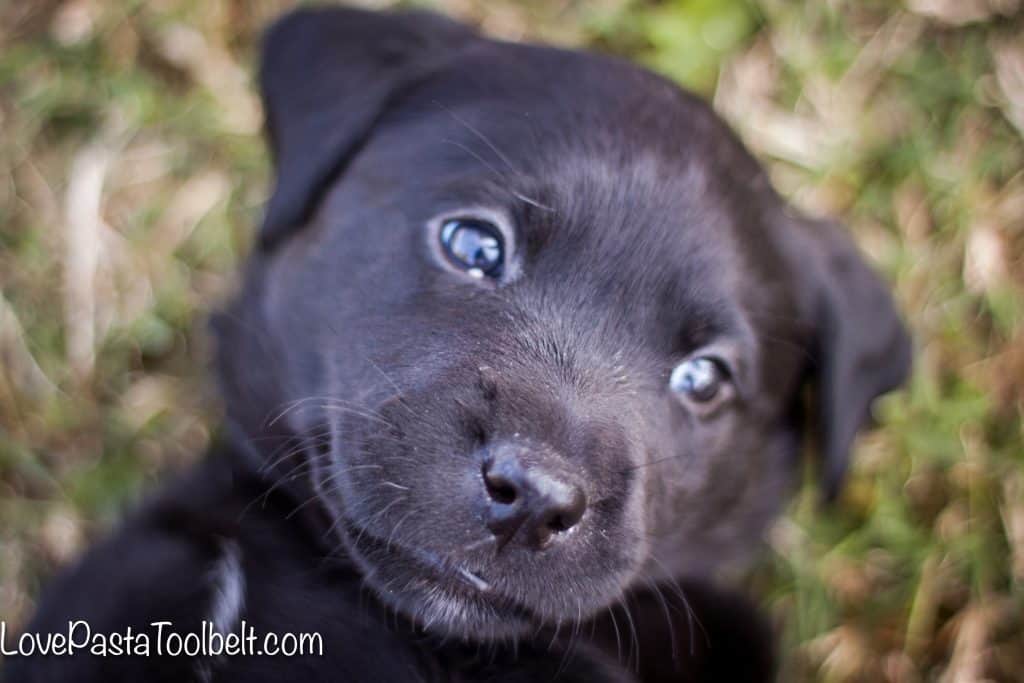 This year our sweet puppy Sadie turned 3 years old. I can't believe it was three years ago when she entered our lives. Sadie's mom is my sister's dog Rubi. Since my sister lived five minutes from me at the time, we got to see Sadie from the very beginning of her life. It took me awhile to pick her out, but I loved that she had a white spot on her chest that made her easy to identify and she was a sweetie. As I reminisce on her being born, and bringing her home about two months later, I wanted to share some tips for bringing home a new puppy.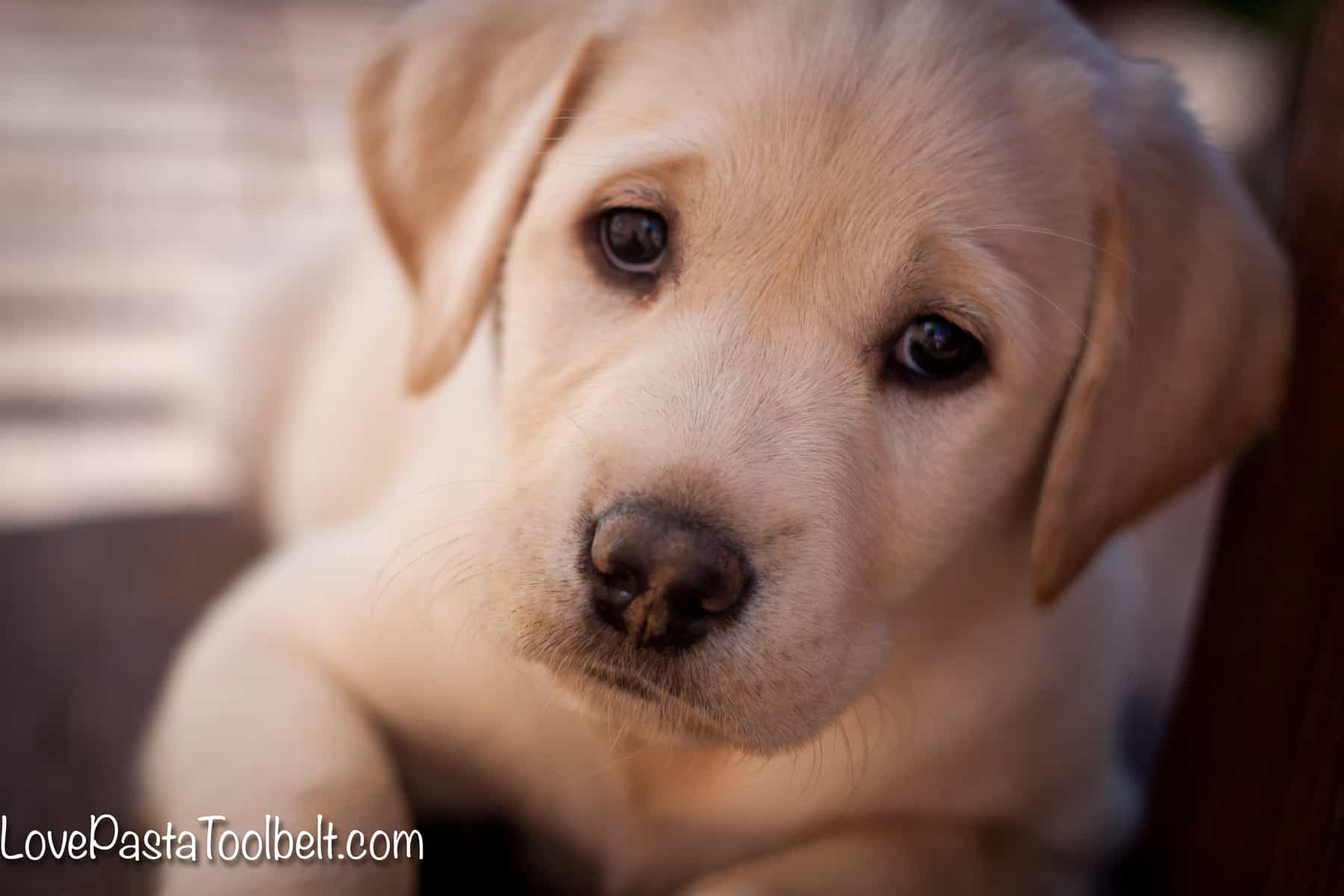 Go shopping– If you're like me then you don't have to be told twice to go shopping. Make sure to stock up on the essentials for your new puppy: puppy food, bowls, crate, toys, treats for training, collar and leash, etc. Check out my New Dog Checklist for a cute printable to take shopping with you. Also be sure to check if your specific breed of dog needs a specific type of food and make sure your buy some stain/odor remover because your puppy is sure to have an accident or two (or what seems like a million).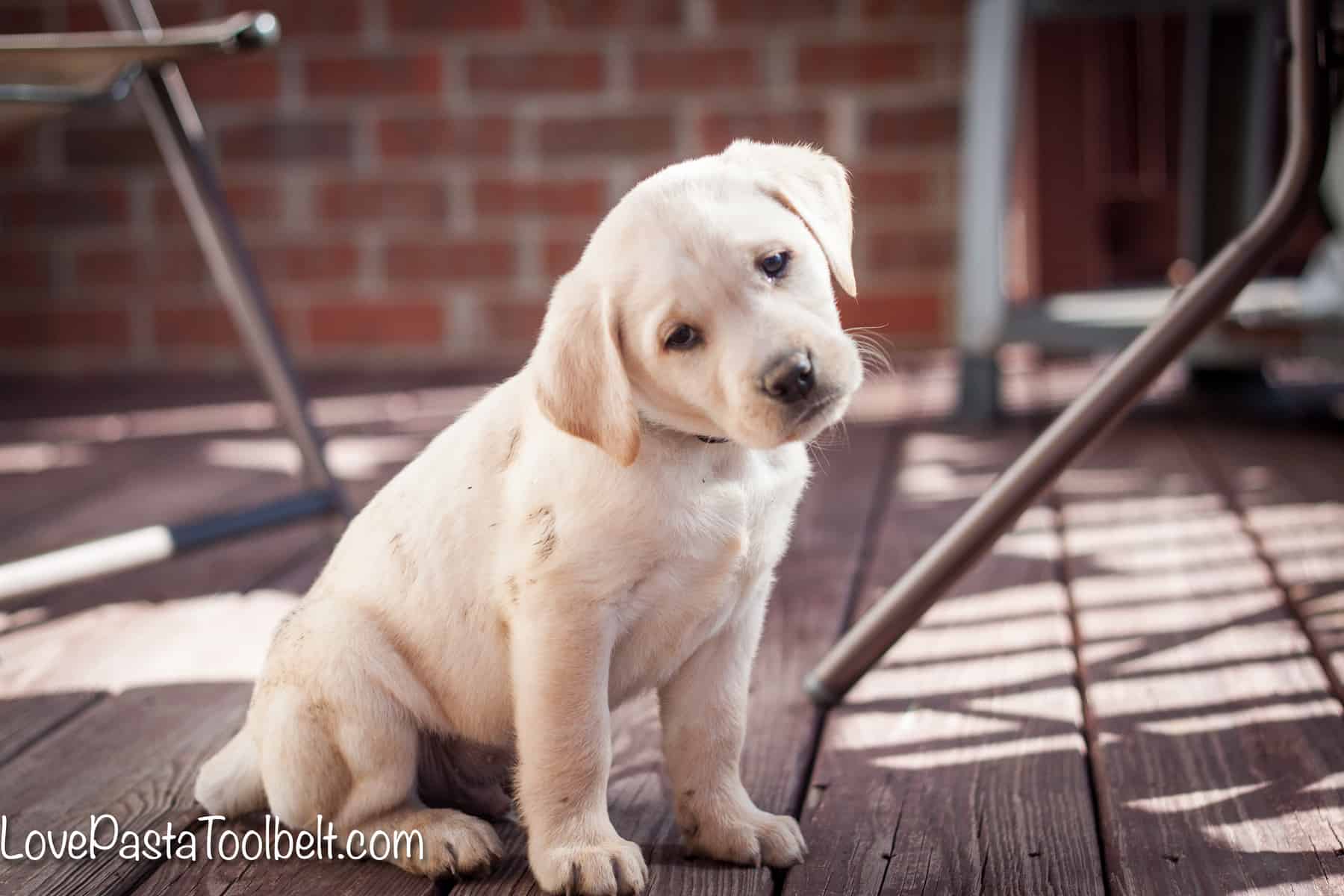 Find a vet– If you don't already have a pet then you'll need to find a vet for your puppy. Ask for recommendations, google and call around for pricing differences. We recently switched Sadie's vet because her first one was a bit overpriced and also far from our home. In the beginning, there are a lot of appointments and a lot of costs but after the first year the vet visits slow down.
Be patient– People may laugh, but I like to say I think getting a puppy prepared me for motherhood. When we got Sadie my sister kept a puppy and I knew a couple other people who brought home one of the puppies. All of these puppies were from the same litter and everyone of those puppies took right to crate training, except Sadie. No matter what I did I could not get that sweet puppy to sleep in her crate. I finally gave up and for the first few months of her life she slept in the bed with us. That sweet puppy literally slept on the top of my pillow around my head. She would yelp and cry every time we left her in her crate and it was rough. But after a few months we decided to try the crate again at night and she transitioned perfectly. She LOVES her crate. Three years later and we're just now letting her sleep out of her crate.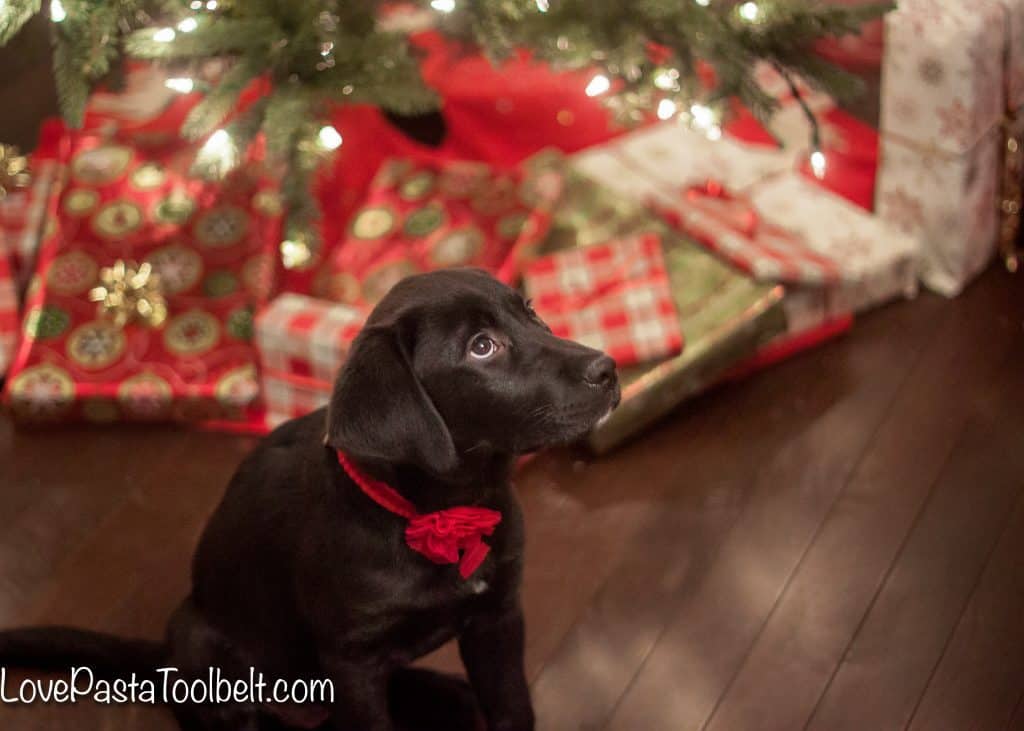 Puppy proof– Make sure you puppy proof your house. You may need a gate to keep the puppy out of certain areas or to make sure certain things are put away so the puppy can't get them. Cords are big attractions to puppies so be careful of that. Sadie was fortunately never really a chewer but one thing did get chewed up and that was the cord of our vacuum. Now we had two dogs at the time so we're not sure who was the culprit, but either way I was left without a vacuum. I can't get too mad though because it paved the way for me to buy my Dyson which has changed the way I vacuum. It gets all that dog hair!
Plan Accordingly– If everyone in your home works outside the home then you'll want to really think about that when you bring your puppy home. I was already working from home full-time on the blog when we got Sadie. But if I hadn't been, it would have been a rough transition. So try to plan around a time when someone can be home with the puppy during the day for a week or two at least so you can get the puppy properly crate trained. Also consider having a dog walker come and let the puppy out mid-day if you can't get home. Until your dog can go for 8-10 hours at a time you'll want to be sure to give her enough potty breaks so you don't ruin the crate training process.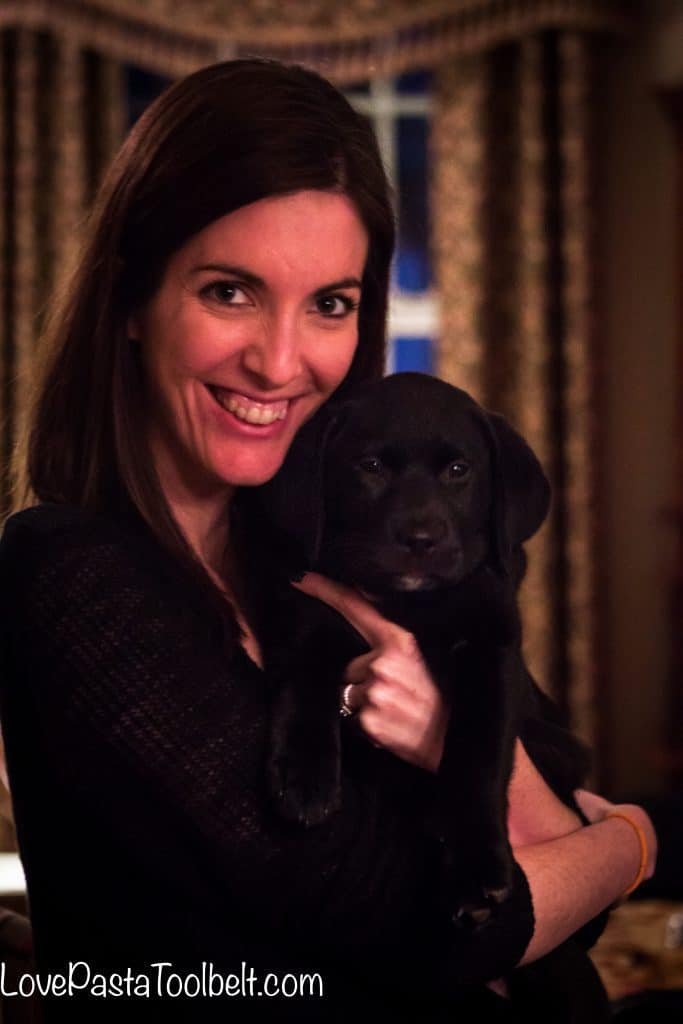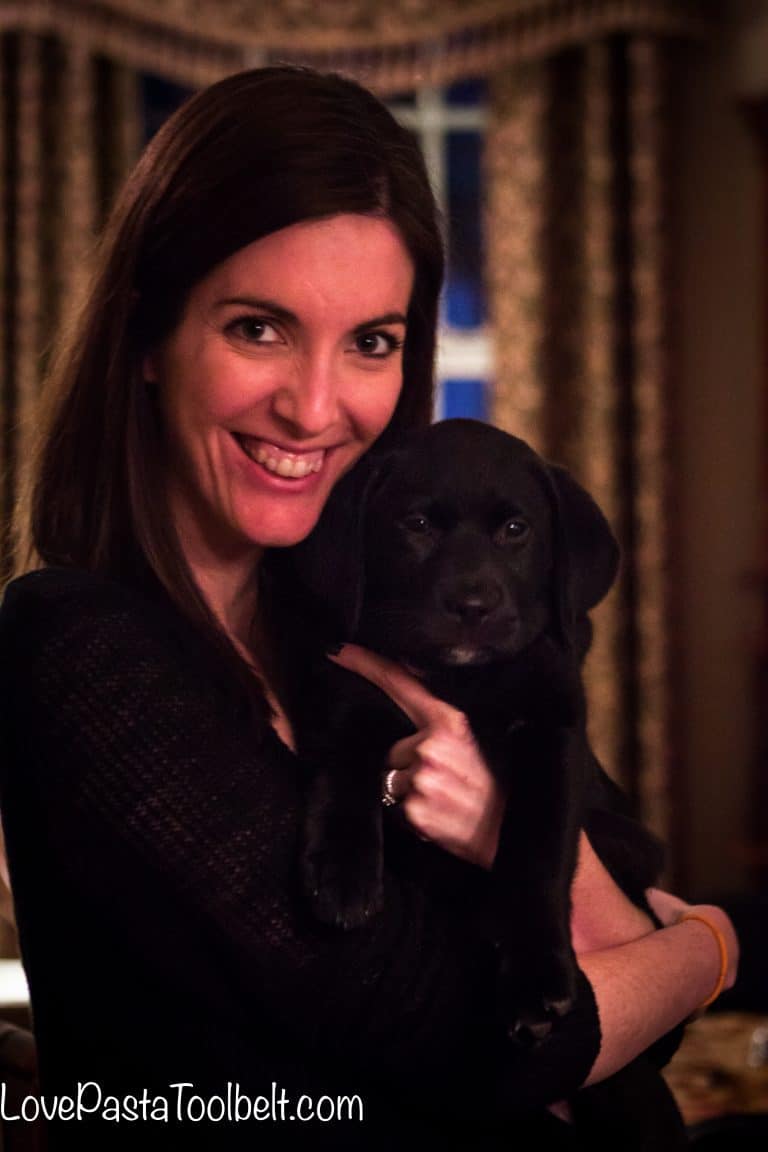 Bringing home Sadie was such an exciting and tiring time. It was my first taste of what motherhood would be like (with the lack of sleep) but thankfully Sadie was trained pretty quickly, but man was I tired those first few weeks. We were quite blessed to get such a sweet and well behaved puppy. She's one of the calmest labs I've ever met and is the perfect big sister to K.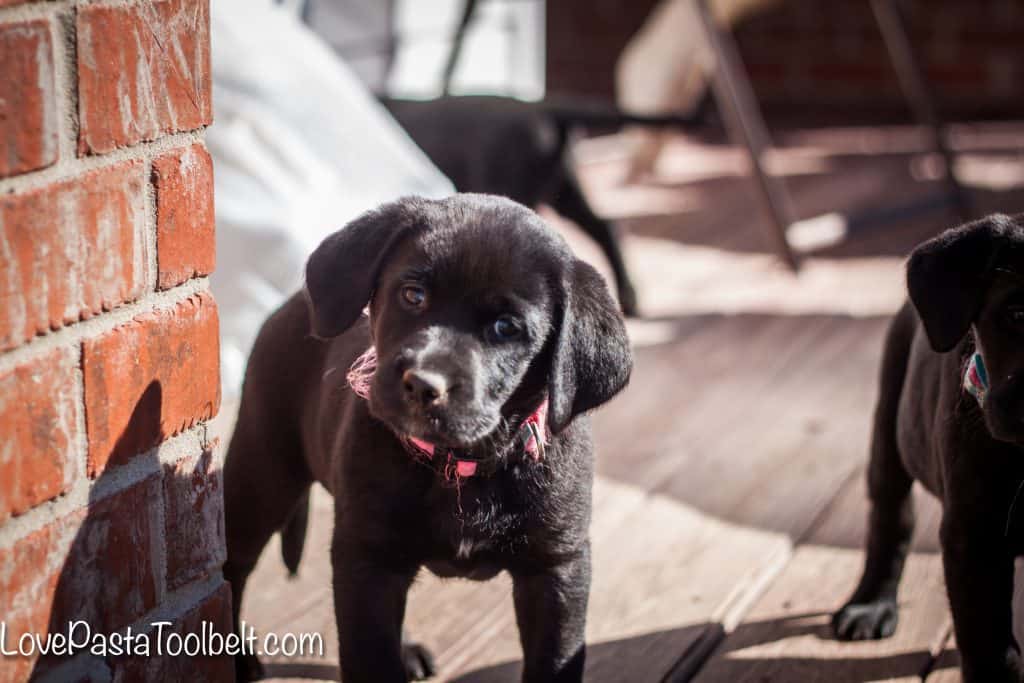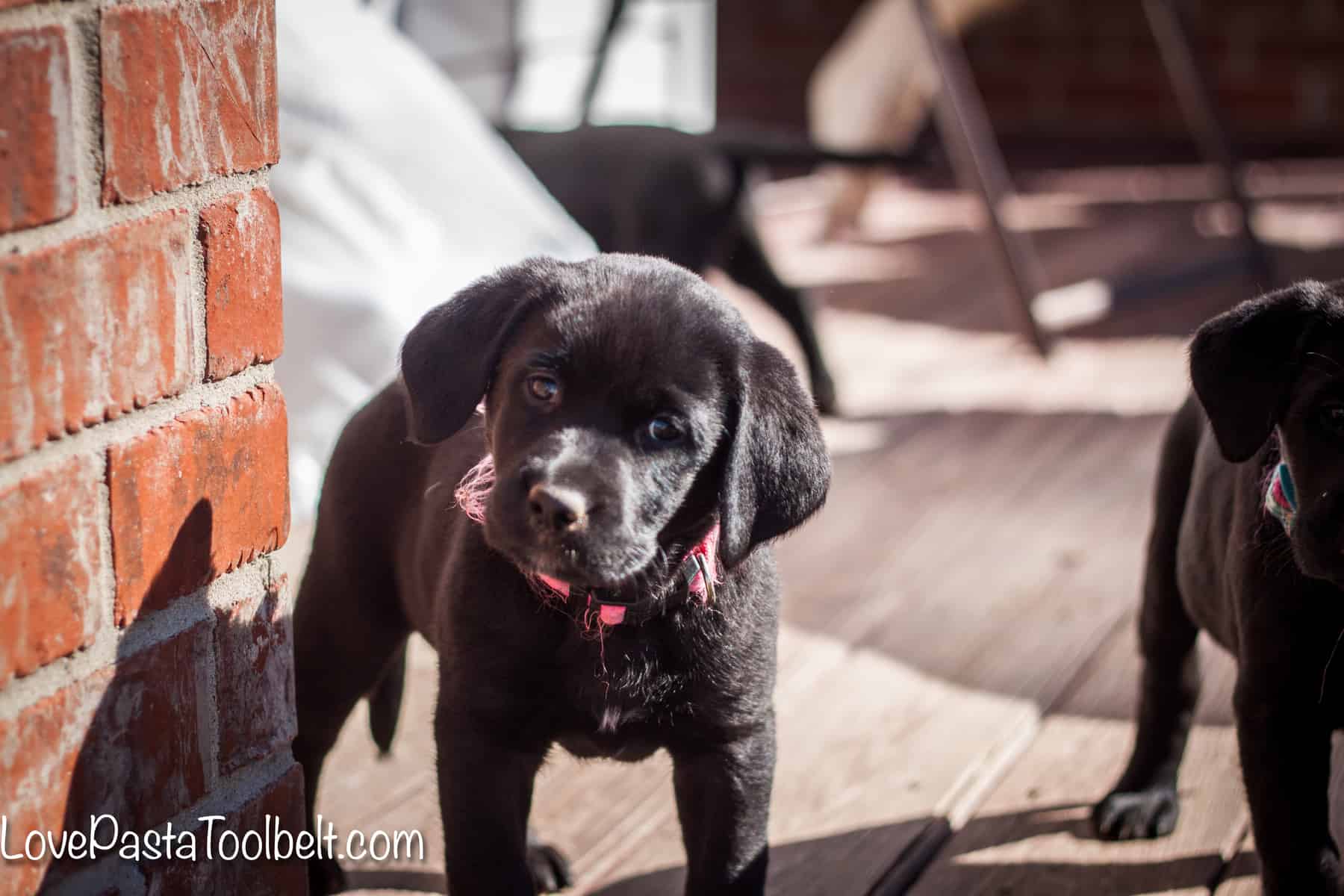 Have you brought a new puppy home? Or are you planning to? I would love to hear what worked for you and some of your tips for bringing home a new puppy.