Planning a trip to Hilton Head Island? Check out a Foodie's Guide to Hilton Head for ideas for where to eat, where to stay and what to do on your vacation.


This past summer we went on a wonderful trip to Hilton Head, South Carolina. I had never been to Hilton Head until six years ago when I went with Tyler's family. On that trip we got engaged and we hadn't been back together since. We were so excited to make a return visit on vacation with Tyler's family and to take K. We got to be there for the six year anniversary of our engagement and take K to the spot we got engaged and take some pictures.
While we were there we also ate a lot of good food so I thought I would share my Foodie's Guide to Hilton Head. There were so many restaurants to choose from so these are just a few of the ones we got to visit. We are looking forward to making many return trips and adding to this list.
Where We Stayed:
My in-laws rented a house in Sea Pines. We were about four houses off the beach and it was a great location. Our house had a big screened in porch that was perfect at night and in the morning for hanging out. We also had our own pool which was so nice for K's nap times, afternoons spent by the pool during nap time make me wish I had a pool in my backyard.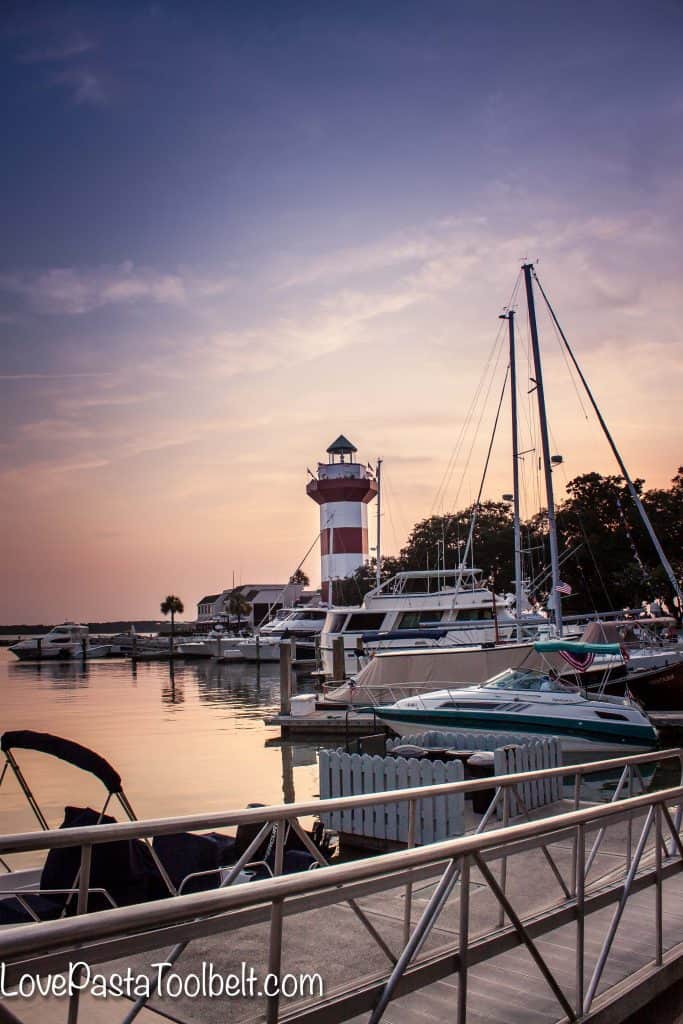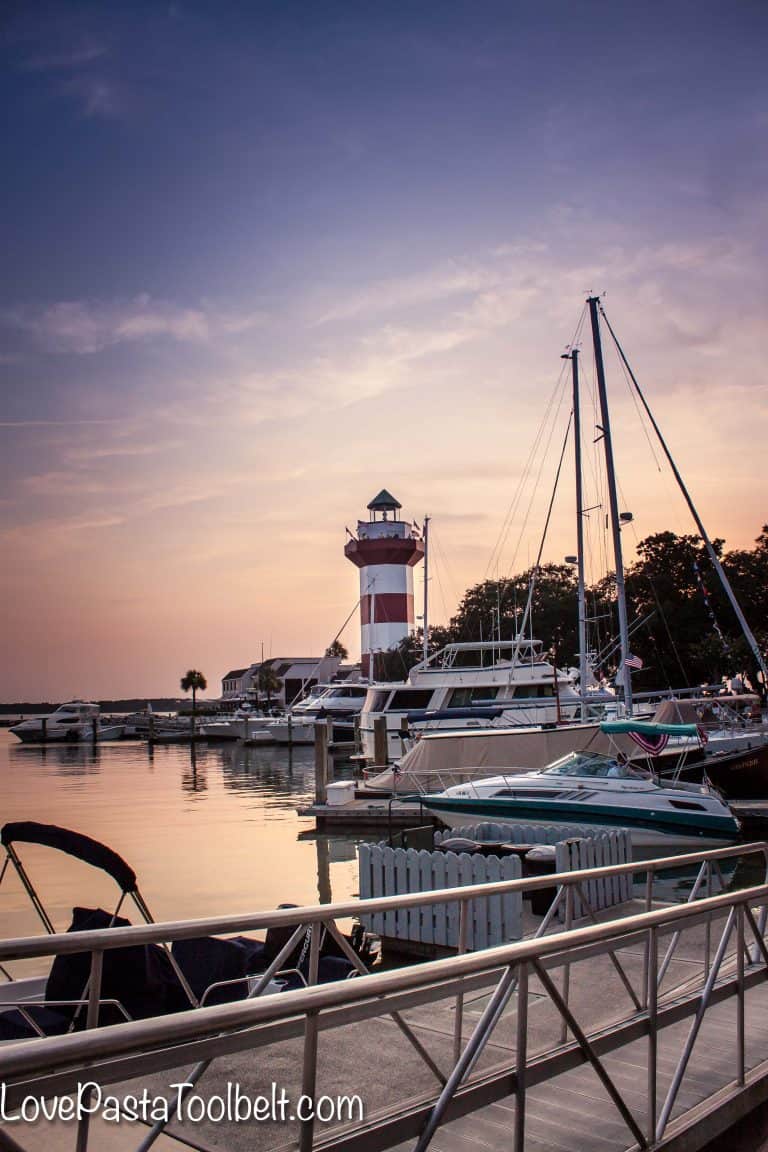 Where We Ate:
The Black Marlin– Our first night out we ate at The Black Marlin. Everyone enjoyed their dinner and it was a nice causal atmosphere that felt very family friendly.
Alexander's– This was one of my favorite meals of the week. I had the stuffed chicken with gouda cheese grits and it was so good. Tyler and his mom both enjoyed the Shrimp and Grits. This restaurant was a little more upscale with a great atmosphere on the inlet water.
The Crazy Crab– This is family favorite for Tyler's family. And let me tell you, I see why. I of course don't do seafood but everyone else loved their seafood. I had the chicken along with the grits which my father-in-law and I both loved. The tea was proper southern sweet tea and so good, and they had delicious hush puppies. There are two locations on the island and it was a great family friendly atmosphere.
Frankie Bones– This restaurant had such a fun atmosphere and everyone enjoyed their food. The Cheese Ravioli was so good. We dined outside which was a little hot but it wasn't too bad. They had a great diverse menu with something for everyone!
WiseGuys– We finished off our week with dinner at WiseGuys before rolling out of town. It was so very good and a great way to end our delicious week. We started off with the homemade chips for an appetizer. For dinner I had the meatloaf which was scrumptious.
Plantation Cafe– We had breakfast here one morning and it was very delicious. The French Toast was especially good, covered in cinnamon and sugar as french toast should be.
Hilton Head Diner– On our last day in Hilton Head we enjoyed breakfast here. I had french toast again, per usual. Everyone enjoyed their breakfast and it was a good way to end the week.
Hilton Head Ice Cream– Everyone in my husband's family always talks about the Cinnamon Ice Cream here. It's a favorite and perfect dessert after a hot day on the beach!
What We Did:
The beach of course and our house had a pool which was really nice. We went to the Tanger Outlets and did some shopping. We explored Coligny Plaza and all the shops there. One thing that is really big in Hilton Head is riding bikes. We didn't do bikes this go round but you can get so many places on your bike which is a lot of fun. We also visited Harbor Town, they have a great play ground for the kids, fun shops and we enjoyed visiting the 18th green where we got engaged. The guys also played golf at Harbor Town Links which they really enjoyed.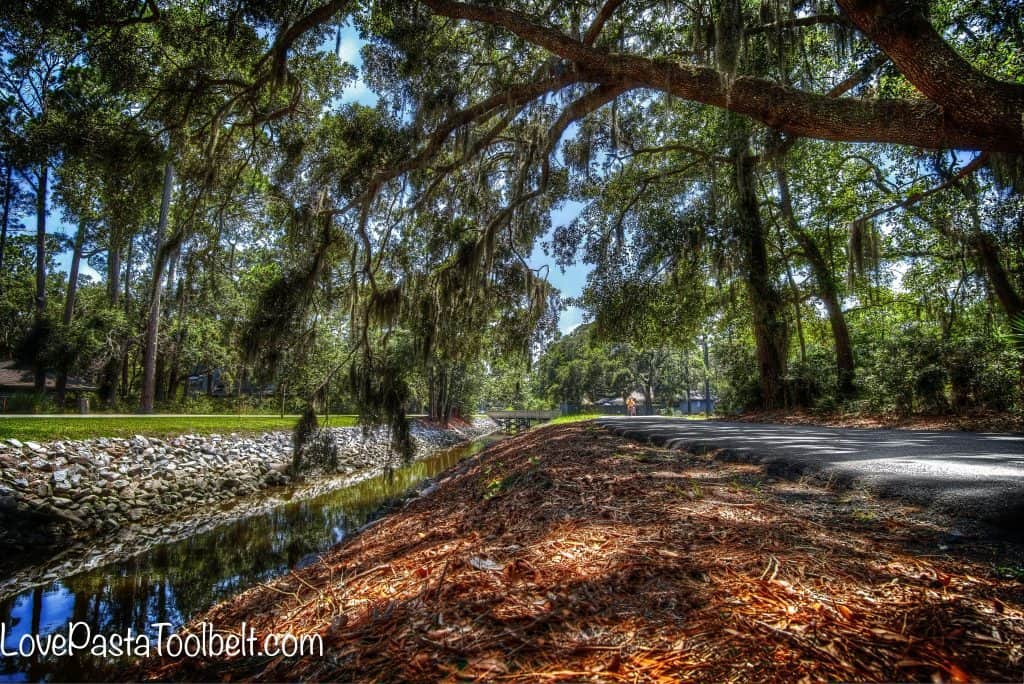 We really enjoyed our trip to Hilton Head. On our last day K got super adventurous and started crawling right into the waves. It was the cutest thing ever. Check out a picture I shared on my Instagram!
I'm sure we'll be back to Hilton Head in the future so I would love to hear places you enjoy eating or things you enjoy doing when you're there?