So how many of you have had Poppyseed Chicken Casserole before? I'm sure a lot of you have had one version or another. If not then you need to try this casserole! It is delicious! I didn't have my moms version so I used one I found online and changed a couple of things, including the fact that I didn't have any Poppy seeds so that kind of negates the name but its basically still the same.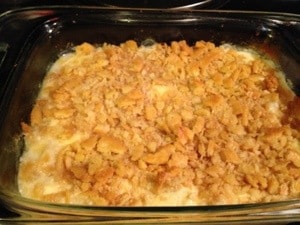 Adapted from: My Recipes
Poppyseed Chicken Casserole (sans Poppyseed)
Ingredients
2 Chicken Breasts, cooked and chopped
2 can Cream of Chicken Soup
16 oz. Sour Cream
1 roll of Ritz crackers, crushed
1 stick of butter, melted
Instructions
Boil chicken until done and then chop up
Combine chicken, cream of chicken soup and sour cream
Spread mixture in a lightly greased casserole dish
Melt butter and then mix in crumbled crackers
Spread cracker mixture over chicken mixture
Bake at 350 for 35-40 minutes or until bubbly and hot
https://lovepastatoolbelt.com/2013/04/poppyseed-chicken-casserole-sans-poppyseed/
So that is the way that I made it. It turned out delicious and we always eat it over rice. It is an easy, delicious comfort food. Enjoy!