It's Wedding Thursday again, yay! I've said it before and I will say it again, I really like Thursdays. The next day is Friday, The Vampire Diaries is on and it's Wedding Thursday on the blog 🙂
This week I am going to highlight some cute reception ideas from my best friends wedding. I wrote last week about the easy DIY Centerpieces that Anna had at her wedding. Anna and Kyle had a beautiful wedding on a small budget so I wanted to share some more great ideas they had at their reception.
The first idea is a cute idea that I used at my wedding as well, using a birdcage for people to leave cards. We all know at weddings that people bring cards with money and well you don't want those to get lost. So it's good to make sure you have a good place for all the cards and what a cute idea to use a bird cage. It holds the cards and is a cuter idea than just using a card box.
I wanted to show you one of the simple decoration ideas at the cake table. Cylinder vases with some burlap fabric in them and lace around created a really cute and easy decoration for the cake table. And let me tell you, those cupcakes were as good (or better) than they look. Yum, now I want a cupcake!
At my wedding I had a seating chart, at Anna's she did not but you always want to make sure people know what to do when they enter the reception hall. In order to do this Anna had a chalkboard from her "school house" (note: we were both homeschooled) that we recovered with chalkboard paint and then it had instructions so everyone would know how to choose a seat.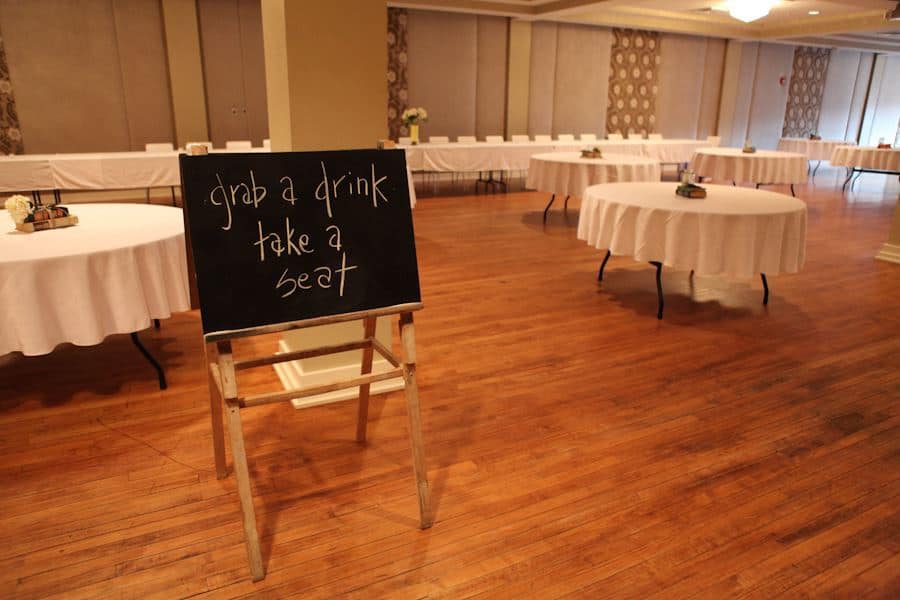 Speaking of the drinks, Anna and Kyle had the cutest idea for cups. They had to provide their own cups, plates and silverware at their venue. So in keeping with the theme from the centerpieces the drinks were served in mason jars. Twine was wrapped around the tops with little A and K tags. They also had cute old fashioned straws that Anna found online.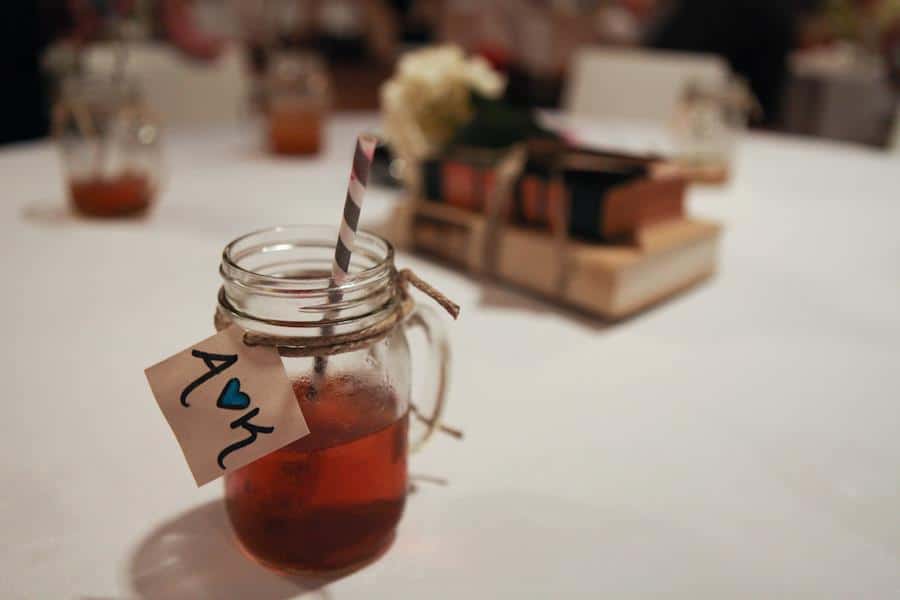 They chose clear, plastic plates and silverware and that was a money saver and it looked great with the decor. Dinner was BBQ and Mac-n-Cheese and it was delicious.
For a little decor in the reception hall they had two old doors that were covered in pictures of Anna and Kyle in their younger years. It was such a cute idea and really easy, inexpensive and personal decor.
See how cute and how gorgeous the venue was! Anna and Kyle had a beautiful wedding with a lot of really cute, personal touches. So I wanted to share some of these ideas with you. Do any of you have any fun personal touches you used at your wedding? Or any you are planning to use at your upcoming wedding? I hope you all enjoyed this weeks Wedding Thursday, until next week!
Pictures by Rachael N Roberts