I got Tyler a charcoal grill for his birthday so our new favorite thing on the weekends is to try out grilling recipes. This Grilled Chicken Monterey is one I got from my mom that she has made for years and I love this dish. I was so excited to finally have a grill so we could make this delicious chicken recipe. Tyler loved it too so it will become a grilling staple meal for us.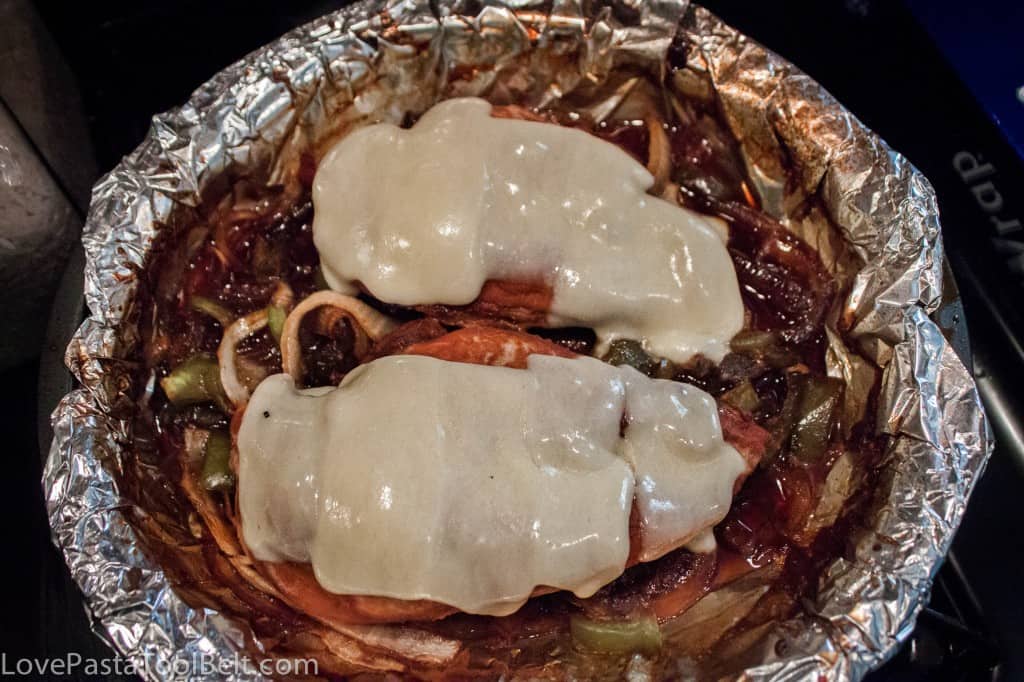 Ingredients 
4 boneless, skinless chicken breasts
1/4 c. soy sauce
1/4 c. reduced sodium soy sauce (I use 1/2 of one or the other)
2 TBS brown sugar
1 large garlic clove
1 medium bell pepper
1 large onion
6 large mushrooms
1/4 c. water
5 oz Monterey Jack cheese
Directions:
1. Combine soy sauces, brown sugar and garlic in 9″ square pan.
2. Pound chicken breasts lightly and place in pan, turning to coat.
3. Slice bell peppers into 1/4″X1″ pieces and scatter on top of chicken.
4. Peel onion, cut in half and slice thinly.
5. Scatter onion over bell pepper.
6. Slice mushrooms and scatter over onion.
7. Pour 1/4 c. water over all.
8. Cook chicken in Big Green Egg at 300 for 20 minutes in 9″ square pan
9. Turn chicken over, placing on top of vegetables.
10. Cook another 15-20 minutes or until done.
11. Place cheese (sliced) on top of chicken and cook just until cheese is melted.
I was really glad that I called my mom before making this because I didn't realize you cook it in the pan. So I used a round cake pan, covered it in foil and then you cook it on the grill in the pan. We don't have a Big Green Egg but our grill has a smoker feature so we used that leaving everything closed so it was like a smoker. This chicken is so delicious! We had it with rice because the marinade is delicious over rice. Let me know if you enjoy this recipe! And please share any other delicious grill recipes you have, I am always looking for new ones to try!