Disclosure: I received free products for this post. All opinions are my own, are honest, and are based on my personal experience with the product/company.  
I am so excited to be bringing you all a wonderful giveaway! I love pictures if you have not discovered that yet. My wedding was wonderful and I had a great photographer. When I was presented with the opportunity to get a canvas to review for you guys I knew I wanted to have another wedding picture put on canvas. This time I chose one of our shots with our bridal party since I didn't have one of those yet.
Easy Canvas was so easy to use. I headed over there, uploaded my photo and had it ready to go in just a few minutes. It arrived quickly and I love how it looks. It's hard to say a lot about making the canvas because it was that simple. Right now the canvas is sitting on my mantle because we have not hung any pictures up in our house yet. I'm not sure where this one will go but the colors look really good with the wall color in our living room so I'm thinking it might have a place there. You're getting a sneak peak of the new house with this photo.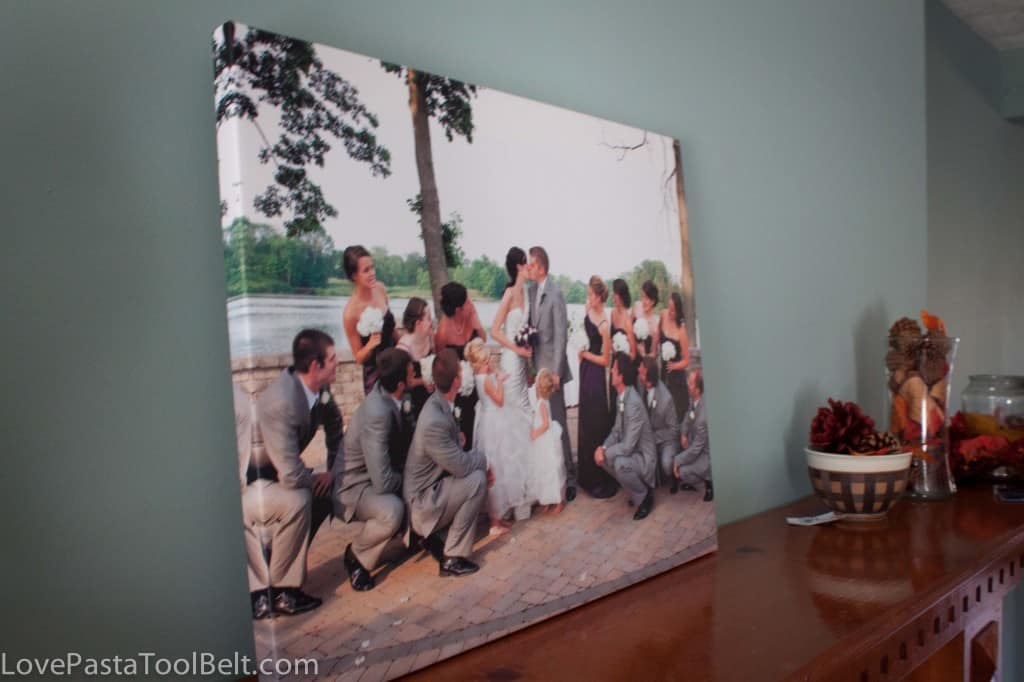 The canvas is great quality and the colors look beautiful. It is wrapped around the edge which I love that look better than a picture just ending. This was a wonderful day and I love that I am able to keep the memories on a beautiful canvas to hang in our house.
Now I am excited to bring you a chance to win your own 8×10 canvas with free shipping in the United States (except for Alaska and Hawaii)! Yay! What will you put on your canvas if you win? Head on down and enter to win! Also if you want to order some canvases I have a great offer for you to get 60% off ALL Canvases. Now that's a pretty great deal. So sign up for the giveaway and order some Christmas gifts with this discount code!