Have you ever had one of those days where a recipe just wasn't happening? I had one yesterday and my plan for a great thanksgiving dish just didn't happen. Some of my ingredients were looking slightly suspicious and I had my first day at a part-time nanny job so I just didn't have time to make it work. Instead I am sharing with you what is a new family favorite around here and hopefully will be at your house too.
My sister and I were in Starbucks the other day and she was drooling over these Pumpkin Cream Cheese muffins but she is frugal and they were expensive so I said oh no worries, I can so make those. Make them I did and we both loved them!
Ingredients:
– 1 1/2 cups all purpose flour
– 1/2 teaspoon cinnamon
– 1/2 teaspoon nutmeg
– 1/2 teaspoon ground cloves
– 2 teaspoons pumpkin pie spice
– 1/2 teaspoon salt
– 1/2 teaspoon baking soda
– 2 eggs
-1 cup sugar
– 1 cup pumpkin
– 5/8 cup vegetable oil
– 4 ounces cream cheese
Directions:
1. Take cream cheese and roll it into a log, place it on wax paper (not covering it because the wax paper will stick to it) and place in the freezer for up to an hour.
2. Mix all ingredients except for cream cheese
3. Grease or lin muffin tins and fill half full
4. Cut cream cheese into 1 to 2 teaspoon size discs
5. Press one cream cheese disc into each muffin tin. Put in the middle and press down.
6. Bake at 350 for 20-25 minutes, check that a toothpick comes out clean but do not touch the cream cheese
7. Allow muffins to fully cool before touching cream cheese portion.
8. Serve and enjoy!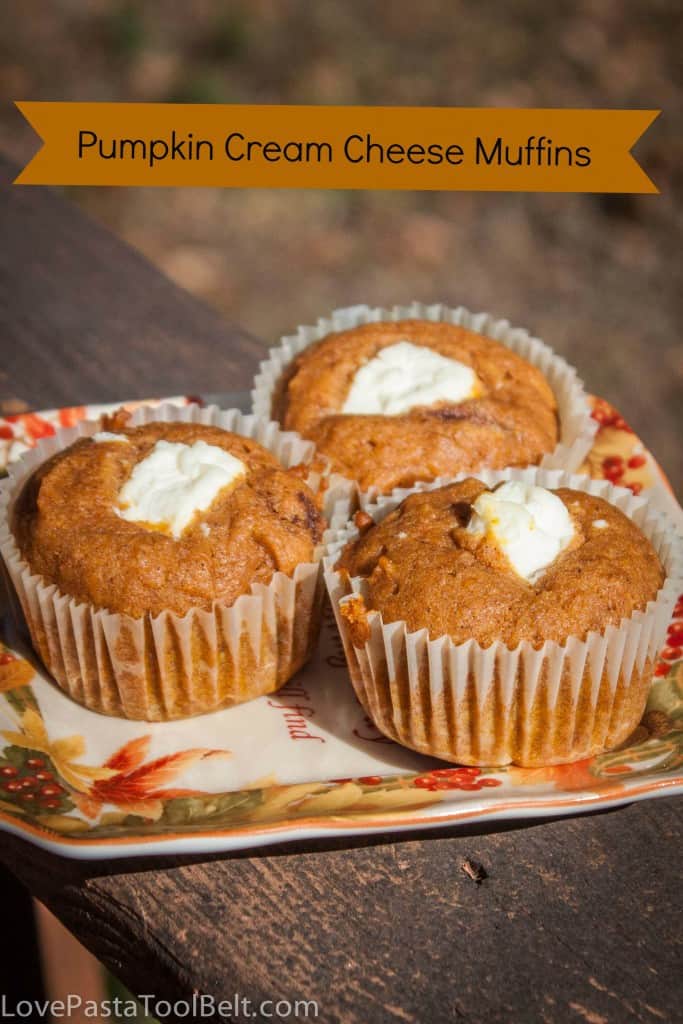 I loved how these muffins tasted. Very moist and like the perfect pumpkin bread with a cream cheese filling. I hope you will enjoy them. Do you have a favorite fall bread? If you like apples then be sure to check out my Apple Cinnamon Bread and don't forget to pin these muffins to save for later!
Adapted From: Food.Com