Glazed Sprinkle Muffins, does that title not make your mouth water? When I saw this recipe over at Sally's Baking Addiction (new favorite blog!) I knew I had to try it out. She made them in donut form but since I didn't have a donut pan I made the alternative which was to make them as muffins. 
Ingredients:
– 1 cup all purpose flour
– 1 teaspoon baking powder
– 1/4 teaspoon baking soda
– 1/4 teaspoon ground nutmeg
– 1/3 cup granulated sugar
– 1/4 cup milk
– 1/4 cup greek yogurt
– 1 large egg
– 2 Tablespoons unsalted butter, melted
– 1 1/2 teaspoons vanilla extract
– 1/2 cup rainbow sprinkles
Glaze Ingredients
– 1/4 cup milk
– 2 cups confectioner powdered sugar
– 1 teaspoon vanilla extract
Directions:
1. Mix the flour, baking powder, baking soda, ground nutmeg and sugar together in a medium bowl and set aside
2. Whisk the milk, greek yogurt and egg together until smooth
3. Add the melted butter and vanilla and whisk until fully mixed
4. Pour the wet ingredients into the dry ingredients and stir until just combined, do not over mix.
5. Carefully fold in sprinkles to ensure that the color does not bleed
6. Add the mixture into greased muffin pans (I used a mini muffin pan but you could also use a regular muffin pan)
7. Bake for 18 minutes until lightly browned
Glaze Instructions
1. Mix all of the glaze ingredients into a saucepan over low heat and whisk until smooth
2. Remove from heat and dunk muffins into the glaze
3. Dunk a second time if you have leftover glaze and if you want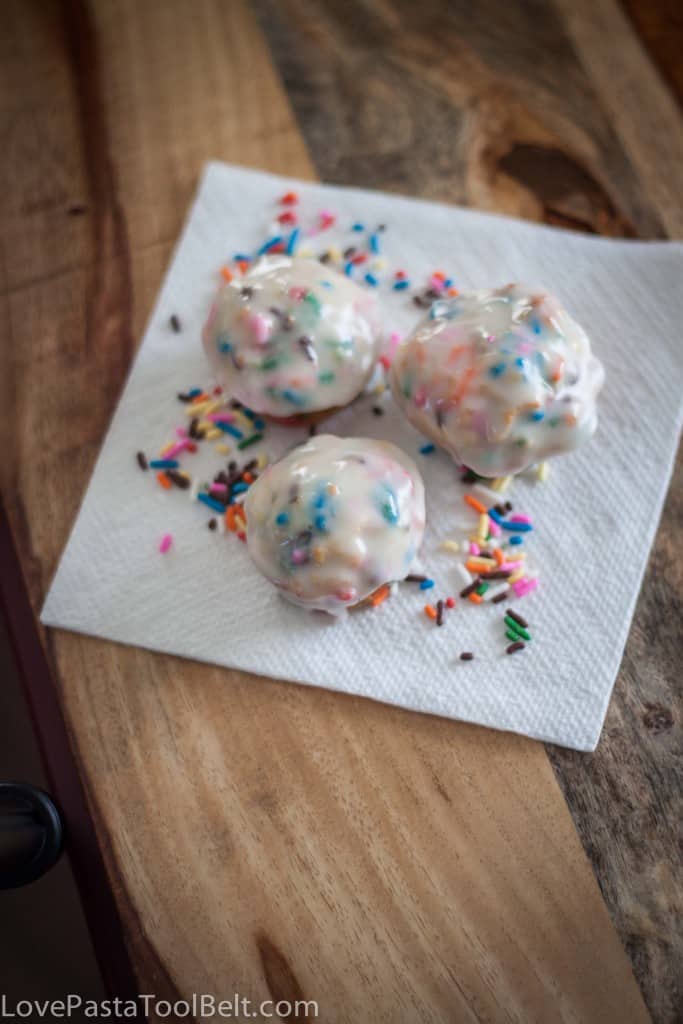 Aren't these just the cutest things? They were so good and also super sweet with the glaze. So be prepared for a sugar rush! If you want to make them as donuts then be sure to head over to Sally's Baking Addiction for the instructions. I might have to go out and buy a donut pan. Do you love all things sprinkles? I just love how adorable they are!