This Easy Valentine's Wreath is the perfect addition to your door this Valentine's!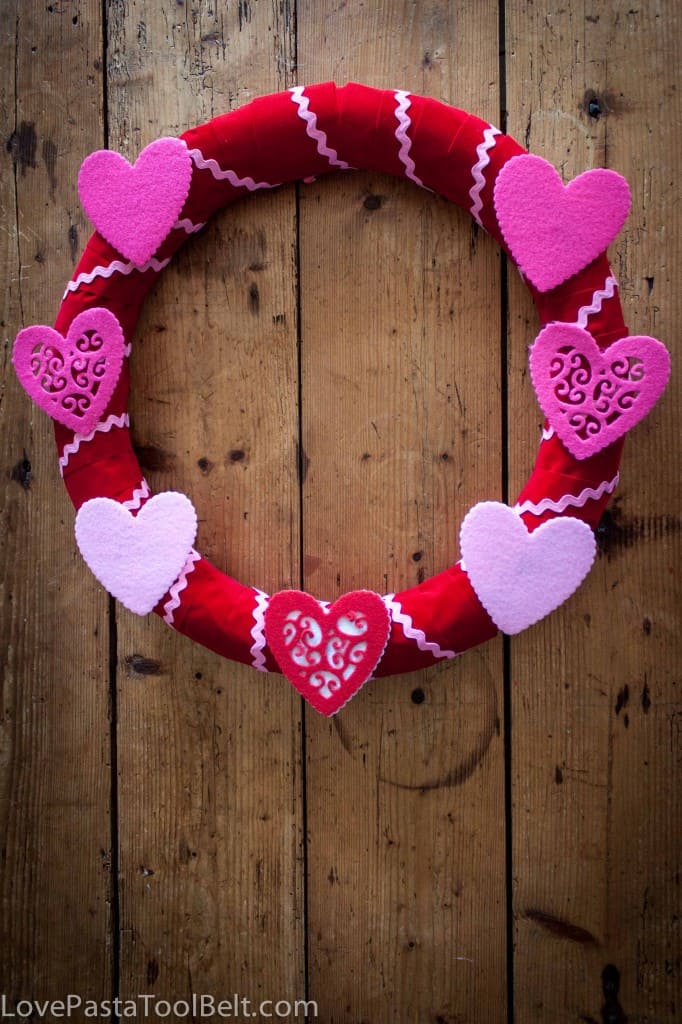 Valentine's Day is just around the corner, I mean can you believe it's already February? It feels like this year is already flying by and it will be spring before we know it. Can you tell I'm ready for some warmer weather? Anyways onto my Easy Valentine's Wreath. You know I have to have a wreath for every occasion. At last count I had 11 wreaths, soon they will need their own room for storage. I didn't make a Valentine's Wreath last week so I knew I had to get one made this year. This wreath was simple and I had a lot of the supplies at home which was nice.
Supplies:
-Wide red ribbon (I used a velvet ribbon leftover from Christmas)
– Pink rick rack
-Felt Heart cut outs (I found these at Joann's)
-White foam wreath
– Hot glue gun
Directions:
1. Start with the wide red ribbon and wrap the ribbon all the way around the wreath. Pay attention that you keep the ribbon smooth and keep it from bumping up. Hot glue at beginning and end to hold ribbon in place.
2. Wrap the pink rick rack around the wreath and hot glue at both ends to hold in place.
3. Place the heart cut outs where you want them and hot glue onto the wreath.
Viola, wasn't that easy? Simple wreaths are my favorite. I love being able to sit down and whip out a wreath while I watch one of my favorite TV shows. Are you excited for Valentines? Have you created any Valentine's decorations? I would love to see them!
Be sure to check out my other Valentine's posts.
Royal Icing Valentine's Cookies