This is a Sponsored post written by me on behalf of Atlantic Luggage for SocialSpark. All opinions are 100% mine.
I love to travel! I am always planning trips in the back of my mind or researching them online. Back when Tyler and I were engaged I was traveling almost every weekend because I was 12 hours from him, 12+ hours from our wedding venue and 4 hours from a lot of my family and friends. So I was all over the place. When I travel it's really important to me to have good, quality luggage and that is where Atlantic Luggage comes into play.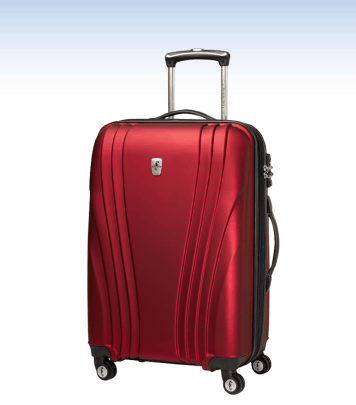 Atlantic Luggage is lightweight, affordable, fashionable and versitale. Those are all great things to have in luggage. When I travel I don't want to have to worry about well is my bag going to survive the airline? I still may have to worry about it making it to my destination but at least with quality luggage it will come in one piece.
When looking at the collections that Atlantic Luggage offers I chose the Lumina collection as my favorite. I love the hardshell luggage. I think it seems more durable and also I love that it doesn't collapse in when the bag isn't completely full. It also has a dual wheel spinner system that provides 360 degree mobility. That is so important especially in a carry on that you will be lugging through the airport. I remember the first time I traveled with a rolling carry on. Oh my goodness was that the biggest relief! And it didn't hurt that I felt like a pretty cool professional traveler too.
Atlantic Luggage has a great sweepstakes going on right now to win a family trip for 4 to your choice of either L.A. or Washington D.C. This trip includes airfare, hotel, $300 activities credit and a 4 piece set of Atlantic Luggage. I love both of these locatiions. I lived in the D.C. area for 3 years and there is so much to do there! And a huge plus is most of the stuff in D.C. is free to do. I also have been to L.A. and I am a sucker for driving around to find movie stars homes and walking down Rodeo Drive hoping to bump into someone famous. So head over now and enter to win a family trip for 4!!
So tell me, where would you go if you won? I think I'd choose L.A. since I lived in D.C. recently but it would also be fun to go back to D.C. as a tourist and see more things and also visit family and friends!