Hi everyone! I am so excited to be here and to share my fabric stencil
project with you. I'm Teresa and I blog over at Crafty Wife. I love
sharing my obsession with Disney, crafts, photography, and sometimes
blogging about how hard and fun marriage can be. Thank you to Emily for
having me!
I am having a blast redecorating my master bedroom into a beach themed
paradise. Every time I think I'm almost done I find another project that
would add something fun to the room. Lately, I've been really into using
stencils for projects and after completing my beachy canvas art I thought it might be fun to use
them in other aspects of the bedroom.
Today I'm sharing my Beachy Stenciled Fabric Pillows. I have seen some
gorgeous beach themed pillows at Home Goods and other places, but I
couldn't justify spending a considerable amount of money on them. So I
decided to make my own!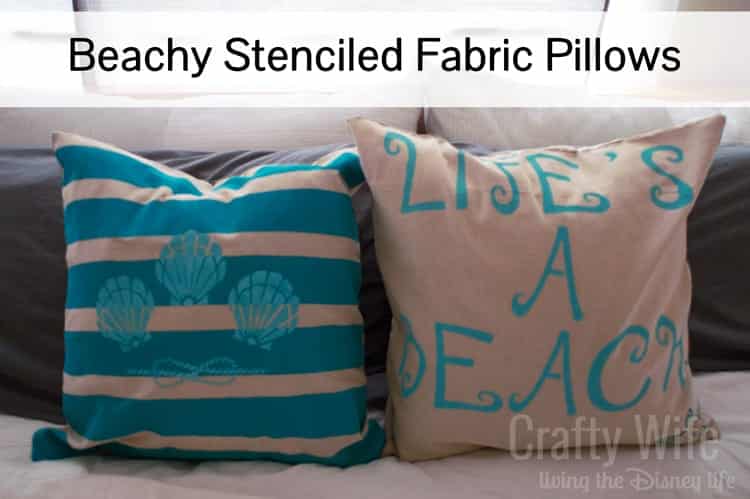 Supplies:
2 18×18 linen pillow cases
2 18×18 pillows
1 bottle of Caribbean Blue acrylic paint from Delta Creative
1 bottle of Tahiti Blue acrylic paint from Delta Creative
2 bottles of a textile medium
Painters Tape for the stripes
Paintbrushes
When looking for supplies for my fabric stencil products, I had a
difficult time finding fabric paint at Hobby Lobby. While standing in
front of the paint I took out my phone to look up other alternatives. Did
you know you could mix a textile medium with acrylic paint so that you can
machine wash your project? I had no idea!
I let the paint dry overnight before putting the pillows inside the case.
That seemed to be more than enough time to let everything set and dry.
If I could change one thing, I'd probably buy smaller stencils for the
"Life's A Beach" pillow because the letters are just a tad too big. But I
really love the pillows and think they look great in the room!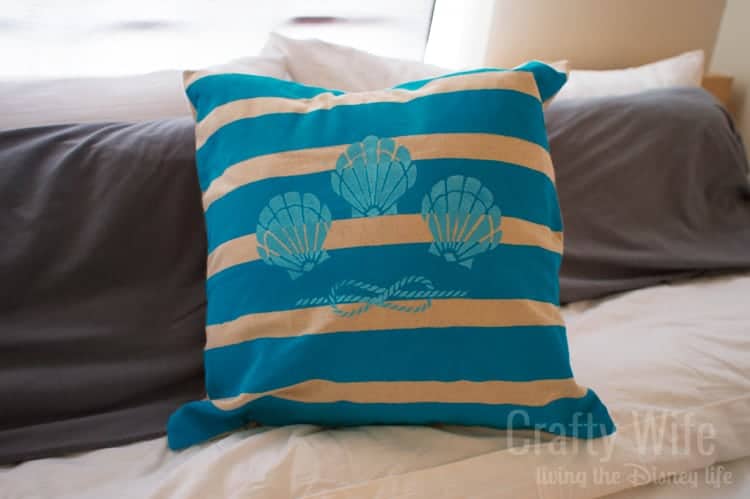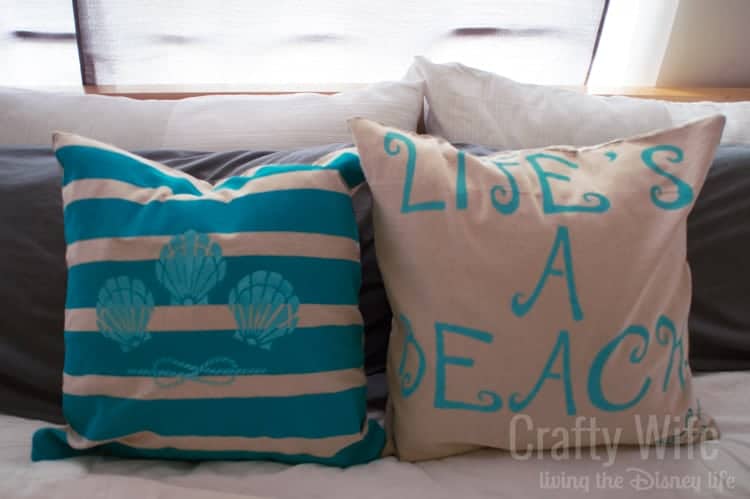 I also have to point out that these types of pillows would make great
gifts! Especially for Father's Day. You could let kids draw on the
pillow cases and then give them to their Grandparents or Dad's. There are
so many possibilities!
I hope you'll come by and check out everything else I've done to our master bedroom so far! I've found that I really love
using stencils and can't wait to find another project to use them on.