This is a sponsored post written by me for Datevitation. While I received free product for this post all opinions are 100% my own. 
For Christmas this year I made some cute homemade date cards for Tyler but it was a lot of work and thinking up the date ideas was no easy feat. When I was introduced to Datevitation I instantly fell in love with the product and the idea behind it. You go in and create a custom date book for your significant other. This date book is complete with the ability to add in your own heads on the bodies in the date pictures. How cute right? I am so excited to bring you a Datevitation Giveaway.
What I loved about Datevitation was that they had so many different date ideas. You could pick an elaborate date like a spa day or a simple dinner in at home for two. It took all of the hard work out of trying to imagine up dates, the only hard part was narrowing down your choices to fit your book. They have over 500 unique date ideas ranging from skydiving to stargazing.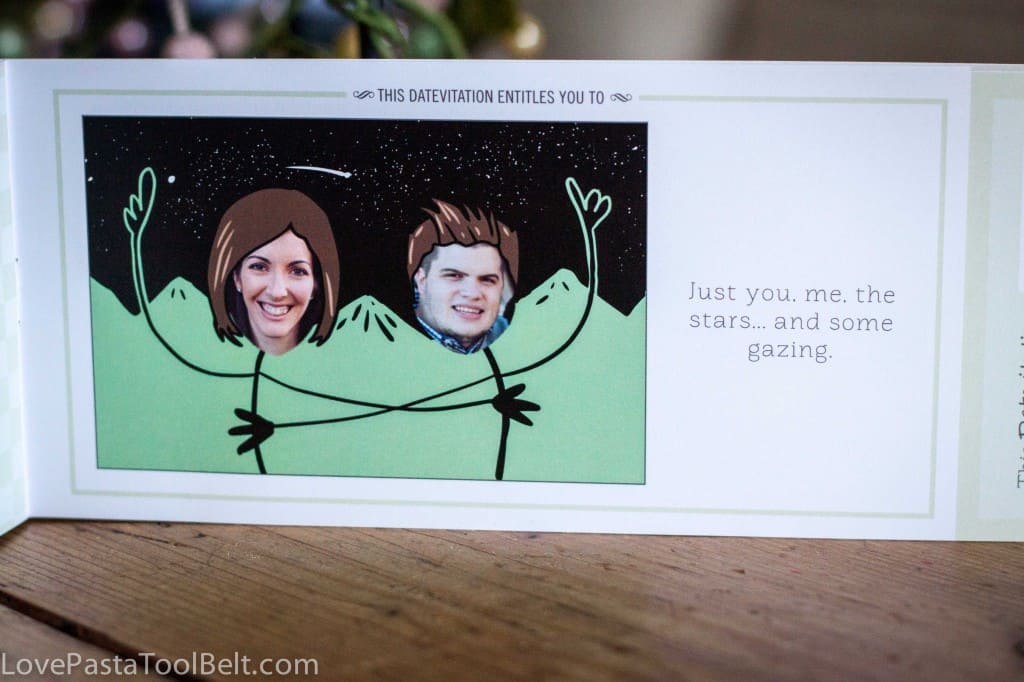 I was so excited when I received my book in the mail. I made one for Tyler for our anniversary but since he is my photo editor extradionaire I had to give it to him early because he was going to see the photos of it and be like what is this? He loved it! Especially the mistake I made which I didn't fix which shows him being the one to give me the 5 star massage not the other way around. Oops.
These gifts would be perfect for Father's Day for those of you wives looking for something special to give your significant other. Or if you have an anniversary coming up like we do then it's the perfect gift that keeps on giving with the dates that are included!
I am so excited to be able to give away a Datevitation book to one of my wonderful readers! You can enter in the Rafflecopter below. I also have a great promo code for you guys to get $10 off your purchase plus free shipping ($13.50 value) using the promo code TOOLBELT 
Be sure to enter the giveaway and head over to Datevitation to create your own book for that special someone! Check out their site and let me know what your favorite date option is?