My baby sister graduated from high school, high school! I can't believe it. It seems like just yesterday we were awaiting to hear that she was born! She is eight years younger than me, I'm the oldest and she's the youngest. It makes me feel pretty old that my youngest sibling has graduated from high school. She has been talking about this day since my sisters wedding in 2011. After that big party I guess Meg decided she deserved a huge party when she graduated high school. Well a big party she got and I decided it would be fun to have a photo booth so I created my own DIY Photo Booth for the party!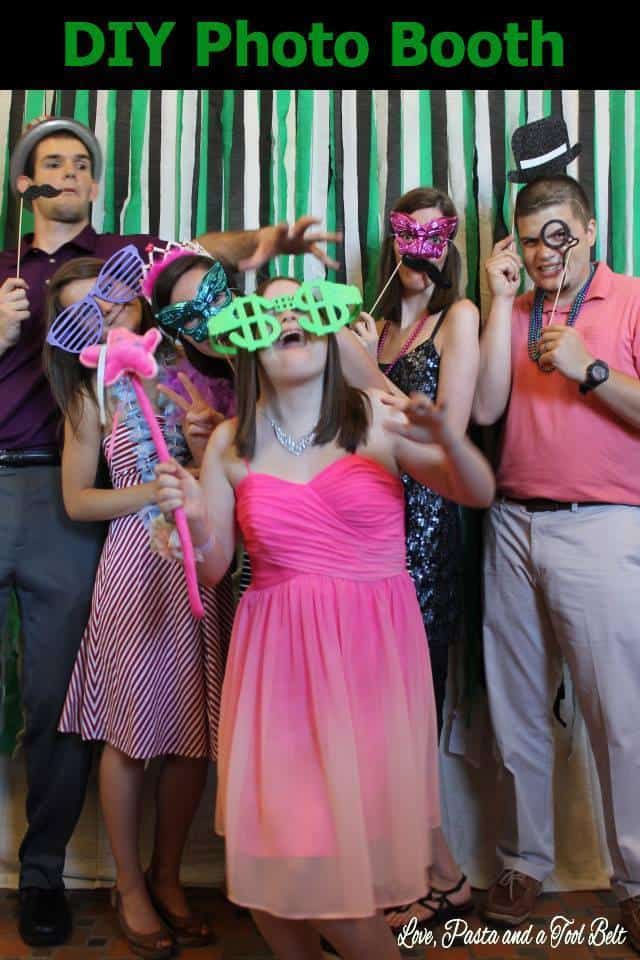 Renting a photo booth can be so expensive. I remember when I got married and you needed money to have one of those. After attending a friends wedding in October, with a photo booth, I decided that I could create my own photo booth and it would be the perfect thing for the big graduation party! It was pretty easy and once you create it all  you need is someone with a good camera to take the pictures and you are set!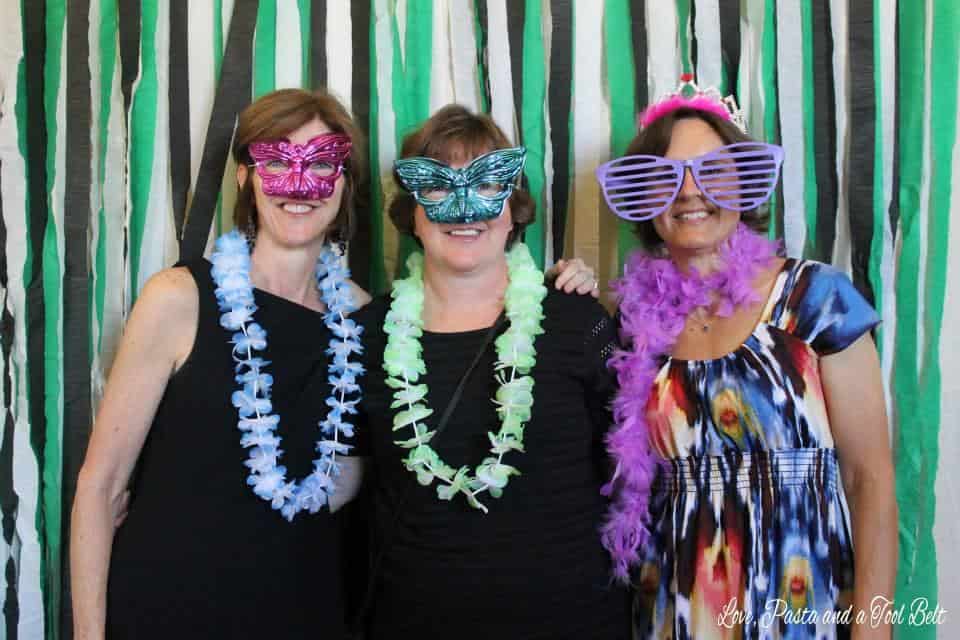 The first thing you will need are props. These were pretty inexpensive and easy to find. I was in Dollar Tree one day and just started looking around and instantly found a lot of great props. Giant sunglasses, a tiara, beads, leis, a fun hat and more. After I got these I headed over to Party City and picked up a couple masks and party blowers. I completed my selection of props by ordering a kit off of Amazon that included mustaches on sticks and hats and glasses. I probably could have made this myself but we were on vacation the week before the party so I ran out of time.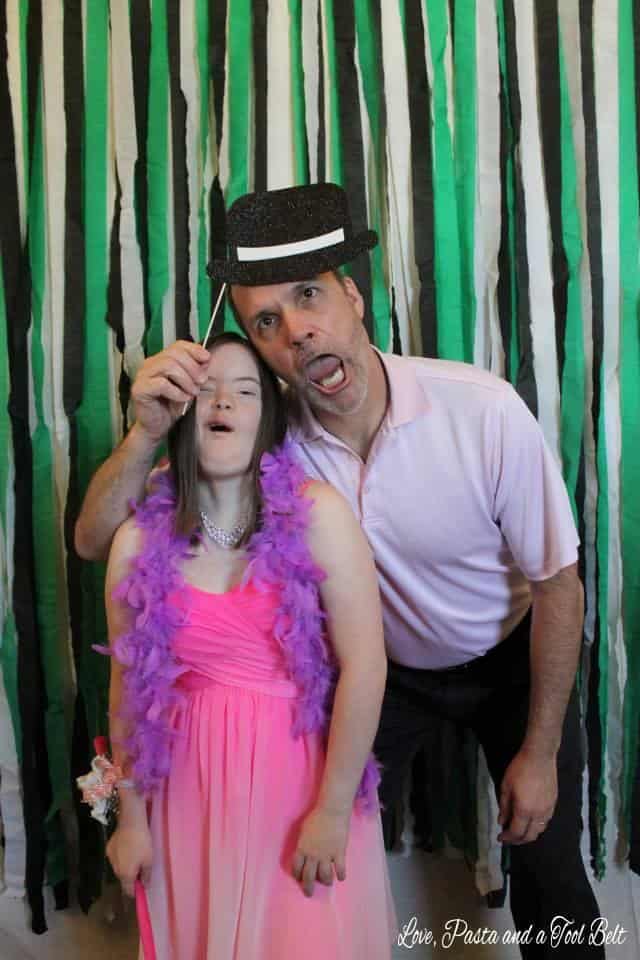 Background Supplies:
– 2 tarps, you can find these at Lowe's or Home Depot. We got ones that were linen colored so they looked nice if they showed through.
– Crepe paper in your color choices
– Staples
– String
– Clothespins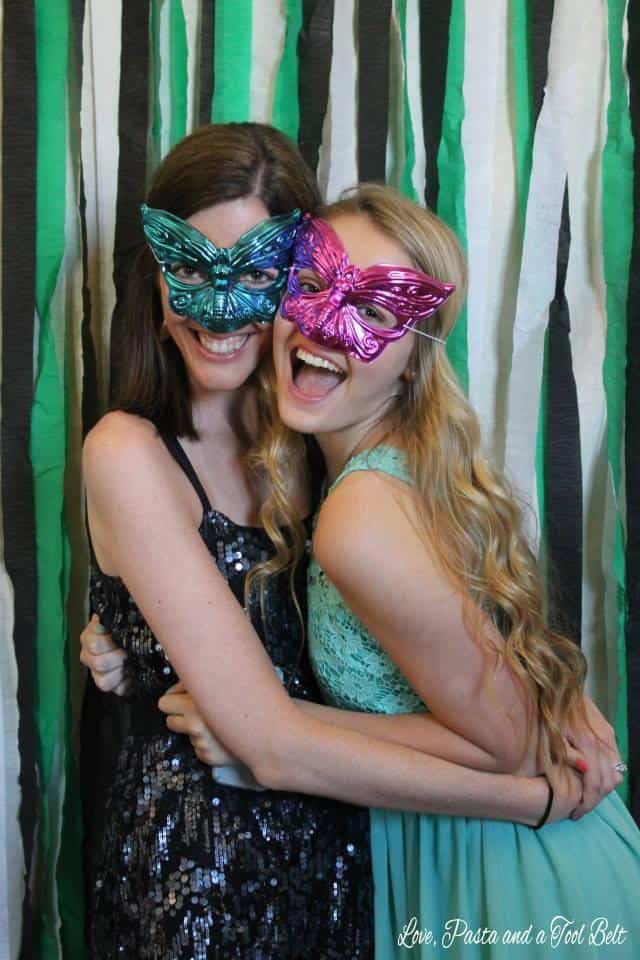 Directions:
1. Take the crepe paper and measure it length wise on the tarp, cut it and staple it to the top. Alternate the colors and make it fun. We did green, white and black which were my sisters school colors.
2. Continue to staple and cover the tarp with the crepe paper
3. To hang it we tied string up tightly and then we used clothespins to hang the tarps on the string. There are various ways you could hang this and this worked best for our venue and was an inexpensive way to hang up the backdrop.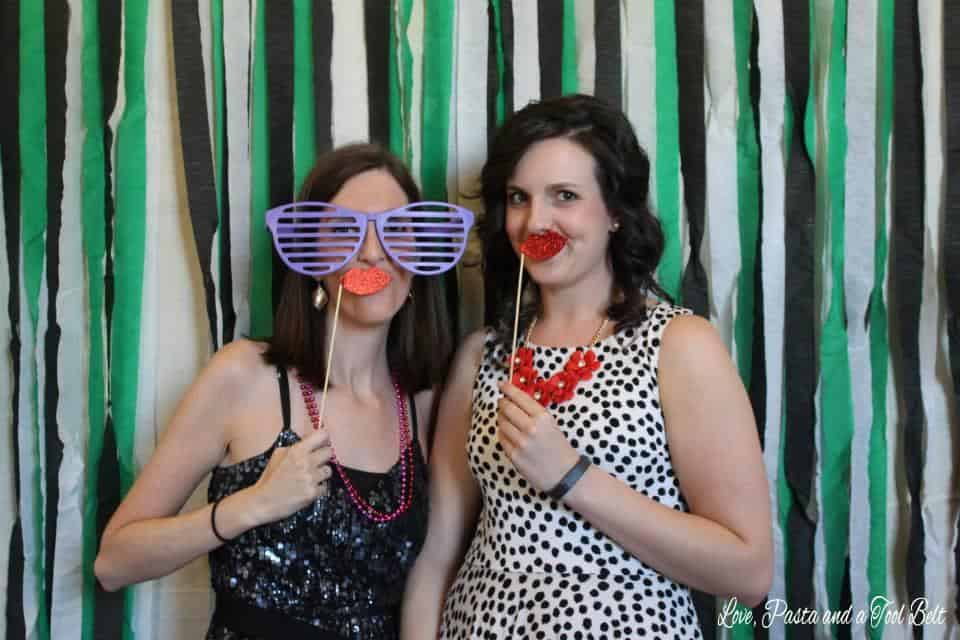 Once you have your backdrop hung up then you can lay out your props, set up your photographer and start the party! The photo booth was a big hit and it is definitely an idea I will be saving for future parties. It was such an inexpensive and fun addition to the party! Tell me, have you ever been to a party with a photo booth? So much fun right? I love that these are pictures you don't have to worry how you look, they are supposed to be goofy and fun! Those are the best pictures!