We are trying to do more local weekend trips so we decided our first trip should be to Chattanooga which is an hour and a half from us. We both really wanted to check out the city, the local attractions and some of the local restaurants. So today I am sharing about Our Trip to Chattanooga.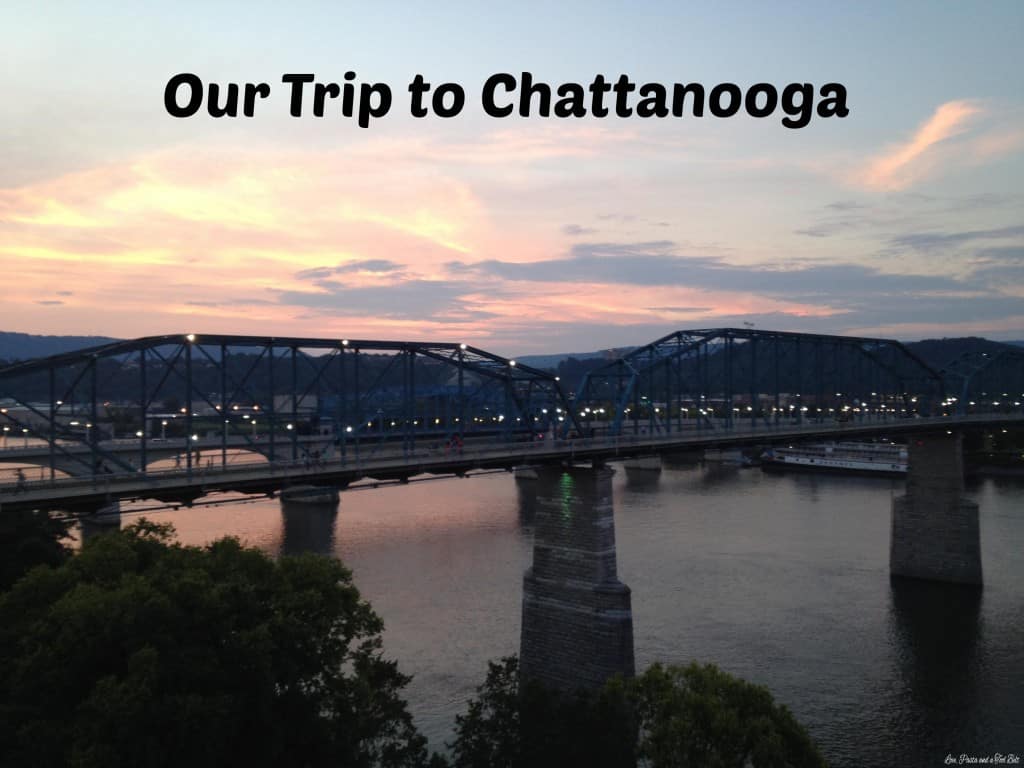 Since my birthday was on the 14th we decided to follow it up with an overnight trip to Chattanooga. Because it is so close to us we decided we could easily drive up on Saturday morning and save the money of two nights at a hotel. We got up Saturday morning, dropped Dolly off at my sisters for a fun cousin sleepover and then hit the road. We arrived at our hotel, the Chattanooga Marriott Downtown and were able to check in early. The lobby of the hotel was gorgeous and the room was spacious, clean and well decorated. That's what I look for in a hotel especially when I'm going to spend more of my time exploring the town, no bells and whistles needed. I used my Tips on How to Priceline and was able to get this hotel room for 50% off the booking price so that was very exciting!
Our hotel was about a mile from the riverfront area so we decided to go on foot. It was ok but it was really hot. It would have been a lot easier if it had been 75 not 95 degrees. We stopped for a quick lunch at Panera and then headed to the Tennessee Aquarium. I hadn't been here since I was a kid so I was excited to check it out. They have a River Journey and an Ocean Journey. The Ocean Journey was probably my favorite. They even had a touch tank where we were able to touch a little hammerhead shark and a sting ray. I got really brave and touched them both! That was fun and would be a hit with any kids I am sure! We caught the end of a show in the big tank with a scuba diver underwater answering questions in a tank with a shark. You couldn't pay me to be in that tank!
After the aquarium we got some delicious ice cream from The Ice Cream Show and walked across the pedestrian bridge and checked out some of the little shops and the park. We were so hot so we headed back to the hotel and went for a little dip in the pool where we ran into one of my aunt's best friends. We also ran into them last year at the beach so obviously we have similar vacation ideas.
We got ready for dinner and headed to Tupelo Honey Cafe for dinner. It was amazing. If you're ever near one then I highly recommend that you go! From the homemade biscuits to the goat cheese grits it was pure southern deliciousness. Tyler had Shrimp and Grits and I had a "vegetable plate" complete with macaroni and cheese, goat cheese grits and fried okra. It was so good. After dinner we wised up and drove over to the Arts District. We were able to find street parking and didn't have to pay. We walked around and checked out the sculptures then finished the evening with delicious desserts at Rembrandts, a very cute coffee house. I had the Chocolate Decadence cake and Tyler had Oreo Cheesecake. Both were scrumptious!
On Sunday we slept in then went across the street for breakfast at City Cafe Diner. The portions were huge and it was very good. I wasn't hungry until dinner time after that breakfast! The french toast was the biggest I had ever seen. The atmosphere inside was cool and we enjoyed our breakfast. After breakfast we did a little shopping at Hamilton Place then headed home. We had a great trip and loved exploring Chattanooga! We're looking forward to our next city to explore!