I love old family recipes. This Chocolate Chip Cookie Cake is not one I have had before but when I was at my aunt's the other week she was telling me about the cookbook my great aunt gave her when she got married. My aunt took pictures of all of the recipes and sent them too me. Isn't it funny how things have changed, from handwritten recipes to pictures sent via text messages?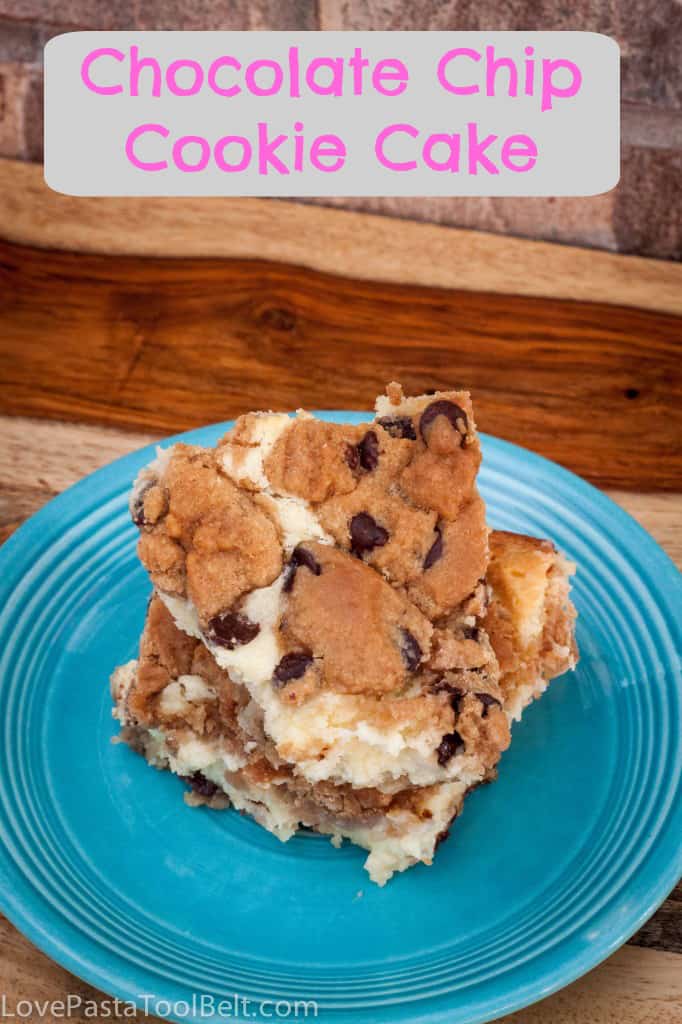 My aunt recently had back surgery so I was excited to be able to visit her and help out. When I was in college my parents moved about 8 hours away so my aunt was like my second mom. I spent most of my weekends at their house and was basically their fifth child. It was so fun to get to go back and spend time with her and my cousins. She sent me so many delicious sounding recipes, but when I read the description for this Chocolate Chip Cookie Cake, I knew it was the first one I was going to try. It is delicious, oh so rich and easy to make.
Chocolate Chip Cookie Cake
Ingredients
2 rolls chocolate chip cookie dough
2 8 oz. packages cream cheese
1 1/2 cups sugar
2 teaspoons vanilla extract
3 eggs
Instructions
Grease a 9x13 pan
Slice one roll of cookie dough into 1/4 to 1/2 inch thick slices and lay in the bottom of pan
Cream together cream cheese, sugar, vanilla extract and eggs until well mixed and creamy
Pour cream cheese mixture on top of cookie dough
Slice second roll of cookie dough into 1/4 to 1/2 inch thick slices and place on top of cream cheese mixture
Bake at 350 for 50-55 minutes. When about 20 minutes are left top with foil to keep the top from getting brown.
Refrigerate any leftovers
https://lovepastatoolbelt.com/2014/10/chocolate-chip-cookie-cake/
This recipe was a hit with the family. It is great when it's first out of the oven and warm. But it's also so good when cold. The cream cheese mixture makes the perfect sweet frosting in the middle. Oh my gosh it's so good! I love this new way to use cookie dough in a great dessert recipe. What's your favorite dessert to use cookie dough in?