Impress all of your guests with this delicious Cream Cheese Apple Cake!
If you're around here much then you probably know one of my favorite things to bake with are apples. Apple muffins, cake, cheesecake and so on. You can make so many delicious desserts with apple.
I was excited when I found this recipe for Cream Cheese Apple Cake in my mom's recipe book, until I realized she had not finished copying it down so it lacked the complete instructions. I had to get creative and do my own thing but it turned out perfect!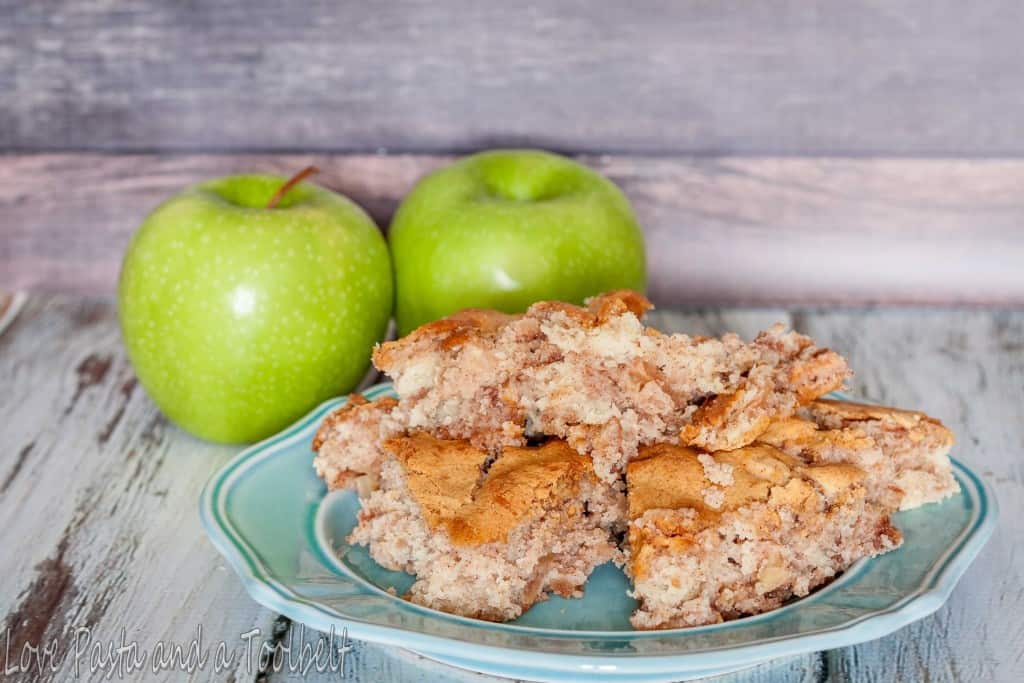 When I was putting this into the oven I really felt like I was putting a pan of cream cheese icing into the oven. I was a little afraid it may not cook but cook it did into one of the best desserts I've ever tasted.
I believe "bits of heaven" and "life changing" were words used by my husband and some teachers from my sister's school. This is one dessert I plan to make again, and again.
Cream Cheese Apple Cake
Ingredients
1 3/4

cup

sugar

divided

1/2

cup

butter

softened

1

teaspoon

vanilla

6

oz

cream cheese

softened

2

large eggs

1

cup

flour

1 1/2

teaspoon

baking powder

1/4

teaspoon

salt

2

teaspoons

cinnamon

2

large Granny Smith apples

peeled and chopped
Instructions
Cream together 1 1/2 cups sugar, butter, vanilla and cream cheese until well blended (about 4 minutes)

Beat in eggs

Gradually add flour and mix in throughly

Add in baking powder and salt

Peel and chop apples then mix in 1/4 cup of sugar and cinnamon

Pour cake mix into a greased baking pan then pour apples on top and mix into cake batter

Bake at 350 for 30-45 minutes or until a fork comes out clean
I had to send this cake to my sister's school for the teachers because otherwise I am pretty sure I would have eaten every last bit of it. I loved it and can't wait to have a good excuse to make it again,  you know like hey it's Tuesday time for cake! Sounds good to me, how about you?
Do you have a favorite cake recipe?