Planning a trip to Florida? Check out this Florida Panhandle Travel Guide for tips for your trip!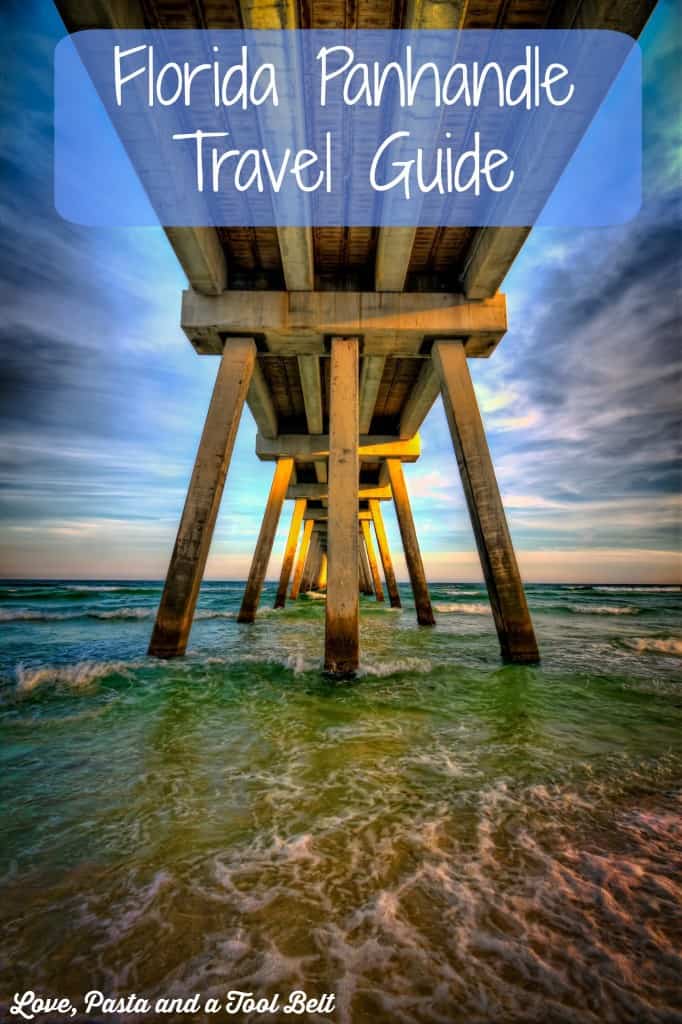 Tyler and I just returned from a wonderful week at Navarre Beach in Florida. It was such a great relaxing week. I think I maybe spent an hour total on my computer, if even. It was so nice to be able to schedule out some wonderful guest posts for you guys to read, and enjoy a week with no work. As a blogger, it can be hard to truly take a vacation but it's no less important. Today I wanted to share with you a little about the highlights of our vacation, especially if you're planning to take a trip down to the Panhandle anytime soon.
Destination: Navarre, Florida, referred to as "Florida's Best Kept Secret", though I'm afraid the secret is getting out. But still it's not a terribly crowded beach and it's gorgeous. It was Tyler's second time there and my umpteenth time there, my family has vacationed there for years.
Where to stay: There are no hotels directly on the beach. There are a handful of condo complexes and we've stayed at two different ones and had great experiences at both. There are also condos and townhomes on the bay side which you can get for less and there is a great public beach that's just a few minutes away. There are a handful of houses for rent as well but we've never rented a house.
Where to eat: Navarre is limited in it's dining choices. We tried three local places for dinner and loved each of them. Rocco's, Cactus Flower and The Shrimp Basket. For breakfast in Navarre be sure to check out Sailor's Grille, the french toast is delicious! If you want to drive to eat you have Pensacola 45 minutes one way where we enjoyed Peg Leg Pete's, and then Destin and Fort Walton are 45 and 30 minutes the other way. In Destin you have to stop at the Donut Hole for breakfast, it offers way more than donuts and was so delicious! For dinner we highly recommend Marina Cafe. It's a bit pricey but excellent customer service, a pretty view, delicious food and great for a romantic dinner.
What to do: Well obviously the beach, the white sand and blue waters in Navarre are beautiful. The seaweed may come in but you just kind of deal with that at the beach. We enjoyed a day at Big Kahuna's waterpark in Destin. Once we were a bit tanned, we decided to take a day off from the beach and went to the outlet mall in Destin, then checked out the Destin Commons where we saw Pitch Perfect 2 which was so good!
These were a few of the highlights from our trip. Have you ever been to the Panhandle area? I'd love to hear some of your favorite places for our next trip back, which I so wish could start tomorrow!