This shop has been compensated by Collective Bias, Inc. and its advertiser. All opinions are mine alone. #SummerYum #CollectiveBias
Celebrate some Summer Fun with Fried Chicken from Wal Mart and a yummy Strawberry Jello Salad recipe!
Would you believe that until a few years ago I had never tried true fried chicken? I know what you're thinking, how can this girl call herself southern and not have tried fried chicken? You know I probably had at some point but when I was younger the idea of a bone being in my chicken really freaked me out. So to avoid the embarrassment of asking someone to cut my chicken I always opted for something else. Now that I'm older, and can cut my own chicken, I have a serious love for fried chicken. It makes for such a delicious meal.
During the summer I often find myself uninspired to cook up big meals. It's too hot to turn on the oven for a long time and some days it's too hot to outside and grill. That's why I was so excited to pick up an 8 Piece Fried Chicken from Wal Mart. It's the perfect option for a hot summer day when you're having guests over or to serve at your 4th of July party!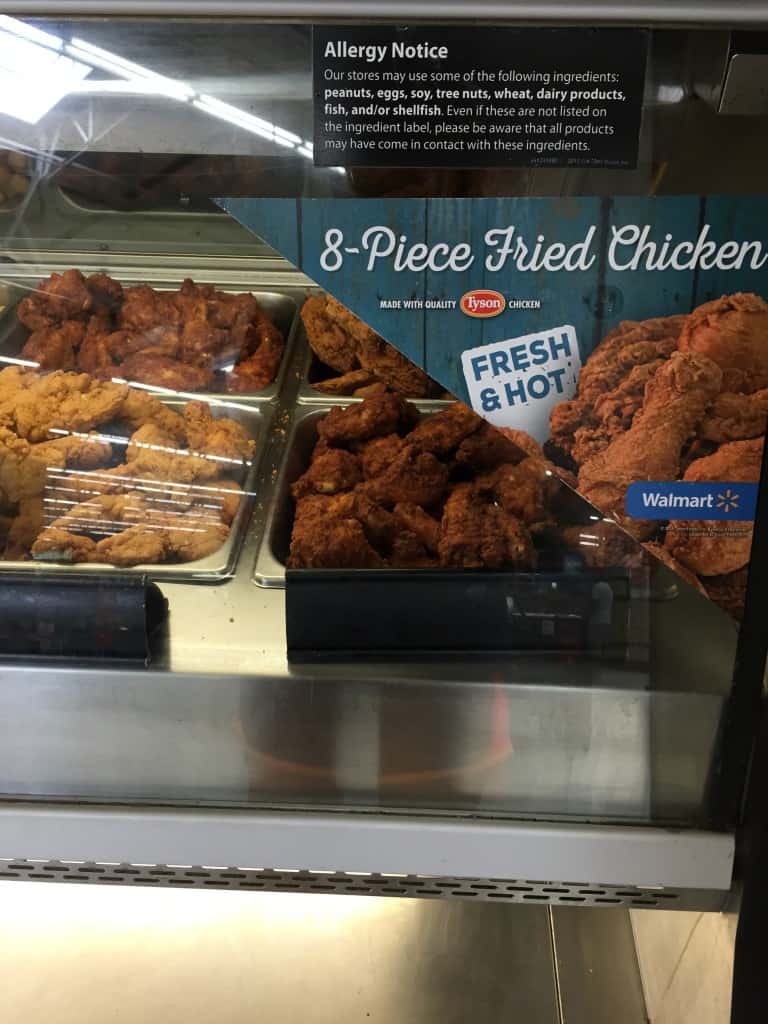 To go along with the chicken I decided to make this Strawberry Jello Salad. It's the perfect summer side dish because you it doesn't involve baking, only chilling in the fridge.
Strawberry Jello Salad
Author:
Ingredients
1st Layer:
2 cups crushed Pretzels
1/2 cup sugar
1 stick butter, melted
2nd Layer:
8 oz. cream cheese
1/2 cup powdered sugar
8 oz. cool whip
3rd Layer:
2 cups boiling water
6 oz. (large box) strawberry jello
10 oz. frozen strawberries
1/2 cup cold water
Instructions
Take the ingredients for the first layer, mix together and spread in the bottom of a 9×13 pan
For the second layer, cream together cream cheese and powdered sugar
Fold in cool whip
Spread (carefully) over pretzel layer, make sure the cream cheese layer is spread to the edges, with no holes. If there are any holes the jello will go through the holes and make the pretzels soggy.
Chill while making the 3rd layer
Boil 2 cups of water
Mix jello in until dissolved
Add frozen strawberries and 1/2 cup cold water
Chill until cool, but not congealed
Pour (carefully) over cream cheese layer
Cover and chill for at least 8 hours
This side dish went perfectly with the chicken and it's great for the 4th of July because of it's red color! Since it was hot outside I did some green beans in the crock pot and a box of macaroni and cheese for our side dishes. It was a simple meal and the chicken was so delicious!
There are so many options at Wal Mart for the fried chicken. You can purchase any amount you want, all the way up to 100 pieces if you've got a big crowd to feed. Just make sure you call ahead if you need that many! So tell me, do you have big 4th of July plans?