Please welcome my guest poster Kendra with her recipe for Fresh Summer Salad with Sweet Strawberry Vinaigrette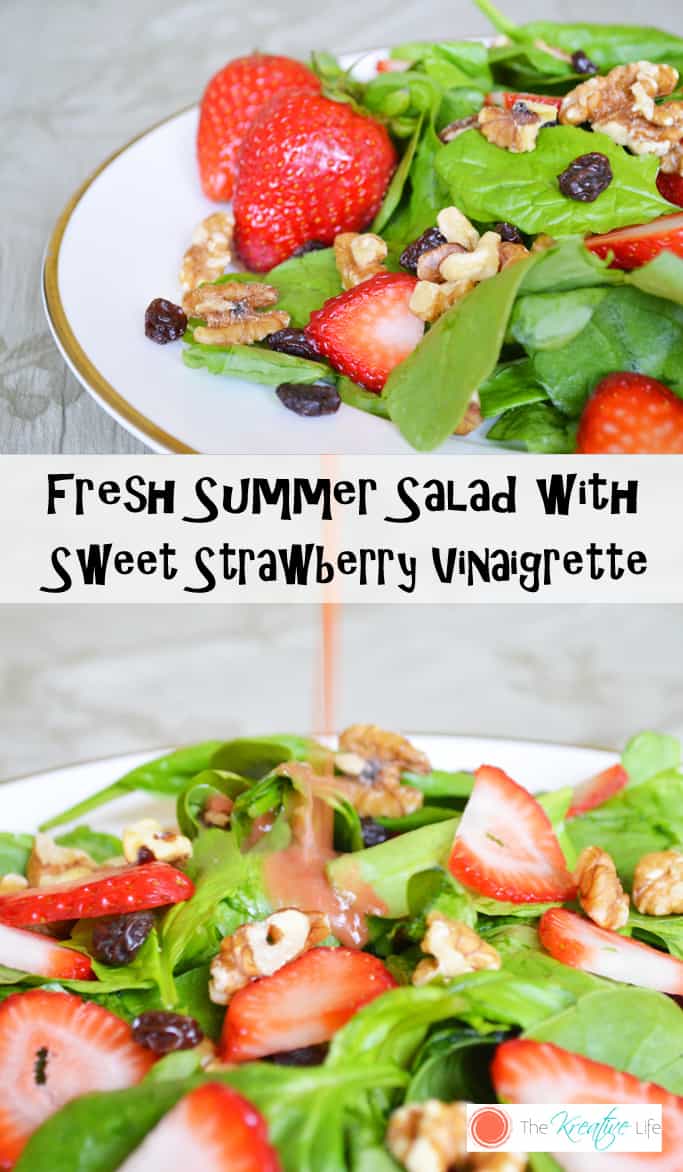 Hi, everyone! I'm Kendra from The Kreative Life and I want to thank Emily for allowing me to take over her blog for the day! I have a family-friendly blog where I share crafts, recipes, diy projects, and everyday life tips. If I'm not busy blogging, then you can bet I'm chasing around my two babies on the beach or at a park nearby. I would love for you all to come check me out on Facebook, Pinterest, Twitter, Instagram, YouTube, and Periscope (@TheKreativeLife) where I live stream video to all of my followers. Can't wait to see you all there!
I am a lettuce-eating, veggie-loving, fruit-chomping type of gal. If it comes out of the ground or grows on a tree, you can bet that I've tried it at least once. I like my sweets too, but I can go for days without eating anything but fruits and veggies. I've always been that way and no, I'm not a vegetarian. You may think that it can get boring, but I assure you that it does not. There's more than one way to eat a variety of fruits and veggies. You can eat kale fresh or sauté it on the stove. You can have a fresh apple or slice it up, add a little cinnamon, and pop it in the oven. The possibilities are endless. One of my favorite things to eat, fresh or cooked, is spinach. I cook it so much that I think my husband has developed an aversion to it and the only reason he eats it is because I'm not going to cook another veggie for the night.
I do love fresh salads and since summer is finally here, that also means strawberries! I love those two and what more could a girl ask for than having two of her faves in the same dish? There's nothing more perfect than eating a cool, crisp salad with some of the freshest fruits and veggies around. This fresh summer salad with sweet strawberry vinaigrette has everything I could ask for! It's tangy, sweet, and crunchy! Did I forget to mention that it's healthy?
Fresh Summer Salad with Sweet Strawberry Vinaigrette
Ingredients
For the Salad
2 Cups Spinach, Washed and Patted Dry
3 Large Strawberries, Sliced
¼ Cup Walnuts, Shell Removed
3 Tbsp. Raisins
For the Vinaigrette
1 Cup Strawberries, Chopped
¼ Cup Extra Virgin Olive Oil
¼ Cup Balsamic Vinegar
1 Tbsp. Honey
Instructions
Get all of the ingredients for the salad and gently toss a bowl.
Set aside.
Add all ingredients for the vinaigrette in a blender.
Blend until the mixture is smooth.
Plate the salad and pour vinaigrette on top.
Enjoy!