Today I'm sharing a great list of Road Trip Essentials with Nature Valley Simple Nut Bar to pack for your next trip!
I love a good road trip, sometimes. If I'm prepared and also if it isn't too long. Since we live at least four hours or more away from almost all of our family road trips are a common in our home. And then there are those trips to the beach or exploring new places. For me it's important to be prepared for these road trips but I always forget something. So I thought I would share a list of Road Trip Essentials with you today for your reference and mine.
1. Snacks- Snacks are such an important thing to have on a road trip and because I want to be sure I have healthy snacks I like to bring along my Nature Valley Simple Nut Bars. These bars are made with 7 Wholesome Ingredients. They come in two flavors, Almond Cashew Sea Salt and Roasted Peanut Honey. For a road trip you need to be fueled up and these bars are a great option for your road trip snack.
2. Water- It's always important to stay hydrated and when you're sitting still and driving or riding all day it's no different. I always like to save money by bringing my own water rather than buying it at the gas station.
3. Map- If you're going somewhere new a map or printed instructions is a great back up to your smartphone. In case you end up somewhere with no signal it's always good to have a back up.
4. Playlists/Music- Making a road trip playlist is always fun and jamming out helps your trip seem to go a little faster.
5. Car Chargers- Make sure you phone or music player stay charged with a car charger. You'd hate to end up in a jam with a dead cell phone.
6. Sunglasses- Driving without sunglasses on a bright day is not fun. Make sure you have your sunglasses so you're not squinting and giving yourself a headache.
7. Medicine- Ibuprofen is great to have for those aches or pains after a long road trip and I always like to bring along my allergy medicine in case I need it.
8. Entertainment for the kids- If you are traveling with kids (which we are not yet) then that's a whole other ball game. So make sure you bring plenty of entertainment for the kids, coloring books, movies etc.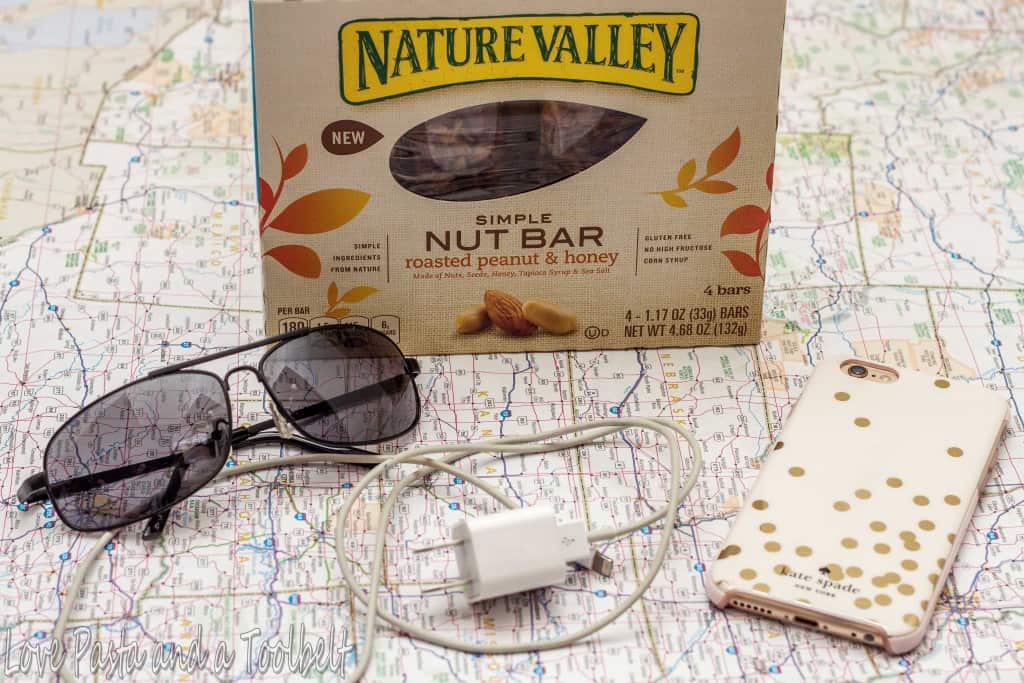 These are just a few of my road trip essentials and I'd love to hear yours too! I especially like to remember snacks because if I don't pack a healthier snack I will end up buying a candy bar or some other junk food at the gas station. If you head out to Publix to pick up your Nature Valley Simple Nut Bars you can use this coupon for $0.75 off one box valid from 7/20 – 8/17/2015! Which would you try first, Almond Cashew Sea Salt and Roasted Peanut Honey?
Also be sure to enter our $15 Paypal Giveaway to help you stock up on your road trip essentials!