Please welcome Linda from Brunch with Joy as she shares her recipe for S'mores Popsicles!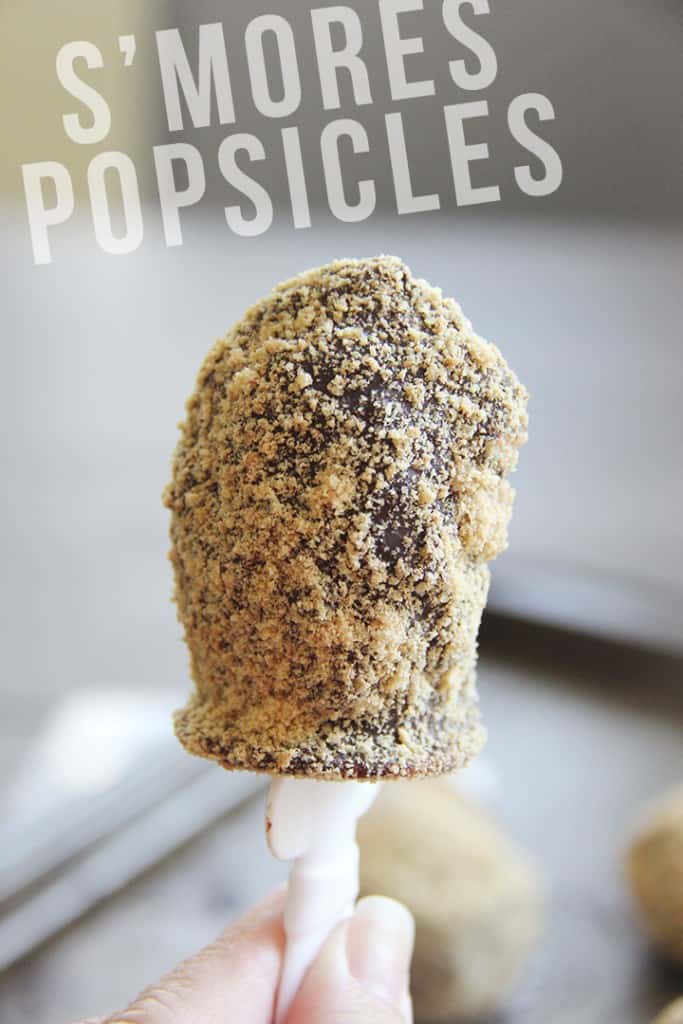 Did I mention that I love S'mores? Well, now you know. Hello! I'm Linda and I blog over at Brunch with Joy. I'm so happy to be here and meet Emily's readers today. Unlike any other year, I feel this Summer is filled with so many activities. From traveling to traveling and traveling. Yes… there are so many impromptu vacations almost every two months or within weeks. And the happy me is always excited when it is time for leisure or gatherings.
A few weeks ago we had a small group BBQ party. While the adults were busy enjoying grilled baby back ribs and sipping wine, the kids had fun too, with their S'mores popsicles. For the love of S'mores, I got a chance to try both! The idea for S'mores popsicles popped up at the last minute, but I'm quite happy with the result. Although this treat doesn't require lots of ingredients, they are fun to be enjoyed by kids and adults alike.
If you love S'mores like I do, this is definitely a dessert you must try… at least once. The prep is so easy and you can make these popsicles ahead of time.
S'mores Popsicles
Author:
Ingredients
1 cup marshmallow
2 cups vanilla bean ice cream
4oz milk chocolate bar, melted in microwave for 30 sec
6 oz graham crackers, crushed into pieces
Instructions
Broil the oven to 300F. Scatter the marshmallows on the baking sheet and pop the baking sheet in the oven for 10 minutes. Watch the marshmallows carefully – they will burn easily.
While the marshmallows are still hot, stir them into the ice cream in a large bowl. Pop the bowl into the freezer for 1 hour to allow the ice cream to set up a bit.
Scoop the ice cream into popsicles mold and freeze them overnight.
To assemble: when the chocolate has cooled, spoon the melted chocolate over each popsicle to coat the ice cream. Immediately roll the popsicle in the graham crackers. Place the finished popsicle back on the backing sheet in the freezer.
Be sure visit Linda over at Brunch with Joy or on Facebook | Google+ | Instagram | Pinterest | Twitter |