This shop has been compensated by Collective Bias, Inc. and its advertiser. All opinions are mine alone. #DipYourWay #CollectiveBias
Plan a summer party with these Take a Dip Summer Party Ideas with Kraft!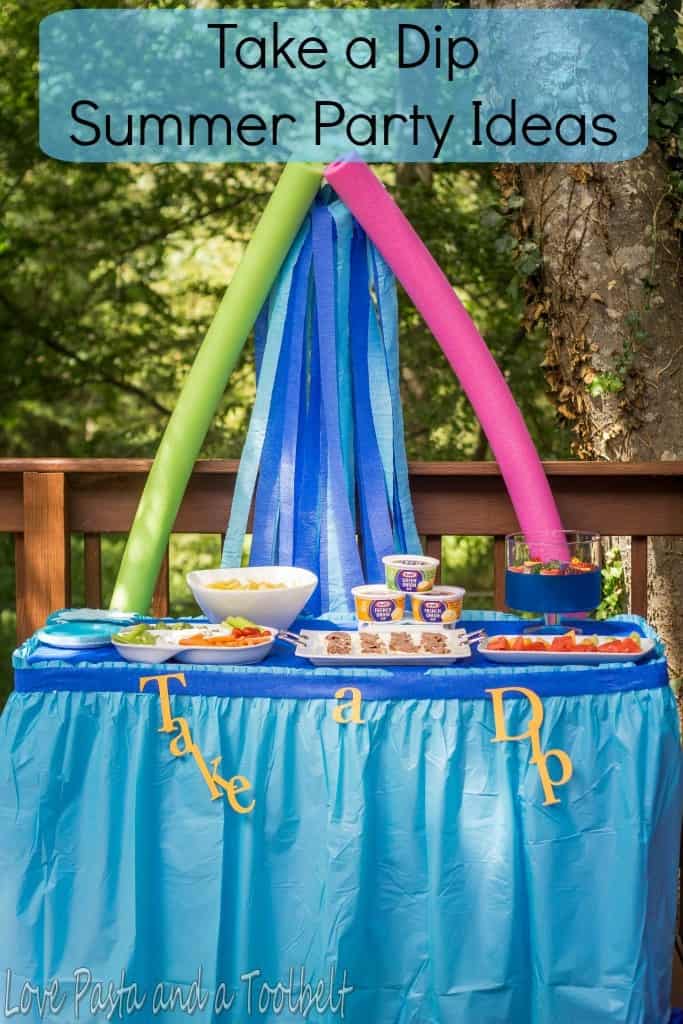 It's been a really hot summer in the south, like start sweating the minute you walk out the door hot. The humidity is no joke and we have not had many cloudy or rainy days. These hot humid days just make me want to take a dip in the pool which is what inspired this Take a Dip Summer Party. It's always fun to have summer parties and this party was by far my favorite that I've done so far!
Let's start with food, the most important part of a party in my opinion. I decided to pick up some of the newly repackaged Kraft dips at Walmart to start off my party planning.
Since this party is a Take a Dip theme including the Kraft Dips as my first foods, seemed like the way to start off a party. I love dips because there are so many different ways to use them when entertaining for a party. I decided to use the Kraft French Onion Dip and Kraft Green Onion Dip in a couple different ways. There is also a Bacon and Cheddar Dip which sounds so delicious too.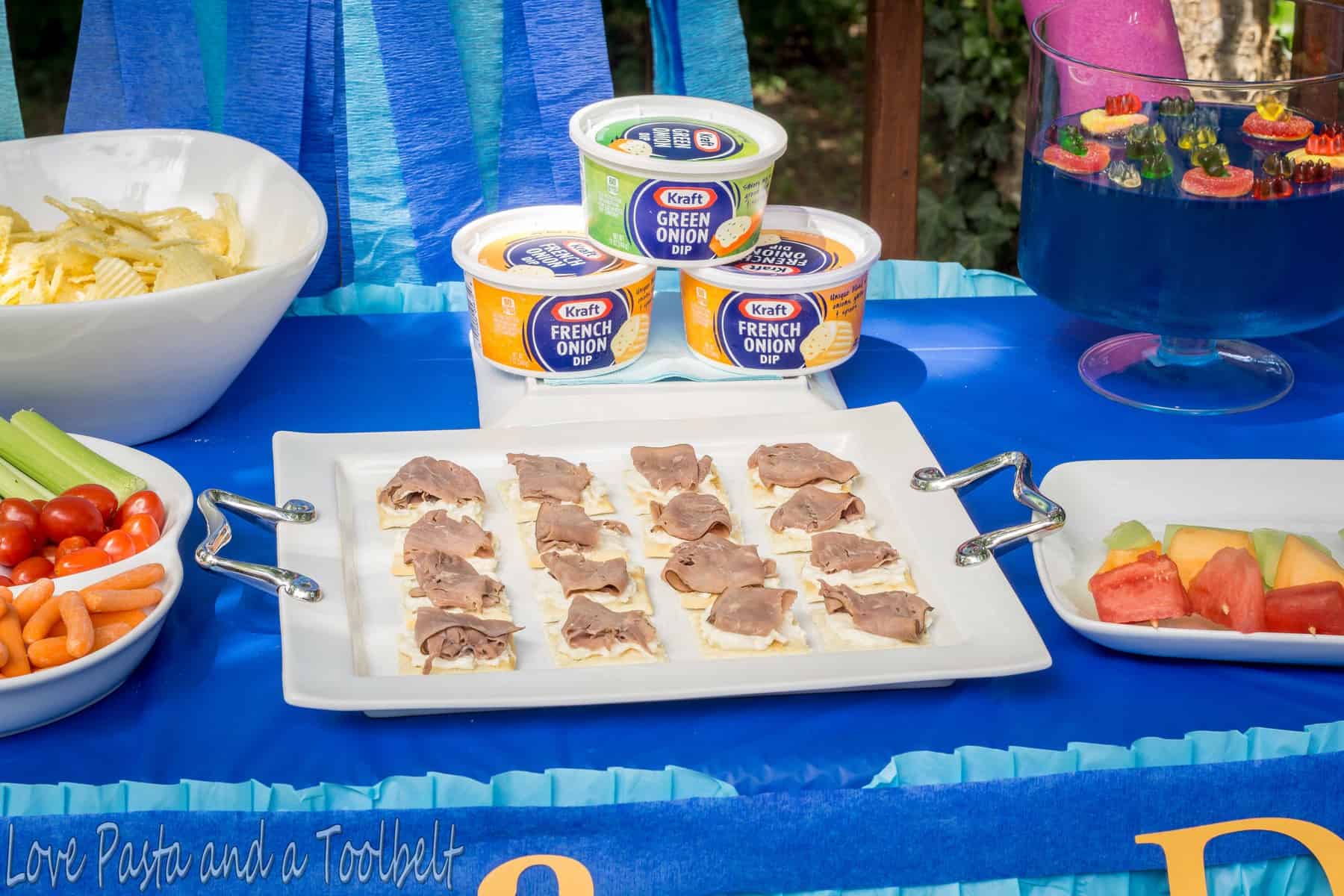 I decided to make a fun little appetizer using both the french onion and green onion dips. Depending on which one you prefer you can make this recipe with only one or use both!
Take a Dip Summer Party Ideas
Author:
Ingredients
1 package of your favorite crackers
Kraft French Onion or Kraft Green Onion Dip
Roast Beef
Instructions
Count out the amount of crackers you need for your party
Spread the crackers with either the Kraft French Onion or Kraft Green Onion Dip, or alternate with both
Roll up pieces of roast beef and place on top of the crackers and dip
Serve and enjoy!
For a party I think simple food is best so these Roast Beef Appetizers were the perfect simple food for a party. I bought deli roast beef to keep it simple. Since I had these great dips I also picked up some chips for dipping as well as some fresh veggies. That way the guests have options when it comes to what to use to take a dip.
Now you always need some sweet things. Fruit kabobs were my first sweet thing because on a hot summer day fresh fruit is so delicious and refreshing. It was simple to take the cut fruit and put them on skewers to make those simple fruit kabobs.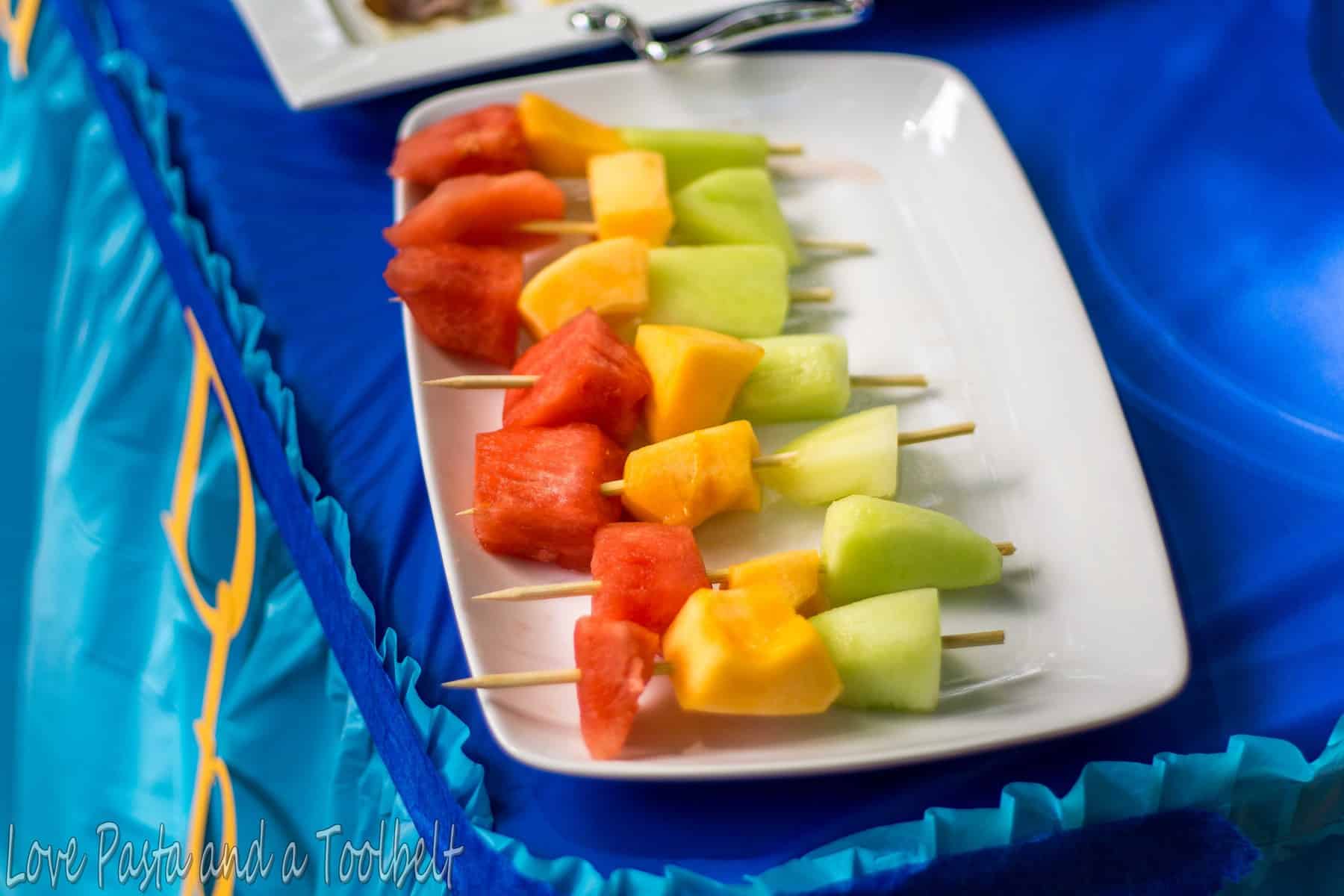 One of my favorite aspects of the food was my Take a Dip Jello. I bought two large packs of the blue jello and made it in my trifle dish. The beautiful blue color looked like a pool you just wanted to jump into. I added some peach rings to look like inner tubes along with some gummy bears to be floating in the pool and on the inner tubes. I loved this fun dessert!
For drinks, I picked up a few packs of the Kool Aid squirters then filled a small kiddie pool with ice and the drinks. It was a great way to incorporate the Take a Dip theme even into the drinks.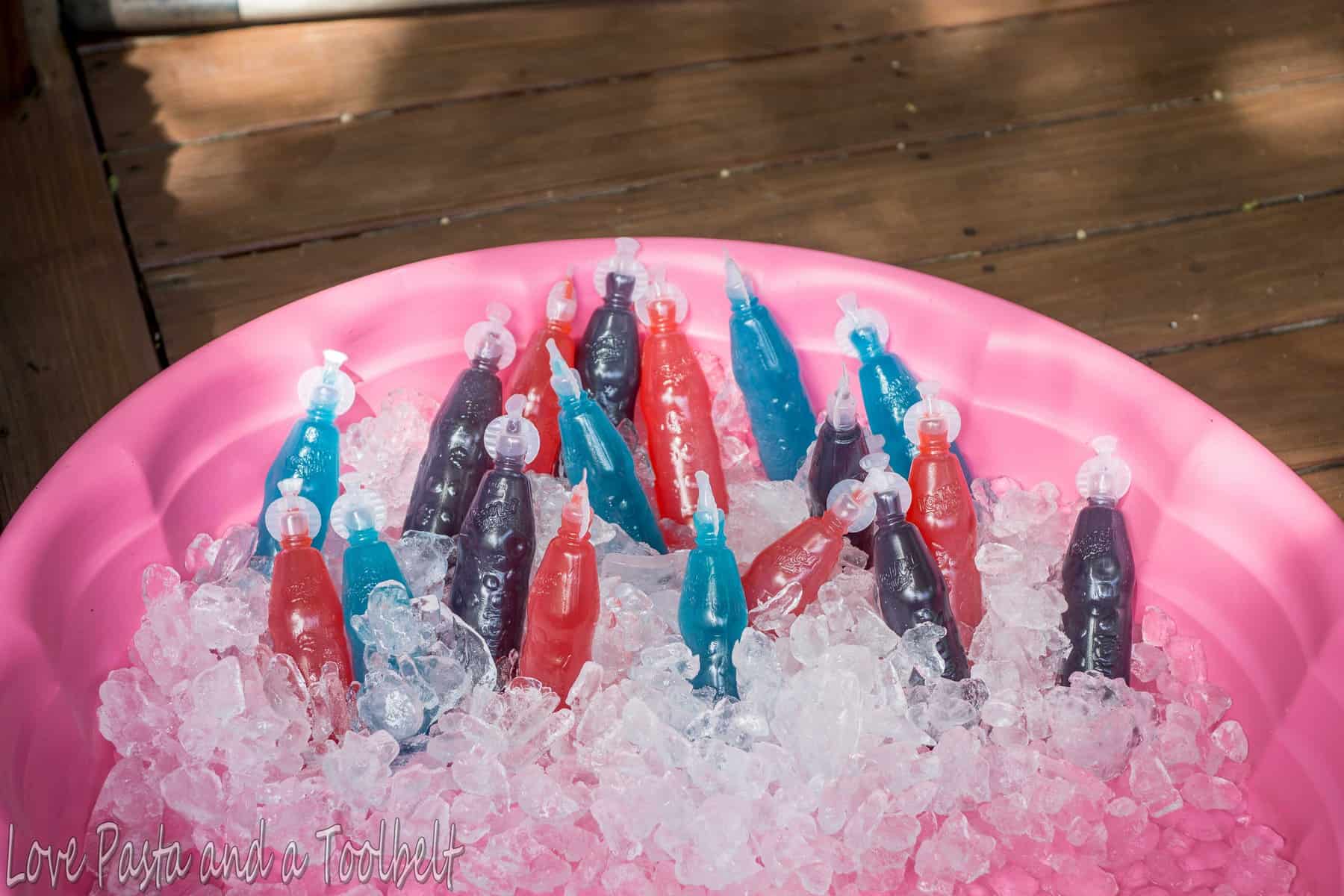 Now on to decorations. I wanted to create a feel of water so I picked up a dark blue table cloth and a light blue table skirt at the store. I also picked up some matching streamers to create my waterfall like backdrop. I used pool noodles as the two side props to hold up the waterfall like back drop. A lot of duck tape was used in getting that to stay put. I also got light blue plates and napkins for the food.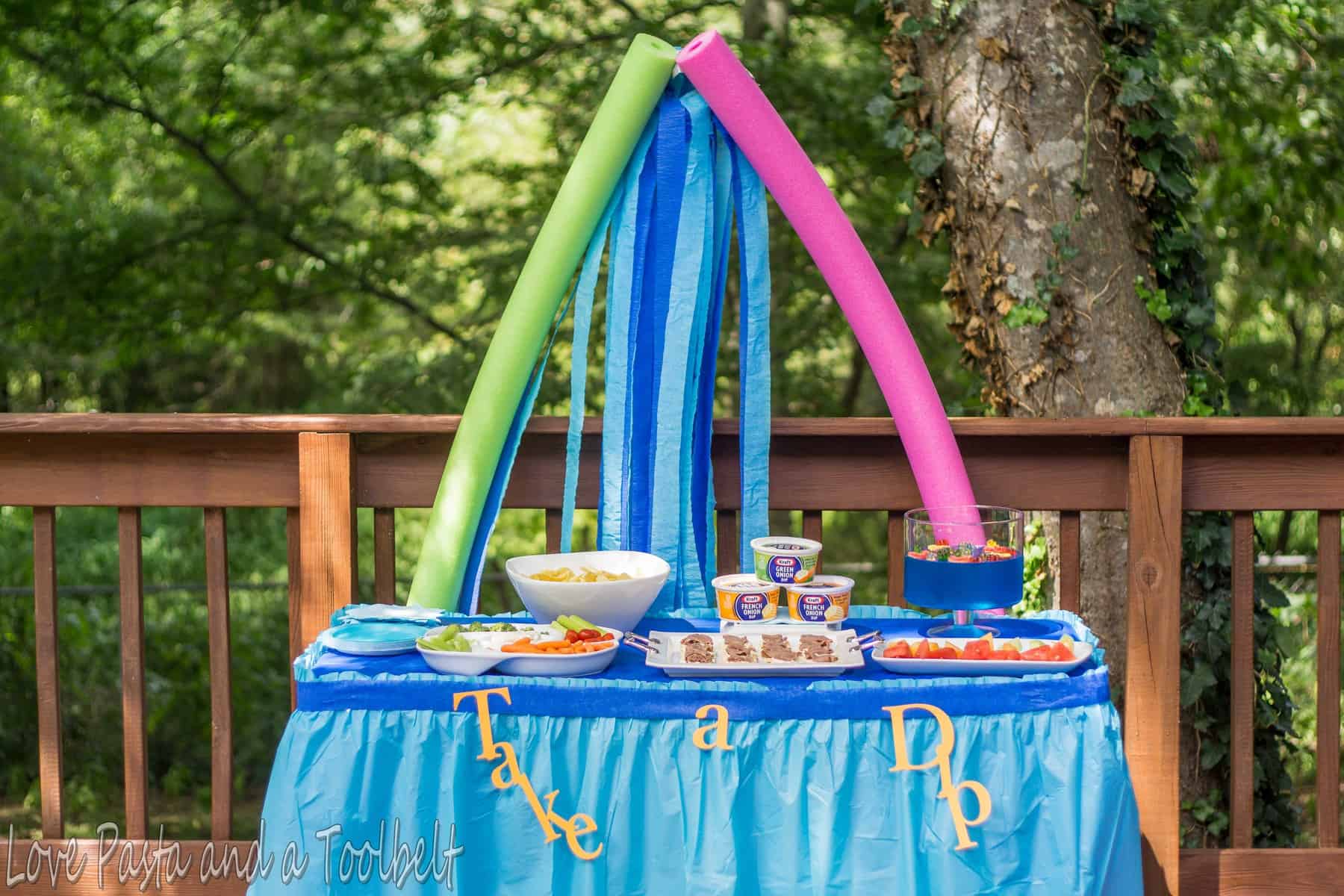 I used my brand new silhouette to make my Take a Dip banner which hung on the front of the table. All in all it was a pretty simple to put together party. I wanted to keep it easy while still letting it look very fun and inviting. It made me wish I had a pool in my backyard so I would really take a dip. I guess for now I'll have to settle with the kiddie pool.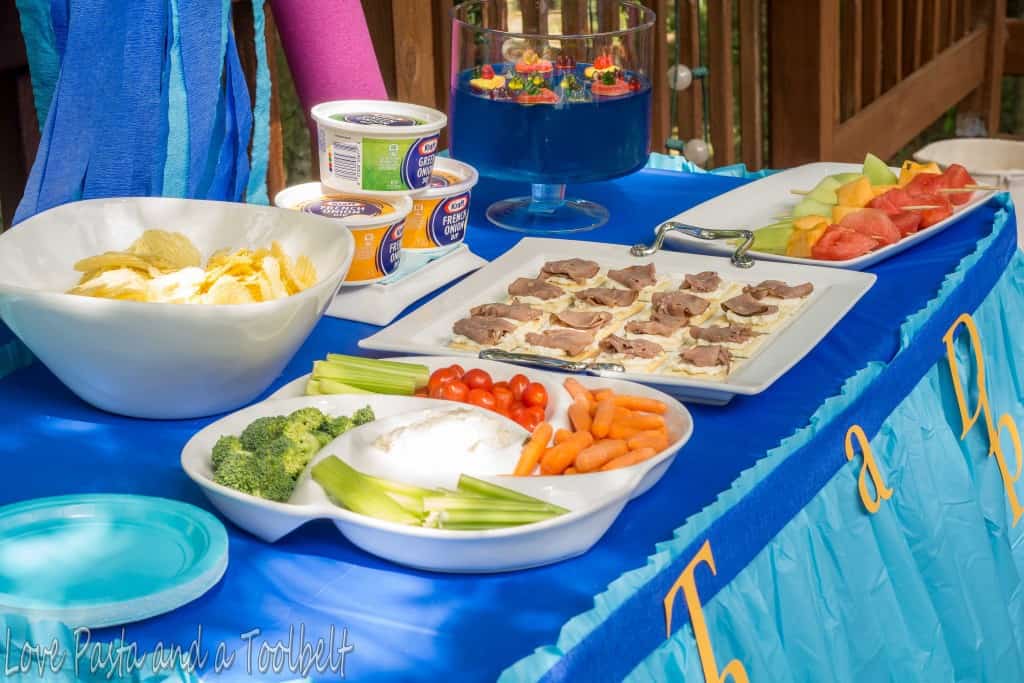 So tell me, have you had any summer parties? And have you tried the Kraft dips?