Please welcome my contributor Heather as she shares her cute DIY Copper Marble Vase!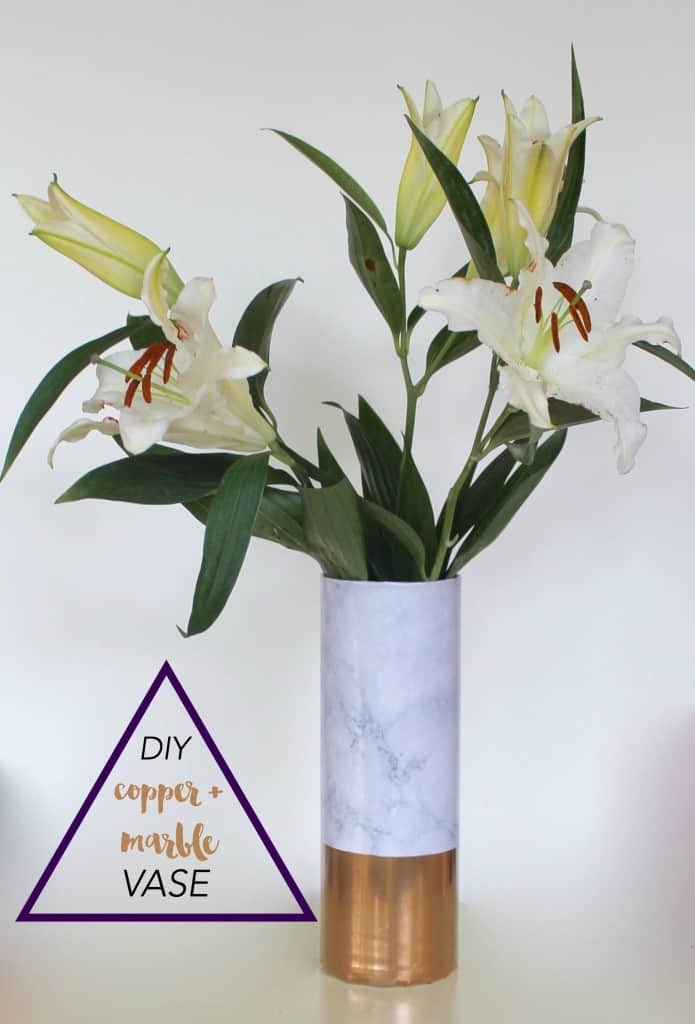 Hi Again, Friends! Heather here from The Deans List blog. Know what trend I'm loving? Marble and copper everything. Seriously, have you looked around lately? It seems to be popping up everywhere, and I can't say I'm mad about it.
Today, I want to show you how to make one of these – for less than $5. Yes, seriously.
What you'll need is a straight vase (mine is leftover from my wedding), marble contact paper (I had some on hand, but you can find this at lower or online), and copper spray paint (from Hobby Lobby with my 40% off coupon!). You'll also need to keep some scissors, painters tape and paper handy. Oh, and of course some fresh flowers – treat yo self.
I like to start by measuring the circumference of the vase, and also the length. Here, my circumference was 13″, and the length was about 10″. On your contact paper, measure one inch extra to each of those measurements, so in my case it would be 14″ x 11″.
Make sure the surface on your vase is clean. I recommend cleaning it with your normal glass cleaner. Then, use the contact paper to carefully wrap your vase. You'll want to hold the contact paper taut, and also make sure it's clear of any bubbles.
Wrap the extra inside the top of the vase.
Then, use your favorite painters tape to mark off the area you want to be copper. Use some scrap paper to wrap around the marble you don't want to be copper, and tape that down as well.
As you may have expected, this is the part that you'll spray paint the area you want copper and let it dry. Once it's fully dry, take off the painters tape and fill with your favorite flowers.
Enjoy!
If you decide to make one of these trendy marble vases, be sure to tag me on instagram or twitter with #deanslistDIY!