Hi again! I'm excited to be back sharing one of my family's favorite comfort meals, Oven Baked Beef Stew. Warm, comforting beef stew with fresh baked bread is one our favorite winter meals. I often will cook stew in the slow cooker but we also love this oven baked stew. Same idea; chopped carrots, chopped potato, onions, tender beef stew meat and some creaminess and seasonings, but it's baked in the oven.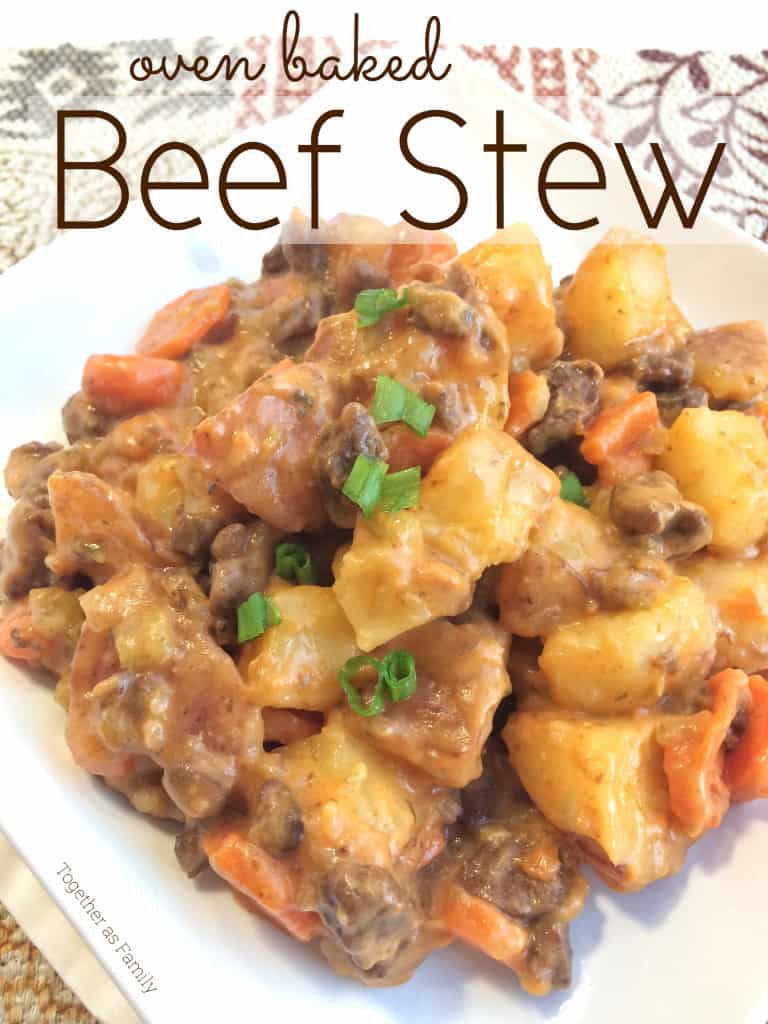 I know some may not like the idea of having the oven on for a couple of hours. Unless it's Thanksgiving of course and the turkey is baking away 🙂 But, for me there is something so comforting about the warm oven on in the house with the enticing aroma of stew baking away. Now I am only wishing we actually had cold weather to match the warm stew baking. My kids were playing with the hose yesterday! Can you believe it?! It's been rather warm here in Maryland.
The seasonings and other "add-ins" may seem odd in this recipe. Trust me, that's what I thought too. I mean, ketchup?? I don't even like ketchup and I loved this. I have often substituted tomato sauce for the ketchup. We are not ketchup lovers here at our house so I don't always have it on hand.
This only takes minutes to prepare and then you let the oven do the rest of the work. So easy! I love those easy dinner recipes that basically make themselves.
Oven Baked Beef Stew
Author:
Cook time:
Total time:
Ingredients
1 envelope (1 oz) dry onion soup mix
1/2 teaspoon salt
1/2 teaspoon paprika
1 1/2 lbs lean beef stew meat, chunked
3 potatoes, unpeeled and chunked
1 large yellow onion, diced
1 bag (16 oz) baby carrots
1 can (14.5 oz) condensed cream of celery soup
1/2 cup ketchup
Instructions
Heat oven to 325 degrees.
Prepare a 9×13 baking dish by spraying with cooking spray.
In large, gallon-sized, Ziploc bag combine onion soup mix, salt, paprika, and beef stew meat.
Shake until combined and the meat is coated.
Pour into the prepared baking dish.
Evenly arrange the potatoes, onions, and carrots on top of the meat.
In a small bowl, combine cream of celery soup and ketchup. Pour over the meat and vegetables.
Cover with tin foil and bake for 2 hours.
Thanks so much for having me again. I hope you all have a wonderful Thanksgiving and eat lots of sweet potatoes and cranberries (my two favorites at Thanksgiving).
If you're looking for some Thanksgiving menu ideas, try these roasted maple cinnamon sweet potatoes, slow cooker creamed corn and for dessert pumpkin pie pecan cobbler.
Visit Jessica on Facebook | Pinterest | Instagram |