This is a sponsored post written by me on behalf of Kohler for IZEA. All opinions are 100% mine.
Get inspired with this Kitchen Design Inspiration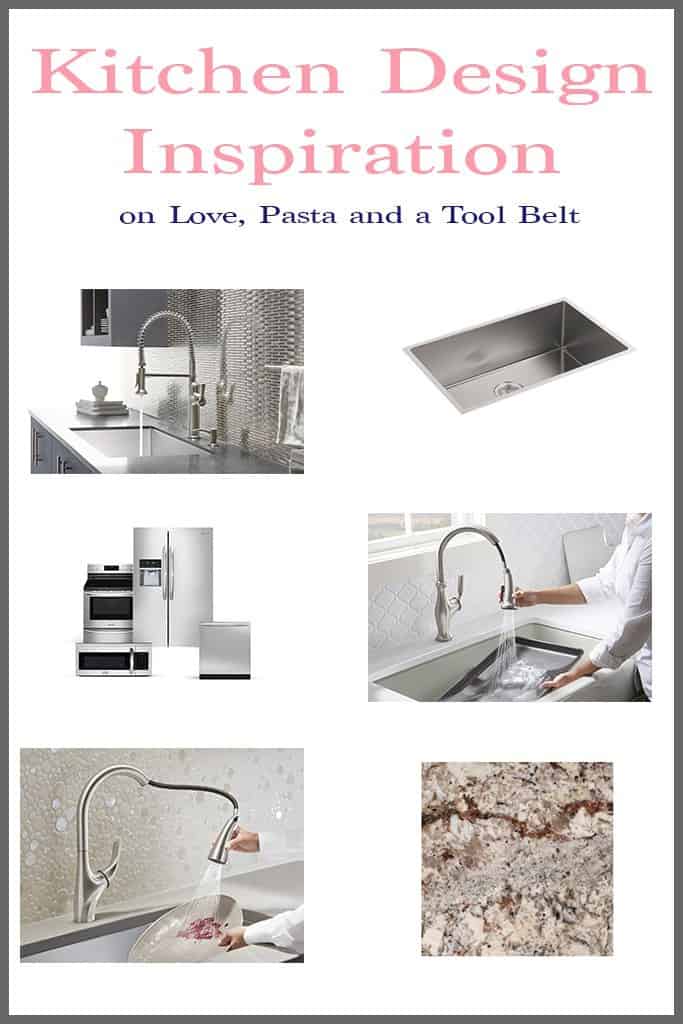 I don't know what it is but something about winter just makes me want to get house projects done. Ok let's be honest, it makes me want to give projects to my husband to get done. I mean I help with the ones I can but he does all the heavy lifting and I provide the moral support (and the ideas). So far this winter we've done a lot of painting, replaced some light fixtures, refreshed our dining room and have been working hard on getting the nursery ready. I don't know if it's the cold weather that makes you want to stay indoors or all the HGTV I've been watching. Either way I'm full of ideas for my house.
One area in my house where I have a million and one ideas is my kitchen. It works because they always say the kitchen is one place you get money back when you sell your house so we feel good investing in our kitchen but there is so much we want to do so it has to be a slow process. Today I wanted to share a few of my inspirations for my kitchen for things I'd love to replace!
A new faucet– This one is high on my list. Parts of our kitchen, including the faucet are stuck in the 90's and I'm ready to get out of the 90's. I picked out a few faucets that are exclusively available at Home Depot that I love!

– Kohler Sous Kitchen Faucet – This faucet has a magnetic docking arm to keep the spray head in place, a 2 function spray head and DIYer friendly installation if you want to install it yourself! Also I mean look at it, how pretty right?

– Kohler Worth Kitchen Faucet – This one includes the magnetic docking as well as a MasterClean spray face with a flexible nozzle for easy cleaning. I am all about making kitchen cleaning easier, aren't you?

Kohler Trielle Kitchen Faucet– This is an assembled faucet that includes a soap/lotion dispenser and deck plate. It's also DIYer installation friendly so you can install yourself and save some money!


A new sink– In following with the new faucet I'd also love a new sink, a deeper on preferably! I love this beautiful Kohler undermount stainless steel sink!
Source: The Home Depot
Granite countertops– I can't wait until we get granite countertops. This will be a huge change to our kitchen and I can't wait to see it. If you can't tell I have a theme here, all of these replacements will have to be done at the same time! Part of my trouble with granite is I just cannot pick one I like for our kitchen, but I think this one is so pretty and a possibility!
Source: The Home Depot
New appliances– Now here's a part of our kitchen completely stuck in the 90's if not even the 80's. Our appliances are so old and outdated that Tyler had the same dishwasher as a child. I think my point has been made. Stainless steel appliances are at the top of my list and would be such a dream come true!
Source: The Home Depot
Lighting– I have big plans to change out the rest of the lighting in our house. The gold fixtures and the fan in my kitchen are just not for me. I love the look changing lighting can add to a house and look forward to switching up the lighting in my kitchen!
These are the main things on my list for my kitchen inspiration. I am looking forward to when we can continue our overhaul of our kitchen. It started out with our repainting the cabinets and putting in hardwood floors which made such a difference. I am excited to see what things like a new faucet will add to this room!
What are some dream items for redoing your kitchen?