Welcome to my contributor Betsy from BMoore Healthy as she shares her recipe for Veggie Lover's Polenta Pizza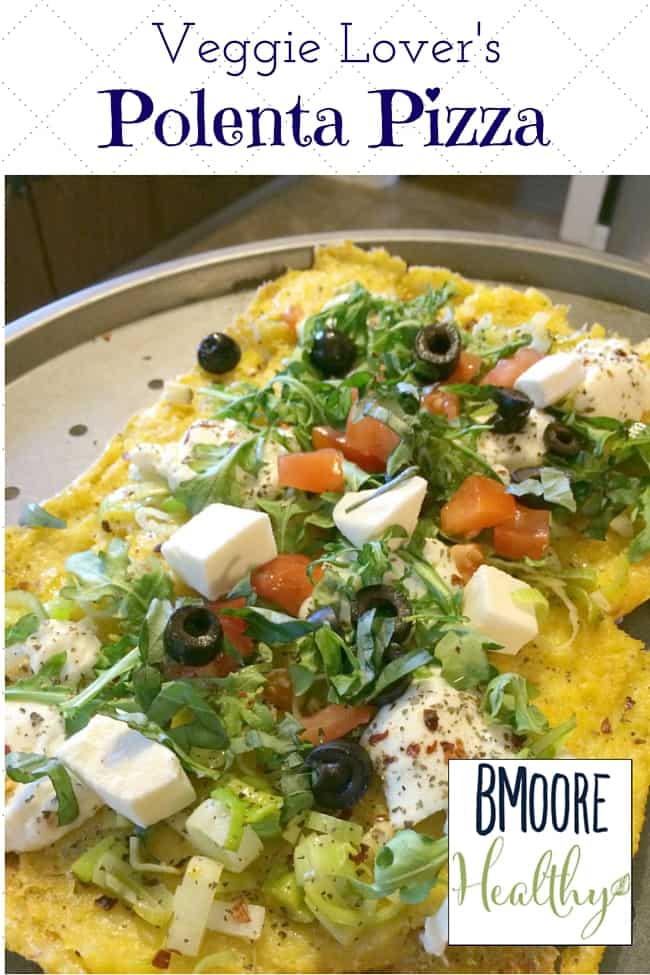 Hi, I'm Betsy and I am in love with pizza. In love. I look forward to getting creative in my kitchen and coming up with different pizza crust ideas as well as unique topping combinations. As a health coach, I try to make food healthy without sacrificing flavor. I typically believe that pizza made at home is going to be healthier than pizza made in a restaurant.
I am lucky because my husband and my two daughters, ages 6 and 3, eat everything I make. Well, 99% of the things I make. I know, I am really fortunate. Because they are all good eaters, I have the freedom to get creative in the kitchen. I had a bag of polenta in the cabinet so I got creative. The hubby and the girls approved.
Veggie Lover's Polenta Pizza
Author:
Prep time:
Cook time:
Total time:
Ingredients
2 tablespoons extra virgin olive oil
1/2 cup grated parmesan cheese
2 1/2 cups water
sea salt and pepper as desired
1 cup coarse cornmeal
2 cups arugula
1/2 cup black olives, chopped
1 cup leeks, chopped
1 roma tomato, chopped
1 cup fresh mozzarella cubes
3/4 cup ricotta cheese
1/2 cup fresh basil, cut into ribbons
Instructions
Put olive oil on a cookie sheet. Spread around to cover. Heat oven to 400 degrees F.
In a small saucepan, combine water and salt. Bring to a boil, reduce heat to medium, and add cornmeal, whisking the entire time to prevent lumps. Simmer on low, whisking frequently, until thick. Add parmesan cheese and extra water, if needed. Pour polenta onto baking sheet and form into either a circle or rectangle to resemble a pizza.
Put polenta in oven and bake for 30 to 40 minutes, or until it begins to brown and crisp on edges.
Put one tablespoon olive oil in a large frying pan. Add the leeks and cook, stirring occasionally, until soft.
Take polenta out of oven, and flip if necessary. Put back in the oven for about 15 minutes to crisp the other side. Sprinkle with fresh mozzarella cheese, ricotta cheese, and the veggies. Put pizza back in oven for two minutes, or until cheese begins to melt and the toppings are warmed through. Cut into slices and serve hot or at room temperature. Top with grated Parmesan cheese and crushed red pepper flakes, if desired.
I typically prefer a thin and crunchy pizza crust. As the polenta pizza crust was baking I realized that it was not going to be super crunchy. Therefore, I took it out of the oven and flipped it over and continued to let it bake for awhile. This is an optional step but I think it worked out great.
When it comes to toppings, I decided to skip a red sauce this time and go with a white pizza full of veggies. However, this pizza crust would be delicious covered with pepperoni or sausage. We are big fans of ricotta cheese on pizza in our house so I added some to this pizza and it was the perfect combination with the leeks. So delicious!
Get creative and try out polenta pizza crust for your next pizza night. You won't regret it! Be sure and come visit me on Facebook, Instagram or Pinterest for more recipes and healthy ideas! Keep in touch. Thanks to Emily for letting me share this recipe with you all.
Thank you to Betsy for sharing this healthy and delicious recipe with us!