Enjoy grilling with this delicious recipe for Honey Garlic Chicken Kabobs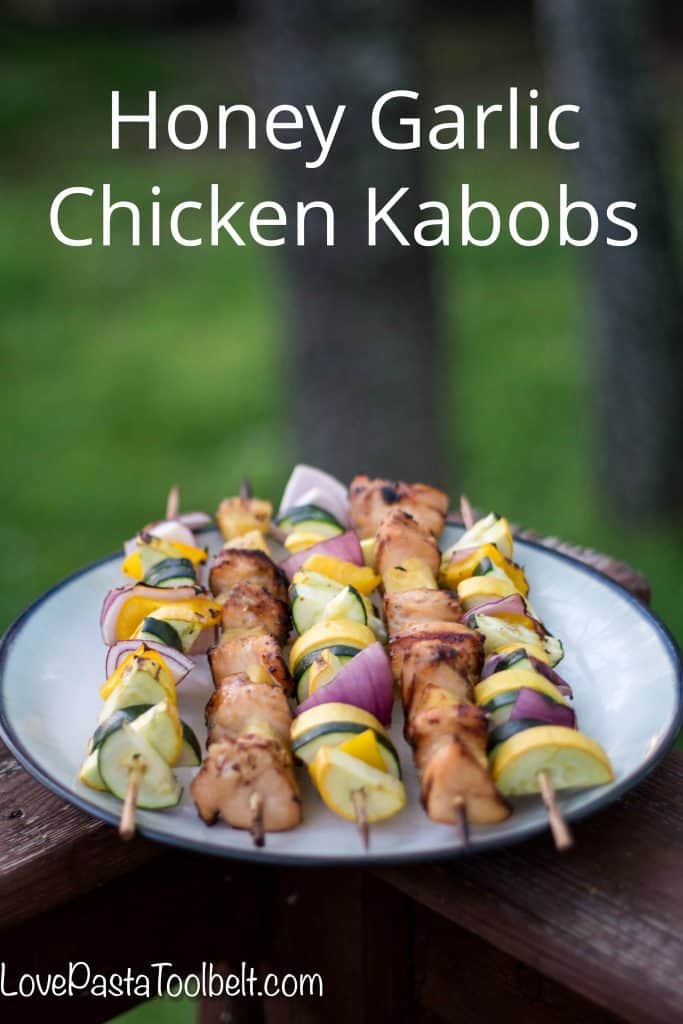 I'm so happy that grilling season is upon us, especially since our oven stopped working the other week. It was kind of expected but at the same time I was hoping the oven would last a little bit longer. But it's ok because soon my kitchen will be filled with beautiful new appliances and will no longer look circa 1985, can I get a what what! It really is strange what excites us as grown up's isn't it?
So back to the recipe. I love kabobs but we don't make them that often. So I decided to come up with a new recipe for them and thus came up with these Honey Garlic Chicken Kabobs. I'm a huge fan of honey, love it and I just love using it in a marinade for meat. I love the flavor it provides and how well it pairs with the meats.
I decided to do the veggies on a different kabob than the chicken and pineapple because everything cooks at such a different rate. So for the veggie side of things I decided to do squash, zucchini, bell peppers and red onion. One thing I didn't do was marinate the veggies, so they were a little on the dry side. Next time I think I will drizzle them with some olive oil just to keep them from being too dry but they were still very delicious.
I cut the chicken into cubes and then placed it in the marinade for about 30 minutes. You could do this for longer if you want but in all honesty Tyler actually cut the chicken up because I hate touching raw meat so I waited for him to get home for the meat chopping and marinading.
Honey Garlic Chicken Kabobs
Author:
Ingredients
1/3 cup honey
2 Tablespoon Soy Sauce
3 cloves minced garlic
2 chicken breasts
1 zucchini
1 squash
1 bell pepper
1/2 red onion
1 can diced pineapple
Instructions
Heat up your grill
Mix together the honey, soy sauce and garlic to make your marinade
Cut the chicken into cubes and place in the marinade, mix to coat well
While chicken is in the marinade chop up your veggies in cubes, big enough so they will stay on the skewers.
Place the veggies on the skewers and set aside
Place the chicken and pineapple onto the skewer, alternating
Grill until chicken is cooked thru and veggies are cooked
These turned out really delicious and had a great flavor. We served ours over rice and really enjoyed them. Have you ever made kabobs? What is your favorite thing to put on your kabobs?