Loaded Puff Pastry Breakfast Cups are full of everything you love: bacon, hash browns, eggs, sausage and cheese! All individual portions for easy eating!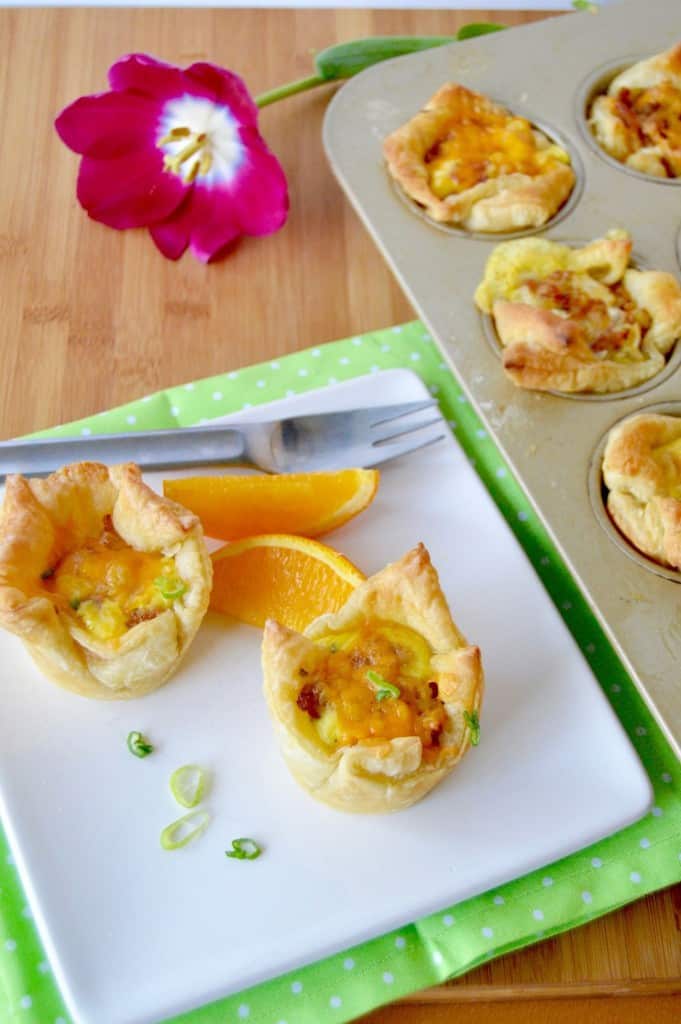 Hi! I'm Michele and I blog over at West Via Midwest. I blog about appetizers, small plates and cocktails. I also have an ongoing series where I blog about 2-fer meals (Cook it once, then serve it two completely different ways!)
I'm so excited to be guest posting for Emily for the day while she is taking a little time with her new bundle of joy. I thought I'd share with you an easy peasy breakfast recipe full of all the things you love about breakfast and also made in individual servings for taking with you on your way out the door. (Aren't we all always on the go?) It works as a small bite plate too as I made this recipe for morning meeting I hosted!
This recipe for Loaded Puff Pastry Breakfast cups was inspired by of my most popular posts on my site for Breakfast Pizza! A friend of mine in Minnesota made something like it for me when I was visiting and I fell in love with it. I mean pizza for breakfast? Yes Please!
However, for a breakfast meeting I wanted to have things in individual portions to serve so the pizza was out. It's so much easier to have the muffin tin sized portions instead of having to cut up slices of the breakfast pizza!
In this recipe I switched out the crescent rolls for puff pastry. Crescent rolls work too, but they were difficult to get to fit into the muffin tins.
The puff pastry had the added benefit that I could cut the pastry to whatever muffin size I wanted to use. (If you have mini muffin tins you will be able to use them for this too! They would be adorable as bite size breakfasts!! You would just need to adjust the cooking times.)
I also loved how well the Loaded Puff Pastry Breakfast Cups held up the next morning with the puff pastry. When it's reheated it's still as buttery and flaky as when I originally baked it!
Don't you just love recipes that you can make the night before and still be just as wonderful and tasty when you reheat them….(translation: no soggy crust on this baby!)
RECIPE BREAKDOWN FOR LOADED PUFF PASTRY BREAKFAST CUPS!
Easy/Hard: Easy-peasy. The most difficult thing is rolling out the puff pastry, but even that is simple as long as you dust your rolling pin with flour!
Made to order/or plan ahead: Either! You can either make them ahead, make them part way and put in the fridge until you are ready to bake them or go ahead and bake them completely,then rewarm them the next morning!
Variations: You can completely customize these. A Meatless suggestion; use mushrooms and avocados! Switch to your favorite cheese!
Suggestions: These would be great for after a slumber party for kids to create their own breakfasts! They could either make them the night before or have it be the last activity before their parents pick them up the next morning! They would be a great offering for a Saturday morning viewing for a football game (For game day you can pair them with this Bloody Mary!)
Added Bonus: These work great for traveling because they don't have to be hot to enjoy them. I carried them on my last flight and had them as a snack once on the plane and they were so much better than what I could get at an airport!
I hope you enjoy this recipe! Please feel free to pop on over and visit me anytime at my Blog, Facebook or Instagram!
Cheers!
Loaded Puff Pastry Breakfast Cups
Author:
Loaded Puff Pastry Breakfast cups are full of everything you love, bacon, hash browns, eggs, sausage and cheese! All individual portions for easy eating!
Ingredients
.50 lbs of italian sausage
6 strips of bacon
2 cups frozen hash brown potatoes, store-bought
1/2 teaspoon salt
1/2 teaspoon pepper
1/4 cup canola oil
5 large eggs, beaten
1/4 cup 2% milk
3/4 cup shredded cheddar cheese
2 ounces crumbled goat cheese
1 sheet puff pastry, (store-bought) (There are usually sold with 2 sheets/package)
1/4 cup flour
Instructions
Thaw the puff pastry according to the package instructions. (it usually takes an hour to completely thaw, so plan accordingly.)
Preheat oven to 375*
Heat a skillet to high, then add 1 tablespoon canola oil. Swirl oil around to cover bottom of pan, then add sausage. Reduce heat to medium and cook sausage until cooked through, stirring often and breaking sausage into smaller crumblier pieces. This usually takes about 10-15 minutes.
When sausage is cooked through, remove from pan onto a plate covered with a few paper towels.
Paper towels will help absorb any additional oil from sausage. Set aside while you cook the rest of the ingredients.
In the same pan, now cook the bacon for approximately 10 minutes until crisp and browned.
Remove from pan and place on paper towel to blot away any excess oil.
Once bacon is cool, crumble bacon into small pieces.
Again in the same pan, add the rest of the canola oil to pan (don't drain bacon fats, it will incorporate into canola oil.) Increase heat to high. You will know the oil is hot enough when you drop one small piece in and it starts to sizzle and bubble. At that point add all hash browns to the pan, stirring constantly until completely crisped and golden brown. I reduce the heat to medium high five minutes after adding potatoes to the skillet. It is better to cook the potatoes slowly at a lower heat to allow for even browning.
The time it takes to brown the potatoes will vary depending on the brand of potatoes you buy. Once potatoes are crisp and golden brown, remove from skillet to a paper towel lined bowl to drain away excess oil. Season potatoes with salt and pepper.
On a flour dusted flat surface use a flour dusted rolling pin to roll out puff pastry. You want to roll puff pastry out to double the size that it came in the package.
Once the puff pastry is rolled out, cut puff pastry to 9 even squares.
Use a nonstick cooking spray to coat the muffin tins to allow for easy removal after baking. (alternatively, brush with melted butter)
Center each pastry square into 1 muffin tin. I tuck any pointed edges back under so it looks "prettier."
Then divide potatoes, sausage, bacon, goat cheese and cheddar cheese between the 9 lined muffin tins. I find putting the toppings in this order works best.
Lastly, mix beaten eggs and milk completely. Then spoon one tablespoon at a time over the top of all topping ingredients until all egg mixture is gone. (its about 2-3 tbs per muffin cup.)
Bake for 10-12 minutes, flip the pan at 6 minutes. Oven temps vary, but the muffin cups are done when the puff pastry shell is golden brown and egg mixture has solidified and cheese is nice and melted.
You can either serve immediately or allow to cool and refrigerate until needed in a sealed container.
When you are ready to serve them, you can warm them at 300 for 10 minutes. My husband has also microwaved them in a pinch, but they are not as flakey if you microwave them.