This post was sponsored by Smithfield as part of an Influencer Activation for Influence Central and all opinions expressed in my post are my own.
Have dinner ready in a flash with this delicious 30 Minute One Pan Roasted Garlic and Herb Pork Tenderloin. It's perfect for busy weeknights when you don't have time to spend cooking but still want a delicious meal for the family!
I've said it before and I'll say it again, easy meals are an essential for us. Now that we have a baby in the house, I find myself with even less time to make a meal. And if I make a meal that takes forever, then I'm usually exhausted after standing in the kitchen for hours and just want to go to bed. I love to come up with easy meal ideas for you guys and this 30 Minute One Pan Roasted Garlic and Herb Pork Tenderloin fits the ticket. It's a cinch to throw together and so flavorful and delicious.
The holiday season is so busy, am I right? When you add that busyness on top of already having limited time to make a meal, I'm thinking a meal I can prep in 30 minutes or less is the way to go. That's why I picked up Smithfield® Marinated Roasted Garlic & Herb Fresh Pork Tenderloin at Food Lion because I knew it was the perfect start to a simple meal and a way to get real flavor, real fast!
I decided I wanted to add apples, red potatoes and green beans to go with our meal. I cut the red potatoes up into small cubes, I prefer smaller cubes to ensure they cook quicker, sliced up the apple and washed the green beans. I tossed the red potatoes and green beans in olive oil, salt and pepper and then laid everything out on a foil lined baking sheet. That process took no time at all and I was able to get it done while K took a nap, even if she only napped 30 minutes, I still got it done!
I popped the meal in the oven and cooked it at 425 for 30 minutes because I had a 1 lb pork tenderloin. When it was done roasting I pulled it out and temped it to make sure it hit 150. I'm a stickler for ensuring my meat reaches the right temperature.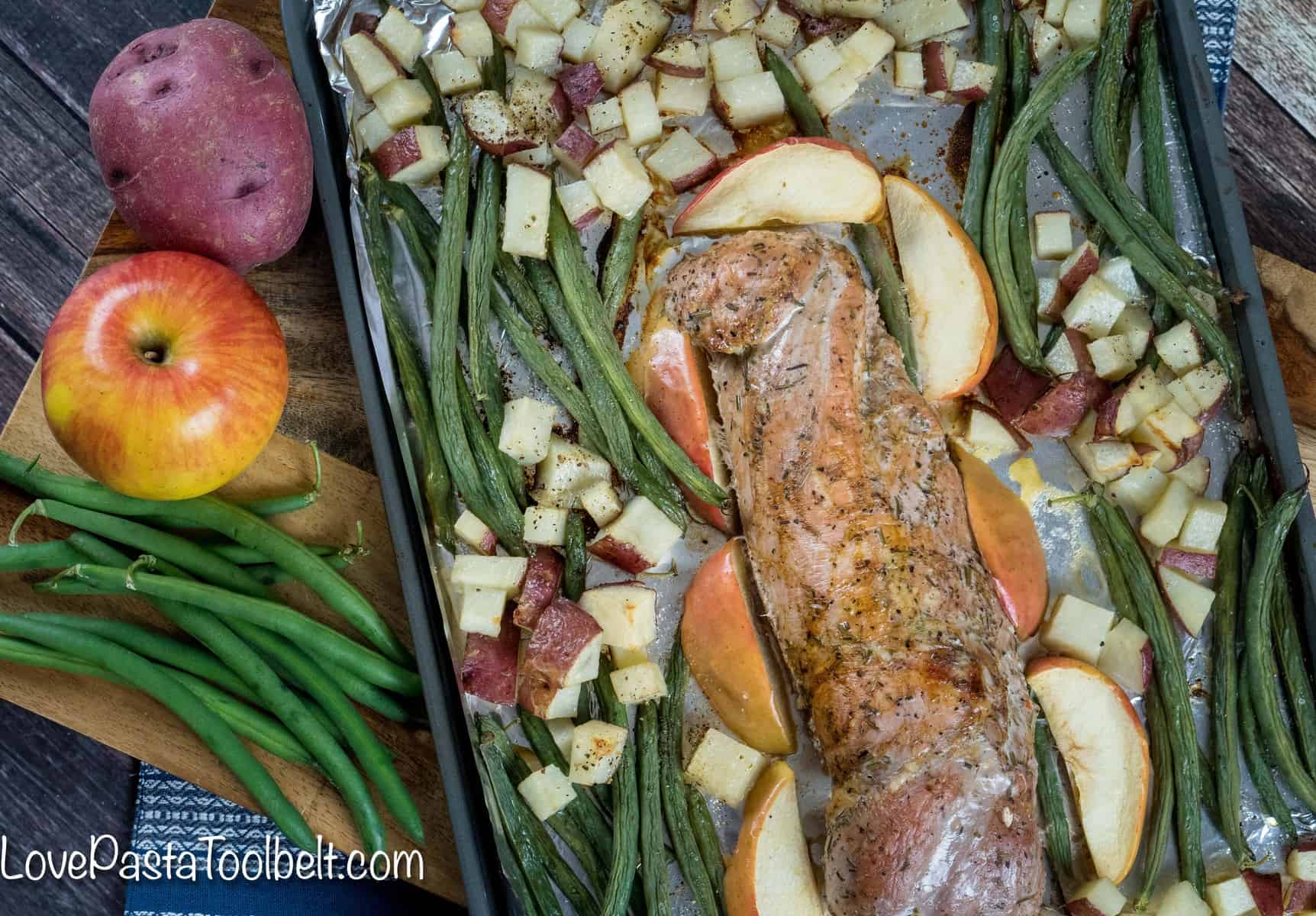 The smell of the pork tenderloin while it was cooking was so yummy. I knew it was going to be delicious. I love that I was able to whip up a great new meal for my family in under 30 minutes. Minimal prep on a delicious dinner makes my day so much better, how about you? If your searching for more inspiration on how to use your Smithfield Marinated Fresh Pork then head here!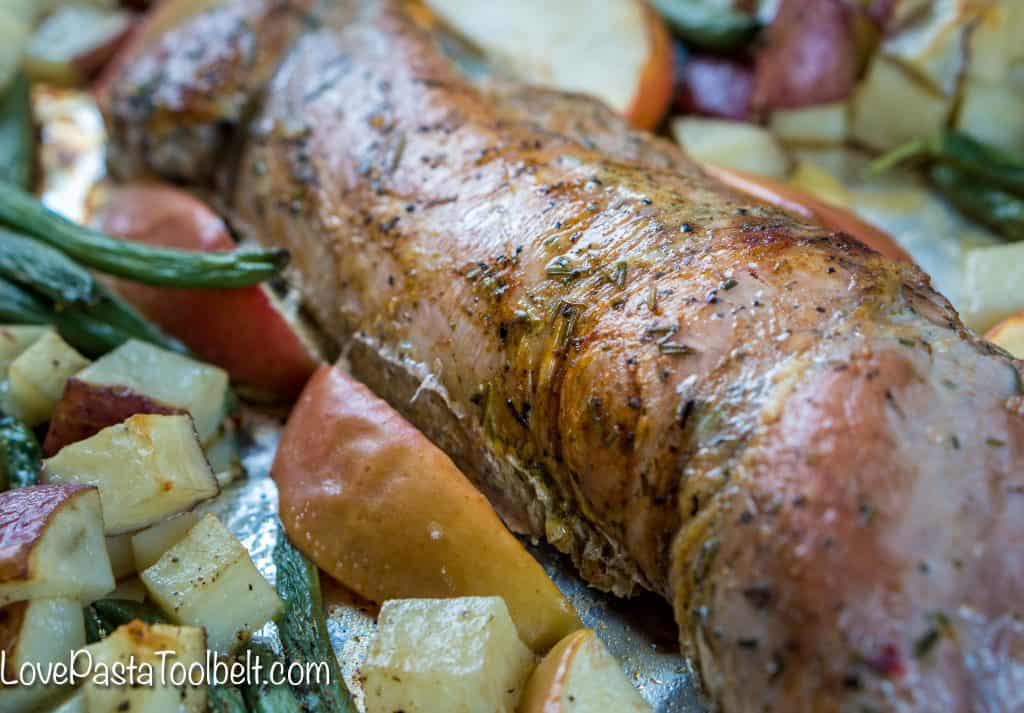 30 Minute One Pan Roasted Garlic and Herb Pork Tenderloin
Author:
Prep time:
Cook time:
Total time:
Ingredients
Smithfield Marinated Roasted Garlic and Herb Fresh Pork Tenderloin
4 Red Potatoes
Fresh Green Beans
1 Apple
2 Tablespoons Olive Oil
Salt
Pepper
Instructions
Preheat the oven to 425 and line a baking sheet with foil
Place your pork tenderloin on the baking sheet in the middle
Cut up your red potatoes in small cubes and put in a bowl
Wash green beans and place in bowl with red potatoes
Add 2 Tablespoons Olive Oil to the bowl and season with salt and pepper.
Toss green beans and red potatoes to coat with olive oil.
Slice up your apple
Place everything on the baking sheet with the pork tenderloin
Roast in the oven for 25-30 minutes or until pork tenderloin temps at 150
Allow to cool for 10 minutes then serve and enjoy