Planning a trip to the 30A area? Find out where to stay, what to do and most importantly where to eat in this Foodie's Guide to 30A!
We recently returned from our first vacation just the three of us. It was a lot of fun but definitely different. Traveling with an 11 month old meant either sticking to her schedule or having a fussy baby. We chose to try and stick to her schedule as much as possible so while we didn't get as much beach time as our usual vacations we still had a wonderful time trying delicious food, exploring the 30A area and spending time together as a family.
One thing I was really excited about doing while we were on vacation was trying a lot of different restaurants. I used to be a very picky eater and I'm slowly expanding my palette and I am loving all of the new food I've tried. I will say I have not (and don't plan to) ventured into eating seafood but my husband loves it so this foodie's guide to 30A will have Tyler's thoughts on the seafood portion of our meals.
Where we stayed:
Santa Rosa Beach, FL. We rented a house in Santa Rosa. We were about 10-15 minutes from Seaside, 15 minutes from Destin and about 25 minutes from Rosemary Beach. After spending a week here we decided on our next trip we definitely want to be closer to Seaside and Rosemary. Rosemary Beach was probably our favorite town so we'll probably aim to stay closer to there next trip.
We rented our house through Diamond Gulf Rentals and were very pleased with our experience. They were very quick to answer any questions we had, the house was clean and beautiful and when we arrived after check-in hours they called us quickly to walk us through the check in process to get us into our house.
Where we ate:
Now on to the good part! I'm going to give you a rundown of all the restaurants we went to and share with you what we thought about them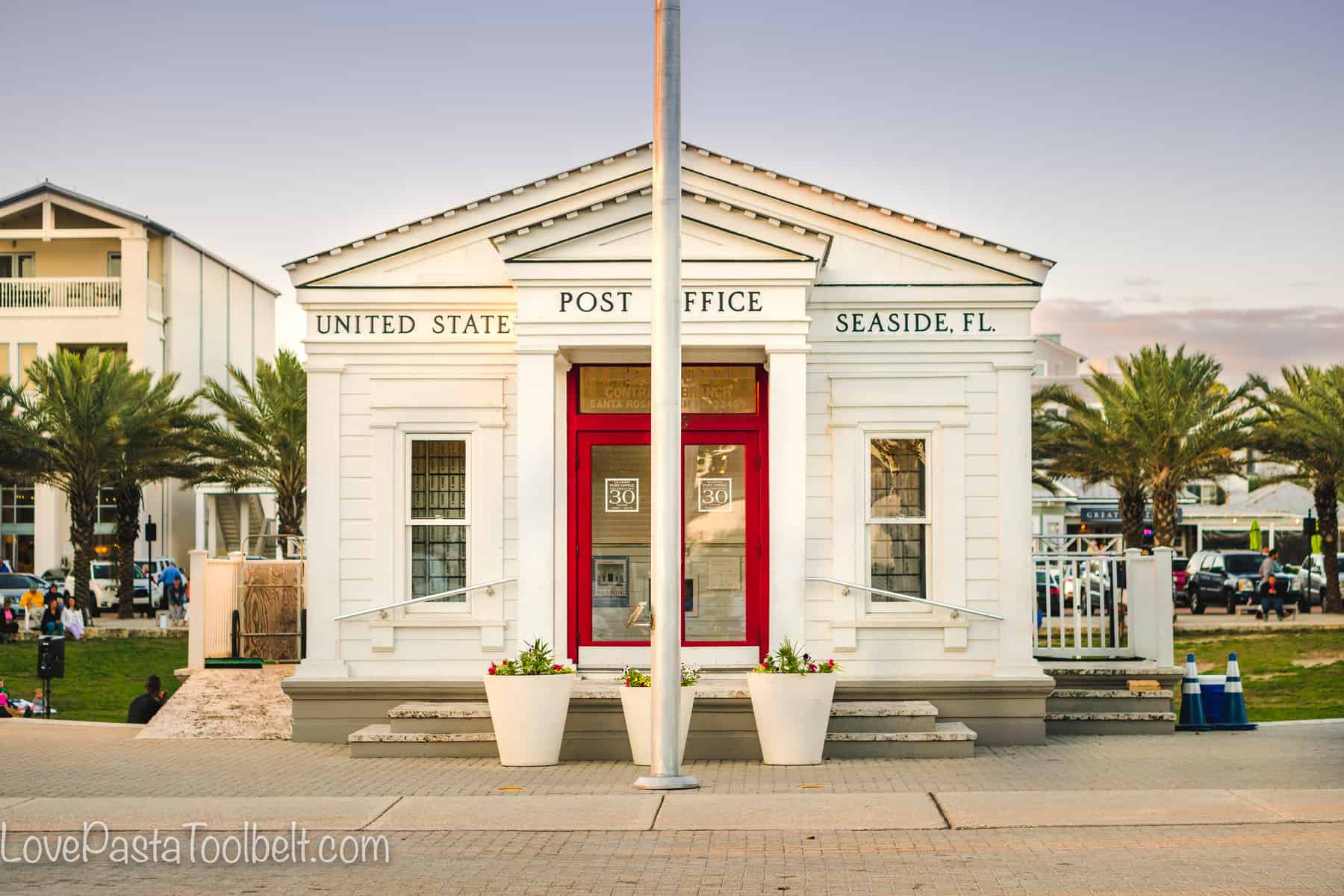 Pizza by the Sea– Our first night we got pizza at Pizza by the Sea in Santa Rosa. It was nothing special and isn't a place we'd return to but it was nice and easy after a day of traveling and we were able to walk there from our house.
Stinky's Fish Camp– Honestly I expected a better meal after all the raving reviews I had heard about this place. But also I don't eat seafood. Tyler's meal of the fish of the day was good but it wasn't good enough that we were like we must return here. We showed up at 4:30 for an early dinner so we didn't have to wait and it's not somewhere we'd return to, especially if we had to endure the crazy waits everyone always talks about for this place.
Great Southern Cafe in Seaside- Yum, yum and yum! We had dinner and breakfast here and both were delicious. The stone ground grits were fantastic, the fried okra and sweet potato fries were so good. Tyler loved the biscuits and gravy for breakfast and enjoyed the grouper for dinner.
Bruno's Pizza in Watersound- The pizza was delicious but the cinnamon knots were so delicious. Tyler said they were the best dessert he tasted on this entire trip. They were covered in icing and so good! This was perfect for the day where we didn't feel like going out to dinner.
The Perfect Pig– We loved The Perfect Pig! We visited for lunch twice and once for dinner and every time the food was delicious and the service was excellent. The Cracklin Pork Sandwich was our choice for lunch and for dinner Tyler said the crab cakes were the best he'd ever had. Monday-Thursday if you go from 5-6 you can get a lot of their dinner entrees for half price!
The Melt Down on 30A– This is my favorite of the food trucks in Seaside but there are a few other to choose from. I love a good grilled cheese. Their classic grilled cheese on Texas toast is so good. They also have a lot of unique grilled cheese sandwiches which I'm sure are so good.
Frost Bites– This truck has so many flavors of snow cones. Snow cones are a favorite of Tyler's so he got one on a hot afternoon. He really enjoyed it!
Modica Market– This cute little market is located in Seaside and they have cake for sale by the slice. I got a slice of the chocolate cake and it was huge and so delicious. It was so big that I was seriously eating off the one piece of cake the entire week.
What We Did
We ate good food, walked on the beach, hung out in our pool, and explored some of the towns. We enjoyed checking out the shops at Seaside and Rosemary Beach. We really enjoyed Rosemary Beach and it was our first time visiting there, we will definitely return and try out some of the restaurants. We also enjoyed binge watching some tv at night when K was sleeping and finally finished The Vampire Diaries, the fan girl in me was a little sad to see that show end since it's been on since I was in college.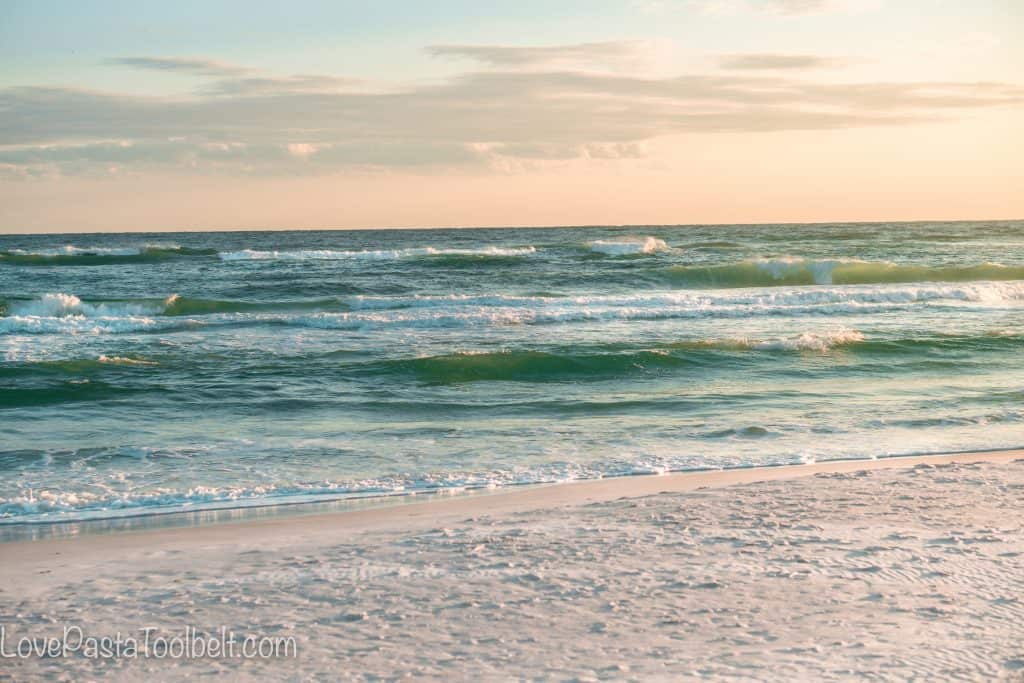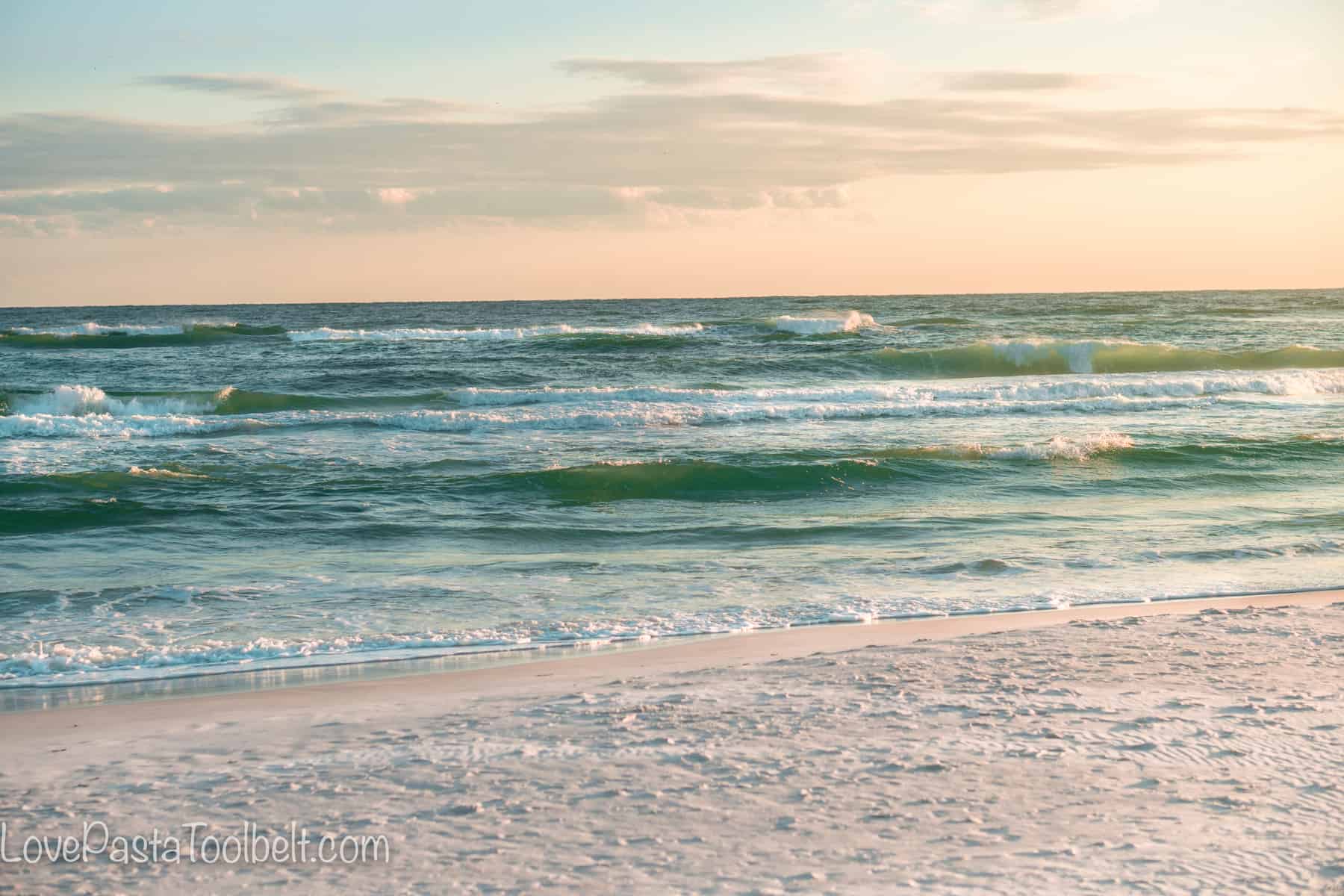 But back to the trip, we loved our time down in 30A and we will return for sure.
I'd love to hear any recommendations you have for the area? If you have not been, are you planing a trip? Let me know in the comments!