Dreaming of a White Christmas? Add some dreaminess to your home with this DIY White Christmas Art
Do you have a favorite Christmas movie, or two? I have two that I would say are my favorites. One is a classic, White Christmas and the other is probably one you've not heard of, Surviving Christmas. I can't remember how old I was when I first saw White Christmas but I would venture to say pretty young. It's a family favorite and I remember dancing around the house singing Sisters, Sisters.
I don't think I've ever experienced a true white christmas. Granted I grew up in the south, so a white christmas is a rarity. However my parents have lived in Ohio and now Michigan for the past 8 years but we've yet to get a white christmas. Maybe this year? Over Thanksgiving we watched White Christmas and it was my sister-in-law's first time seeing it. I couldn't believe she had never seen it, so we had to change that.
Dreaming of a White Christmas? Add some dreaminess to your home with this DIY White Christmas Art
Click To Tweet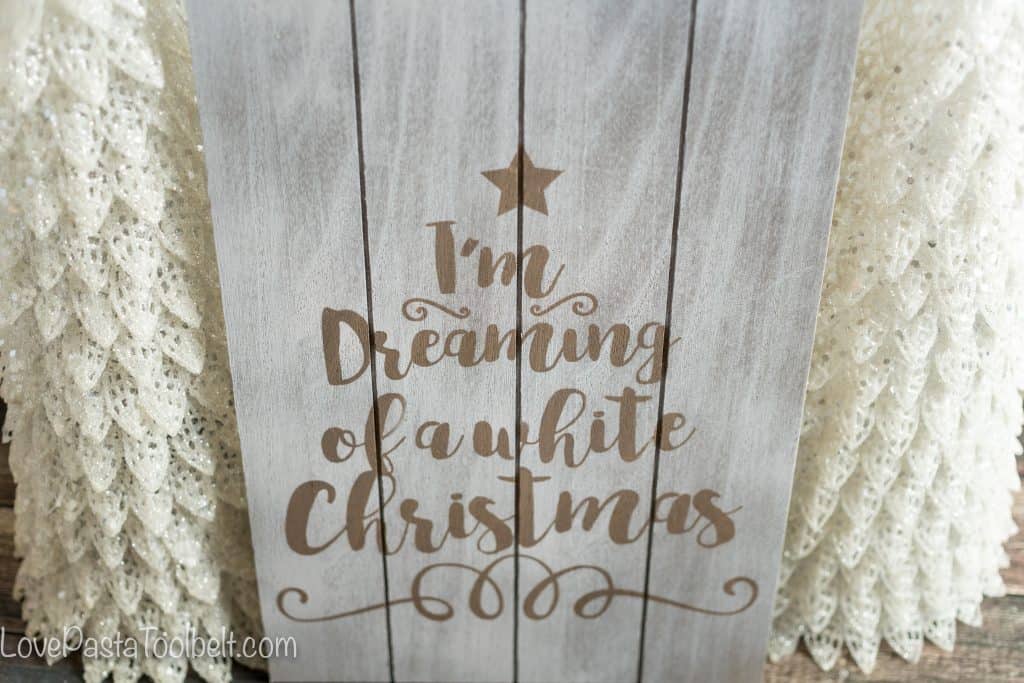 I think we can all agree the song White Christmas is a classic so I knew when I was thinking about the movie that I had to create a craft that incorporated that song.
Supplies: 
-Wood Pallet Board, mine was a small menu board I got in the Target Dollar Spot
-White Christmas Design from Silhouette store
-Silhouette
-Transfer Paper
-Vinyl
-White Spray Paint
Instructions:
The first thing I did was to purchase my design from the Silhouette store. You could design your own if you wanted.
Once I cut my design out on Oracle 561 Vinyl I weeded it and then transferred it to my board.
I then took my board outside and with white spray paint I swiftly painted over it with light sprays so as not to do a complete white coat.
Once the paint dried I removed the vinyl from the board and had a beautiful piece of artwork for some White Christmas dreaming.
I was so excited when I removed the vinyl and saw how this project turned out. I wasn't sure how it would go, but it turned out beautifully and I think I'm going to add it as a feature piece on my Silver and White Christmas Mantle. It seems like the perfect addition.
So tell me, have you seen White Christmas? And what is your favorite Christmas movie?
Who is ready for some more Classic Christmas Movie fun?!
Frosty's Snowman Party Mix | The Love Nerds
Hand Lettered Rudolph Craft | Simply Made Fun
A Christmas Story Ovaltini | Hey, Let's Make Stuff
Grinch Chocolate Pretzel Bites | Kid's Fun Review
The Grinch Muddy Buddies | My Daylights
A Christmas Story Drinking Game | Hey, Let's Make Stuff
The Santa Clause Inspired Hot Chocolate Recipe | The Benson Street
Charlie Brown Christmas Tree Hoop Art | Albion Gould
White Christmas Inspired Salmon Club Sandwich | Rae Gun Ramblings
Elf Quotes Tee Shirt Designs | Major Hoff Takes A Wife
Snowflake Iron-on Template | Nap-Time Creations