We have been trying to eat a bit healthier around here. One of the first meals we tried which I loved was Chicken Broccoli Stir-Fry. It was so delicious. We made it over the weekend so I could have Tyler handle the raw chicken. Touching raw chicken is not my thing. It turned out so good, I can't wait to make it again!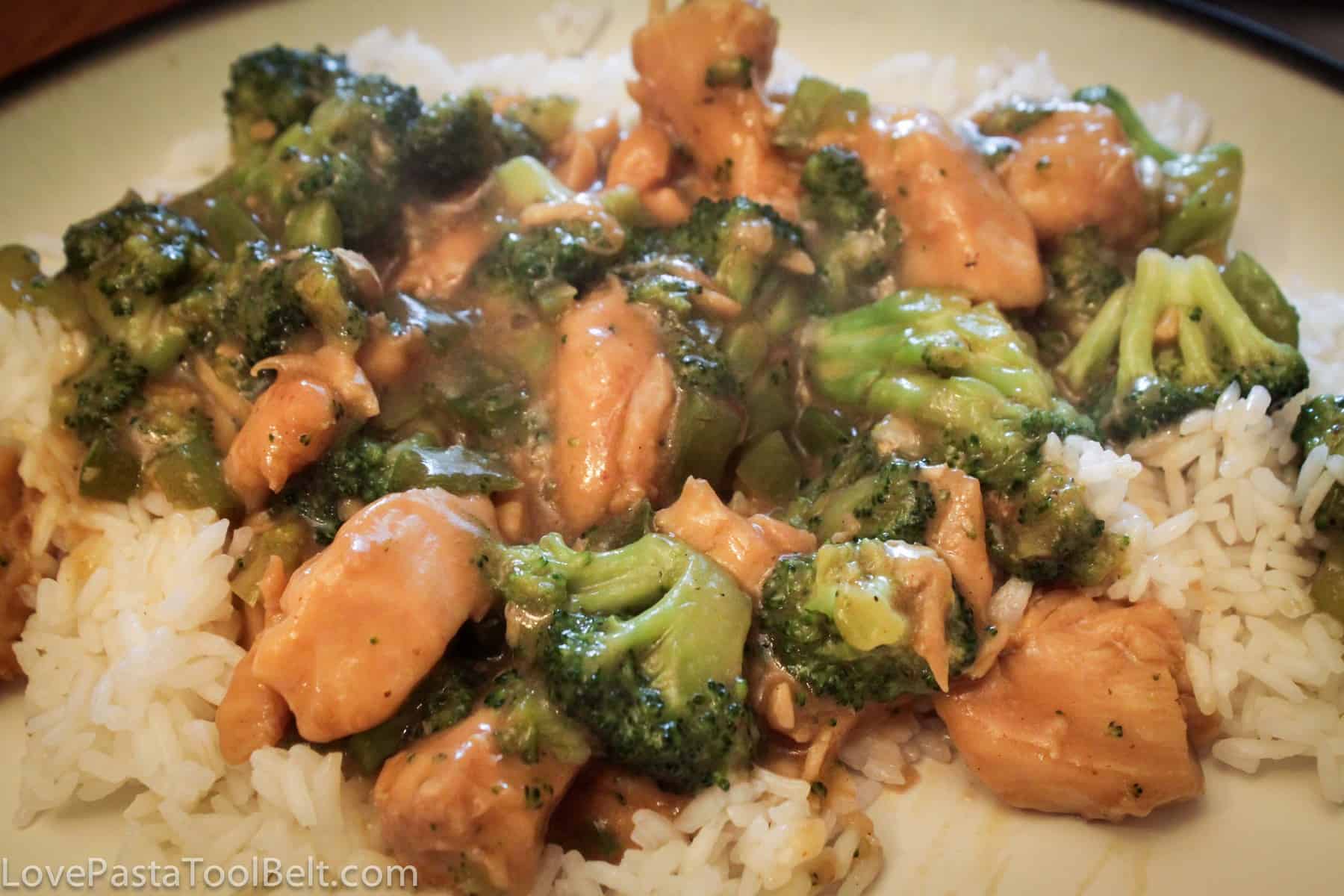 Ingredients:
-1 pound chicken breasts (about 2 breasts) cut into strips
-1 green pepper, chopped
-2 cloves garlic, minced
-1-inch piece of fresh ginger, minced
-2 tablespoons soy sauce
-2 tablespoons sugar
-1 tablespoon, plus 1 teaspoon cornstarch
-1 1/4 teaspoon salt
-1 tablespoon dark sherry
-1 tablespoon sesame oil
-About 1/3 cup water
-3 tablespoons peanut oil
-2-3 brocoli heads, cut up
Directions:
1. Cut up chicken into strips
2. In a medium bowl, toss the chicken with the green peppers, about half the garlic and ginger, 1 tablespoon soy sauce, sugar, 1 teaspoon of cornstarch, 1 teaspoon of salt, the sherry and sesame oil.
3. Marinate chicken mixture at room temperature for 15 minutes.
4. Mix the remaining cornstarch with 1/3 cup water
5. Heat a large nonstick skillet over high heat
6. Add 1 tablespoon of the oil and heat
7. Add the broccoli and stir fry for 30 seconds
8. Add the remaining garlic, ginger, 2 tablespoons of water and season with 1/4 teaspoon salt and pepper
9. Stir-fry until the broccoli is bright green but still crisp (about 2 minutes) then transfer to a plate
10. Get the skillet hot again then heat 2 more tablespoons oil
11. Add the chicken and stir fry until it loses its raw color and gets a little brown (about 3 minutes)
12. Add 1 tablespoon soy sauce and return broccoli to pan and toss to heat through
13. Stir in reserved cornstarch mixture and bring to a boil to thicken
14. Add more water if needed to thin the sauce
Serve over rice and enjoy! This meal was delicious and healthy. So it's a win win! I hope you enjoy this delicious stir-fry recipe. You can mix it up and add other stuff that you like in stir-fry to make it your own.
Adapted from: Food Network