This past week I decided I wanted to make something sweet. I perused my Pinterest boards and finally decided on this Cinnamon Roll Pound Cake from Creme de la Crumb. This cake combines two of my favorite things, cinnamon rolls and pound cake plus a delicious cream cheese icing. Can you say sweet, cinnamon goodness? That's what this Cinnamon Roll Pound cake is, we had it for breakfast on Saturday morning and also for dessert.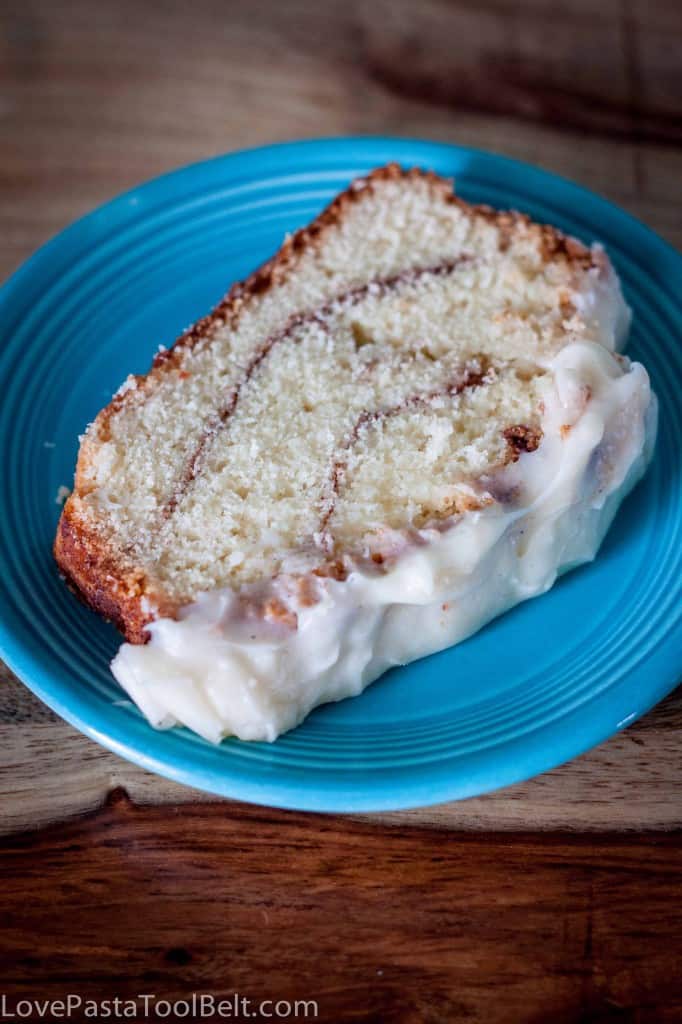 See the icing? Yum! The original recipe made two loaves but I knew we didn't need more than one (I've already sent half of it home with my sister). The weekends are for sweet treats but during the week I have to help Tyler stick to eating healthy. Even though I halved the cake recipe I kept the icing recipe for 2 loaves. I'm a rebel like that, an icing rebel. So if you prefer less icing then you can half the icing recipe or just live a little and slather it on. Excuse me now as I go eat a slice while you drool over this recipe.
Cake Ingredients:
– 1 stick butter, softened
– 1 1/2 cups sugar
– 1/2 cup vanilla greek yogurt
– 1/2 teaspoon vanilla
– 1 1/2 tablespoon heavy whipping cream
– 3 eggs
– 1 1/2 cups all purpose flour
– 1/4 teaspoon baking soda
Swirl Ingredients:
– 1/4 cup sugar
-1 tablespoon cinnamon
Icing Ingredients:
– 2 tablespoons butter, softened
– 2 ounces cream cheese, softened
– 1/4 cup heavy whipping cream
– 1 teaspoon vanilla
– 1 1/2 cups powdered sugar
Directions:
1. In a large bowl beat butter and sugar until light and fluffy
2. Mix in the greek yogurt then heavy cream and vanilla
3. Add in the eggs, one at a time, mixing each one in well
4. Mix the flour and baking soda in a separate bowl
5. Add the dry ingredients to wet ingredients and mix well until just combined
6. In a small bowl mix the swirl ingredients
7. Lin a 9×5 loaf pan with foil and spray throughly with cooking spray
8. Pour 1/3 of batter into pan then sprinkle 1/3 of swirl ingredients. Repeat twice and end with Swirl ingredients on top.
9. Bake at 350 for 50-60 minutes. Check after 50 and if not done then continue checking every 5-7 minutes until a fork comes out clean.
10. For the Icing: Mix the butter and cream cheese and then add in sugar, whipping cream and vanilla
11. Allow the loaf to cool completely, add icing to top and then allow the icing to set for an hour before eating (if you can resist)
Do you have a favorite dessert for breakfast recipe? Nothing wrong with something a little sweet to start your day. We loved this recipe and it will definitely be one we make again!