Hello to all Love, Pasta, and a Tool Belt readers.  I was super honored to asked back again by Emily to share a recipe with you while she is out of town.   When I shared with you a couple months ago I was still a full time working mom trying to juggle work, family, blogging and whatever else came my way.  I am super happy to say I am no longer a full time working mom.  Now I am trying to juggle my new life blogging and writing full time.  My past job had me super, super miserable for the past 3 years.  I wanted to be a children's book author ever since I was young.  Life got in the way of my dreams and I put them on hold.  Since I started blogging in 2011 my love of writing returned.  Now I am more focused on making that dream a reality and also the reality of someday writing my own cookbook. Now that I am not working full time I have the time to work on what makes me happy.
Last October our life became very chaotic as my Father in law had to have emergency surgery. He survived the surgery and we thought we were on the road to getting him home when things quickly changed.  He started having strokes and a month later we brought him home for his last days to be with his family.  My Mother in law already had health issues and was declining as well. Within four months of losing my Father in law, we lost my Mother in law as well.  So while I was watching two very important people in our life leave us it became apparent that life was entirely way too short to be anything less than happy.  It has been quite a struggle to find my rhythm after 15 years of working but I am anxious to see where this journey will lead me next.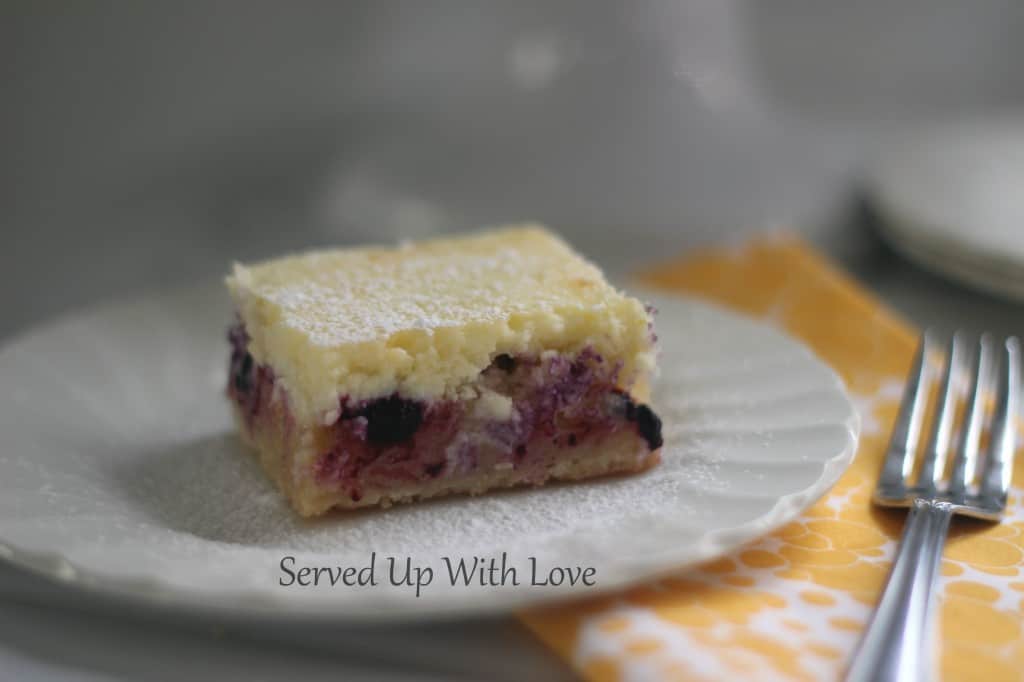 Lemon is one of my absolute favorite flavors so I tend to use lemon in a lot of dishes.  These Lemon Blueberry Cheesecake Bars are a favorite in our house.  How can you go wrong with lemon or blueberry?
Lemon Blueberry Cheesecake Bars- Guest Post
Ingredients
For Crust:
1 ½ cups all-purpose flour
½ cup confectioners' sugar
¾ cup unsalted butter, cut into cubes
Filling layers:
4 eggs
1 ½ cups white sugar
1 tablespoon all-purpose flour
1 tablespoon lemon zest
½ cup lemon juice
2 (8 oz) packages cream cheese, softened
1 cup white sugar
2 eggs, beaten
1 pint of blueberries
Instructions
Preheat oven to 350 degrees.
Lightly butter a 9 x 13 inch baking dish. 
Whisk together 1 ½ cup flour and confectioners' sugar in a mixing bowl. 
Cut in the cold butter with a knife or pastry cutter until the mixture resembles coarse crumbs. Press the crumbs into the bottom and up the sides of the prepared baking dish to form a crust.  Bake until golden brown, 15 to 18 minutes.
Remove from oven and set aside.
Whisk together 4 eggs, 1 ½ cup sugar, 1 tablespoon of flour, lemon zest, and lemon juice in a bowl.
Pour lemon mixture into the prepared crust. 
Mix the cream cheese and 1 cup sugar in a bowl until well blended.
Whisk in 2 eggs, then spread over lemon mixture
Sprinkle on the blueberries all over the mixture, the layers will separate during baking
Bake until the filling is set, about 30 minutes
https://lovepastatoolbelt.com/2014/05/lemon-blueberry-cheesecake-bars/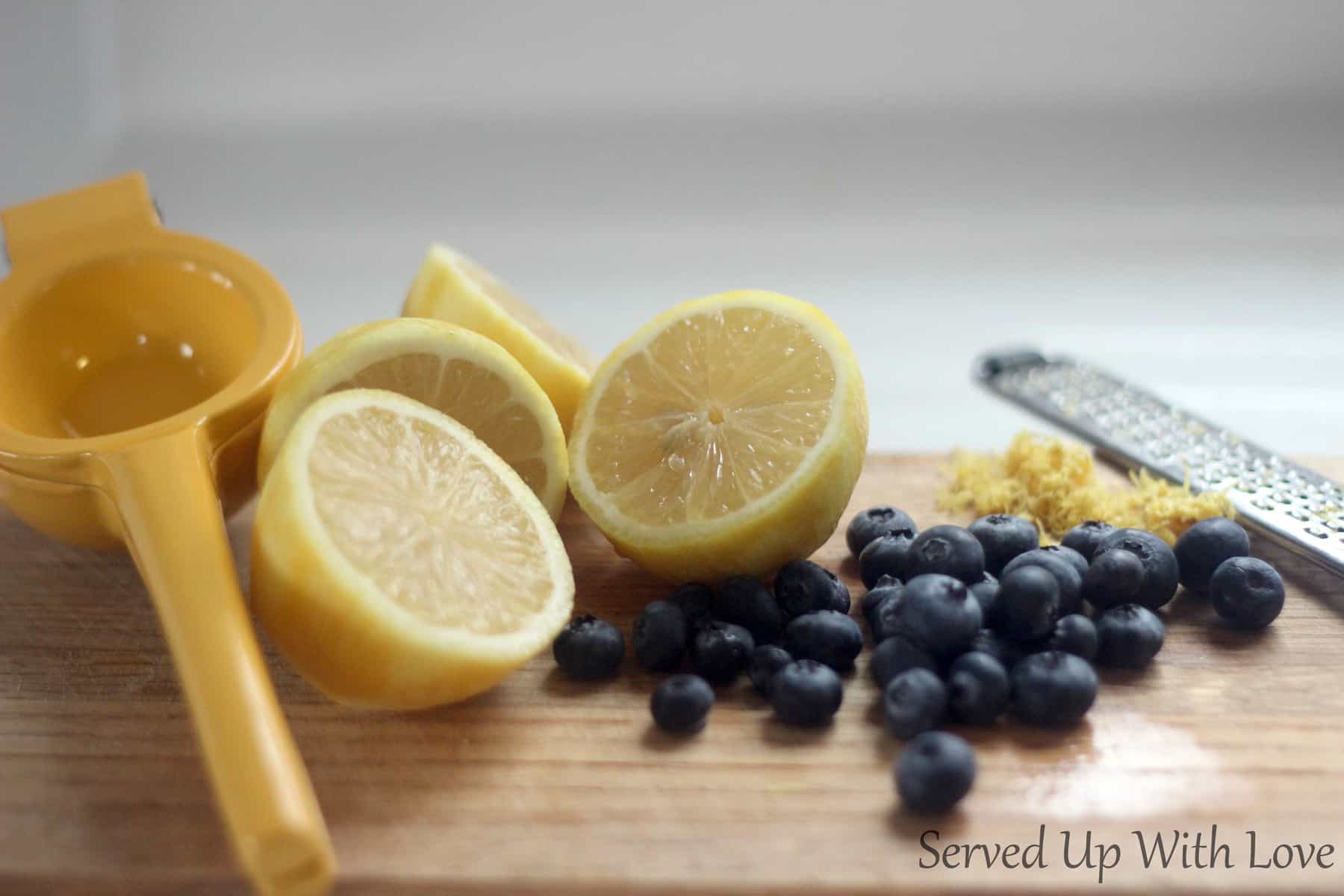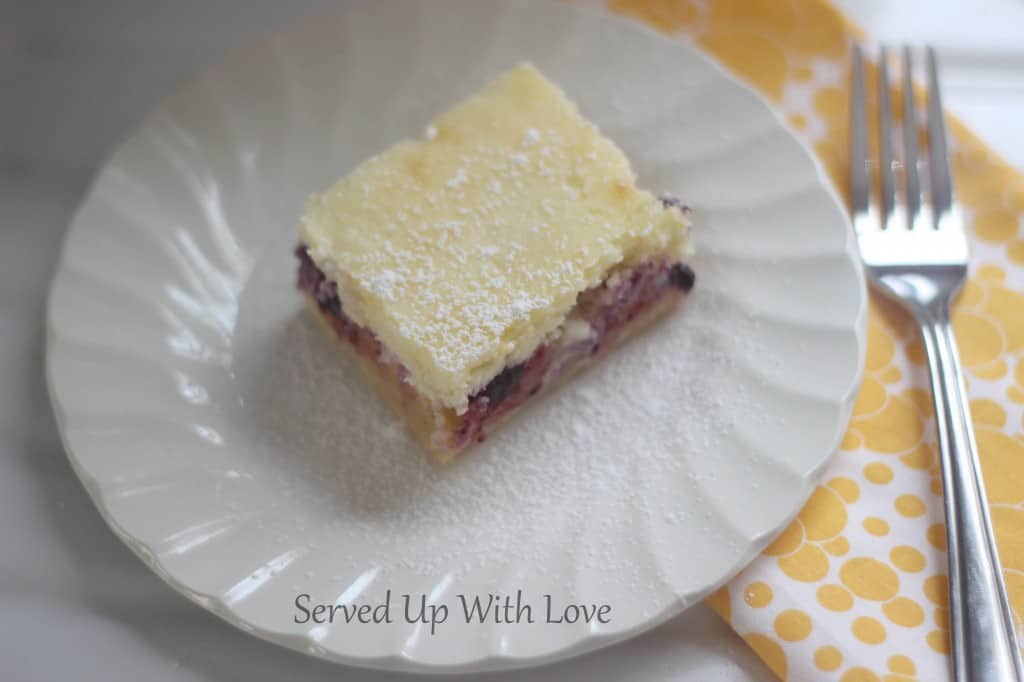 Thanks Emily for asking me to come back again and share with your readers.   I hope you had a great time.
Visit Melissa at Served up with Love or follow her on Facebook or Pinterest