This past week I was not very productive at all. But I had a good reason, puppies! My sister's dog had puppies and my sister is on fall break this week. So I ended up spending two afternoons at her house playing with puppies. We had both been wanting to try out a Pumpkin Roll so I brought over the ingredients and ended up getting to supervise her as she made this delicious dessert while I cuddled puppies. Talk about a great day! We found this delicious recipe at Life in the Lofthouse and we knew we just had to try it out!
Ingredients
3 eggs
1 cup sugar
2/3 cup pumpkin
1 teaspoon lemon juice
3/4 cup all purpose flour
1 teaspoon baking powder
2 teaspoons pumpkin pie spice
Cream Cheese Filling:
8 ounces cream cheese, softened
4 Tablespoons butter, softened
1 cup powdered sugar + extra for sprinkling
1/2 teaspoon vanilla
Instructions
Take a baking sheet with edges and spray generously with baking spray then sprinkle with flour
Beat eggs with a mixer
Add sugar, pumpkin and lemon juice and beat in until smooth
Stir in the flour, baking powder and pumpkin pie spice. Stir with a spoon until just combined
Pour the mixture into the prepared baking sheet and spread it out into a thin layer on the pan
Bake at 375 for 13-15 minutes and until a fork comes out clean
Allow cake to cool in the pan for about 10 minutes
Sprinkle a clean dish towel with powdered sugar and flip cake onto dish towel
Roll cake up in dish towel and secure (we used pony tail holders)
Allow to cool completely for at least an hour in the refrigerator
Cream together the cream cheese filling ingredients
Roll out cake and spread cream cheese filling with a spatula
Roll cake back up and wrap with saran wrap and put in the refrigerator to chill then serve and enjoy!
https://lovepastatoolbelt.com/2014/10/pumpkin-roll/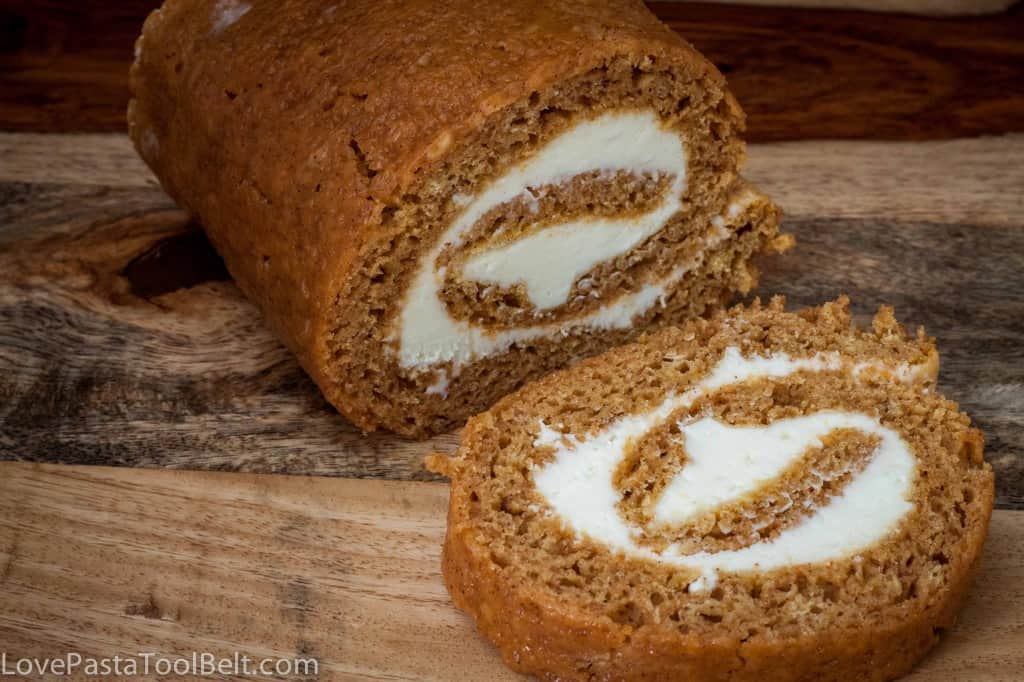 This recipe turned out so delicious and it was the perfect recipe to cut in half and split between the two of us. Fortunately my sister was kind enough to give me the prettier half for my pictures! It was so good and the perfect fall dessert. What's your favorite way to cook with pumpkin?