Today I wanted to give you a few Gift Ideas for Women. I've got Tyler working on a list for men and then I might possibly be going off of that list when I shop for him because gift giving is not my strong suit, but I'm trying to improve! Even though I'm not good at giving gifts I am pretty good at coming up with gifts that I want so that's why I made this list for today!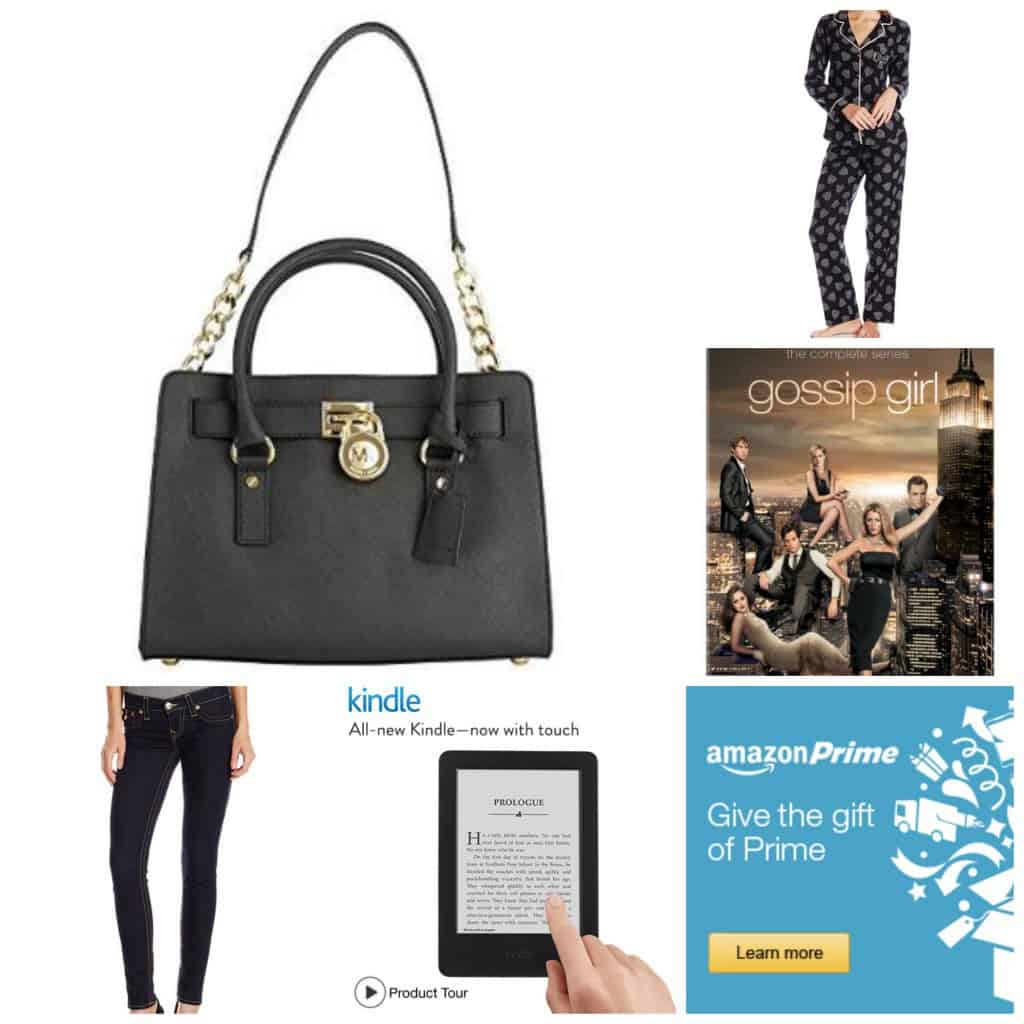 1.Michael Kors Satchel Handbag
– I have been wanting a Michael Kors bag for awhile. I don't carry a purse very often anymore but for travel especially I would love to have this bag. I love all of the Michael Kors stuff and one day I hope to own one!
2.True Religion Jeans
– I love my True Religion jeans. One reason is the inseam is 34 inches on most of the jeans. As a girl who is 5 foot 11 inches I really appreciate this. It is so hard to find jeans that fit good and are long enough and these fit the bill!
3. Gossip Girl: The Complete Series
– I love this show, it's such a great binge watch and makes for the perfect gift for any girl in my opinion!
4.Betsey Johnson Women's Flannel Pajamas
– I mean how cute and cozy do these pajamas look? I love a good pair of pjs that are warm and cute!
5. Kindle
– I got a Kindle last Christmas and I love it! It makes traveling especially so much easier. Instead of taking like five books with me all I have to pack is my little Kindle that fits in my purse! I love it!
6. Amazon Prime
– To go along with the Kindle, Amazon Prime is such a great gift to give! There are a lot of good free e-books. Don't expect to find your newest releases but I have found some good books in the free section! There is also a borrowing option too for certain books. Along with that is all of the movies and TV shows you can watch with Amazon Prime plus the free two day shipping on a lot of items, you know to feed us ladies shopping habits :).
These six things are just a few ideas for gifts for women! I personally would love to get any of these that I don't already have, especially that Michael Kors bag! What's on your Christmas list this year?