Please welcome my guest poster Kristen from Practical Mommy as she shares her Simple Sugar Cookies with Purple Sugar Sprinkles recipe!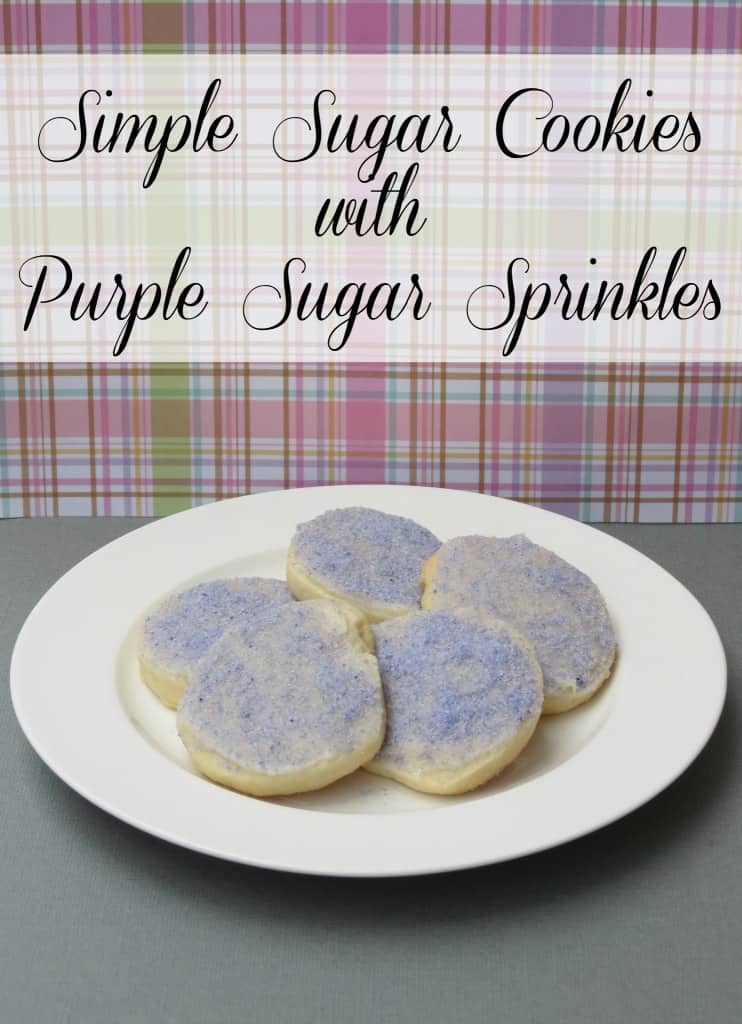 Who doesn't love cookies? My husband is the chef in the family, and I love to bake. Usually I like to make chocolate cookies because I have a bit of a sweet tooth. But these Simple Sugar Cookies with Purple Sugar Sprinkles are great for decorating and to just have fun with.

The first step is to make the sugar cookies. These cookies are nice and light. They are slightly crumbly, due to only using one egg white, but only when you bite into them. By not using the egg yolk, we get a nice white color to the cookie. It is easier to decorate a white canvas than a yellow canvas. They also keep their shape very well.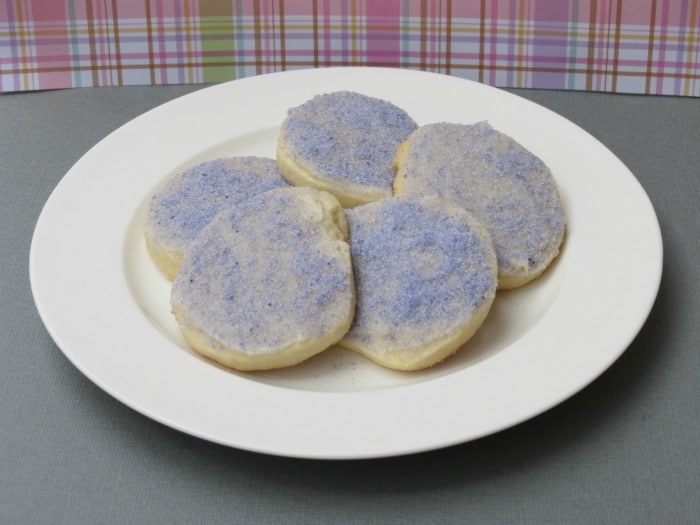 The cookies themselves are not very sweet, which is good because you are topping them with icing and colored sugar sprinkles. If the cookie was too sweet, you wouldn't be able to eat very many.
For the cookies, mix the butter and the sugar together and then add the egg white and the vanilla. Once those are all combined, mix in the flour, baking soda and salt. Mix them up until they are combined and then form the dough into a ball. Lay the ball in the center of some plastic wrap and form it into a log. Wrap the cookie dough log with the plastic wrap and place in the fridge for a few hours. Once it is very firm, remove the plastic wrap and simply slice about 1/4 inch thick. You'll have round cookies with no cookie cutters needed.
The icing is very easy to make, but you should have an electric mixer. Let the cream cheese and the butter get to room temperature and then beat them until they are combined. Then add the confectioners' sugar 1 cup at a time (so it doesn't spill out of the bowl when you start mixing it). Mix it until the mixture is completely smooth. Finally add the vanilla and give it a stir.
The best part is making the purple colored sprinkles. They are so easy! Place 2 drops of red food coloring and 2 drops of blue food coloring in a small bowl and mix until it's purple. Then smear the food coloring around the sides of the bowl. Add 1/4 cup sugar and mix it into the food coloring. It may take a few minutes of mixing to combine fully. Keep scrapping the sides of the bowl to get all the color into the sugar.
Once the cookies are cool, cover them with a thin layer of frosting and sprinkle the purple sugar on top. Serve and Enjoy!
These cookies look so sweet. They would be great at a bridal shower or you could even use them as a gender reveal for a baby shower. You can color the sugar any color you like for whatever occasion you need. I made a similar recipe using brownies in my Patriotic Brownie Bites for the 4th of July.
Simple Sugar Cookies
Author:
Ingredients
1/2 cup butter
1/2 cup sugar
1 egg white
½ tsp vanilla extract
1 1/2 cups flour
1/2 tsp baking powder
1/4 tsp salt
Icing ingredients:
1 package cream cheese
1 stick butter
3 cups confectioners' sugar
1 tsp vanilla
Purple Sugar Sprinkles Ingredients:
2 drops Red food coloring
2 drops Blue food coloring
1/4 cup white granulated sugar
Instructions
Cookie Instructions:
Preheat the oven to 350 degress.
Mix the butter and the sugar.
Add the egg and vanilla and stir until combined.
Mix in the flour, baking soda and salt.
Place the dough in plastic wrap and form a log.
Cover the log with plastic wrap and refrigerate for 2-3 hours.
Slice dough into 1/4 inch circles.
Place on a parchment paper covered baking sheet.
Bake for 7-9 minutes at 350 degrees.
Icing Instructions:
Beat the cream cheese and butter until smooth.
Add the confectioner's sugar.
Add the vanilla.
Refrigerate until needed.
Colored Sugar Instructions:
Place 2 drops of red food coloring and 2 drops of blue food coloring in a bowl.
Mix the colors until it is purple.
Smear the color around the sides of the bowl.
Add the sugar and mix until color is combined with sugar with no clumps.
What occasion would you serve these cookies at?
BIO:
Hi, I'm Kristen, a 30-something Mommy to 2 darling girls, 3 year old Jordan and 1 year old Madeline. I love reading, writing, trying new beers with my husband and binge watching series on Netflix. Practical Mommy is a place for women to learn short-cuts to make our lives easier. That includes everything from Parenting Advice, Simple Recipes, Easy Crafts and easy DIY (really, really easy!), and quick video tips. You can find me on my favorite social networks Pinterest and Facebook.