This shop has been compensated by Collective Bias, Inc. and its advertiser. All opinions are mine alone. #Feelinvigorated #FeelGlade #CollectiveBias
Celebrate a teacher with this Back to School Teacher Gift Basket with Glade®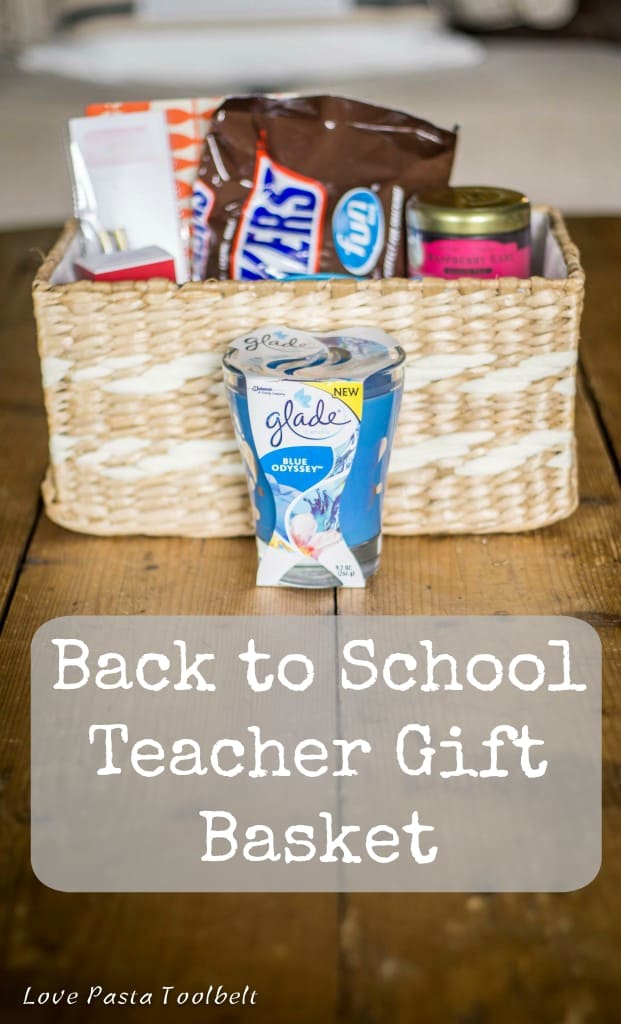 Can you believe it's almost back to school time? I can't. Not that it affects me terribly, but this summer seems to have flown by. My sister is a fifth grade teacher and since we live in the same town, I enjoy getting to spend extra time with her in the summer. Since she's heading back to work next week, I thought I would create her a Back to School Teacher Gift Basket. I know I always have a hard time going back to work after vacation so going back after a two month vacation, while exciting, is also exhausting.
A big part of being a teacher is being creative and needing to be inspired. That's why the first thing I put in the gift basket for my sister was this Glade® Blue Odyssey™ Large Candle that you can pick up at Walmart. I love lighting a candle because the smell can bring out so many emotions. The Glade® Blue Odyssey™ Large Candle is full of smells that will fuel your passion and creativity. I thought this was a great way to begin the gift basket with something to help my sister get inspired for the new school year.
I tried to think of some other things that teachers would enjoy in a back to school gift basket, and I asked my sister, because I figured I should go straight to the source. Here are a few more ideas of what to include in a gift basket to help a teacher start the new school year.
– Chocolate– because who doesn't love a bite of chocolate after a hard day? Whether it's just some nice chocolates or picking their favorite candy bar for the basket.
– Tea or Coffee– a great way to relax after a hard day is to have some hot tea. Or, a good way to start a day is with some hot and strong coffee. So depending on what your teacher likes, this is a great thing to include.
– Bath Salts– or bubble bath or whichever you decide to pick out. Taking a bubble bath is a great way for someone to relax after a hard day at work.
– Gift Card for a Massage– if you're feeling really generous then give the teacher a gift card for a massage or spa day. That's one of my favorite ways to relax.
–Pens/Notebook– I always love getting my favorite pens as a gift. You can never have too many pens, and as a teacher those are getting used a lot. So, pick up their favorite pens and a fun notebook for them to jot down their inspirations!
These are just a few ideas to get you started on your gift basket for the teacher in your life. Right now if you head out to Walmart for your Glade® Blue Odyssey™ Large Candle for your gift basket, buy one for yourself and one for your gift basket and get a $5 virtual gift card!
Also be sure to enter the giveaway and let me know, what inspires you?
Glade Blue Odyssey Candlehttps://js.gleam.io/e.js">https://js.gleam.io/e.js"