Fall TV is coming back and I've got 12 TV Plots You Can't Miss This Fall!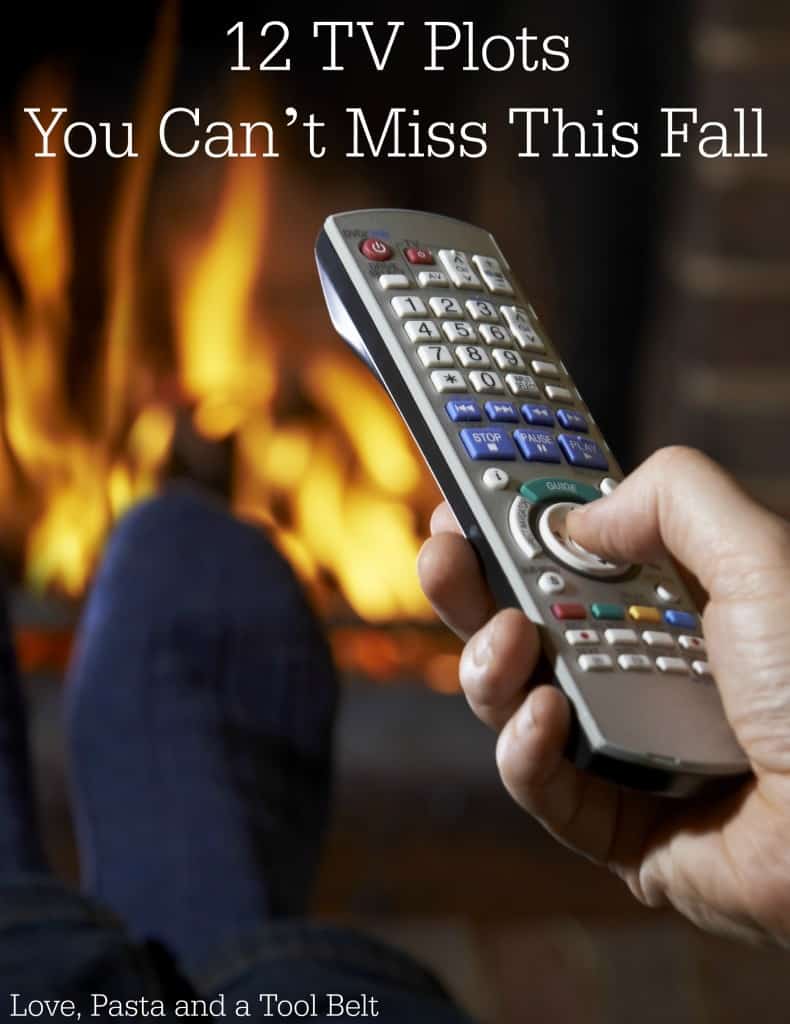 Warning: Spoilers Ahead!!! You guys, fall tv is back starting this week and I am beyond excited! If you've been around here for awhile then you know that I love my tv shows. As I write this post I'm filling out my calendar so I can look forward to when all my shows are returning. And let me say, is it just me or do the shows seem to return later every year? October 13th for Chicago Fire, really? So today I wanted to share some of the shows I'm most excited to see return, and why I can't wait to see them!
Best Cliffhangers: 
Chicago Fire- This show has quickly risen to one of my favorite shows on television and the ending last season, OMG! I've been waiting all season for Casey and Dawson to just get back together. They did briefly, then she finds out she's pregnant and goes to tell him and finds a dead girl in his apartment, WHAT? Oh my gosh I cannot wait for this show to come back. Also Steven McQueen from The Vampire Diaries will be the new candidate so I'm excited about that as well!
The Big Bang Theory- Monday, September 21st at 8/7 Central on CBS- Comedies don't usually leave us with a cliffhanger but when Sheldon and Amy broke up but he was about to propose to her, oh my goodness. How sad right? So I look forward to seeing how their relationship (hopefully) moves forward. I think Sheldon just needs to show up at her door and propose, that seems like the thing to do.
Most Excited to See Return:
Castle- Monday, September 21st at 10/9 Central on ABC- After Castle ended lasts season we were still kind of up in the air, would it return or not? Then Stana Katic had to hold out a couple weeks on signing her contract. Thankfully everything was signed, sealed and we will be delivered another season of Castle! This show continues to deliver great storylines and performances and I'm so excited to see it return. The finale read a little like a series finale but also with some good opportunities for new storylines!
Bones- Thursday, October 1st at 8/7 Central on Fox- Heading into it's 11th season Bones is still going strong. This is a show that keeps being able to reinvent itself and I hope to see it continue on for awhile. With last season reading a bit like a series finale and having Booth and Bones both leaving their jobs it will be interesting to see where they go and what brings them all back together.
Most Dramatic Finales:
Nashville- Wednesday, September 23rd at 10/9 Central on ABC- Drama is what keeps us coming back to most shows right? Well Nashville delivered on the drama. With the fate of Deacon hanging in the balance and Juliette going all crazy again and running out on her family the new season is sure to promise plenty of drama. Hopefully the writers know better than to kill off Deacon and also that most of us want to see Juliette back in her happy place.
Reign- Friday, October 9th at 8/7 Central on The CW- After a season of complete fury on my part watching Mary run off with Conde time after time and break Francis's heart time after time, they finally got back together at the end of the season. Only for us to find out that Francis is apparently dying? What? I know that's how history went but this show has strayed so far from historical accuracy that they better continue because no one wants to see Francis die!
Shows I'll Watch Just Because:
The Vampire Diaries- Thursday, October 8th at 8/7 Central on The CW- With the departure of Nina Dobrev I have my doubts about the direction of this show. Yes there are characters I still like and will probably watch the show for, but the love triangle really defined this show in the early seasons and hello, Elena was the main character! I honestly wish they would have ended the show while they were still riding a high note. Trying to continue on without their leading lady will be tricky so this show will be on my DVR maybe for a binge day a few weeks in to the season.
The Good Wife- Sunday, October 4th at 9/8 Central on CBS- Honestly, I barely remember how this season ended. Did Alicia change jobs or win an election? I can't remember. I do know that Kalinda left and that was sad. Most likely I'll head back to watching this show off my DVR and I'm sure it will suck me back in the finale wasn't one I found extremely memorable.
Shows with the Most Character Growth Potential:
Chicago P.D.- Wednesday, September 30th at 10/9 Central on NBC- We saw Chicago P.D. end last season with the demise of Erin Lindsay. After the death of a very close friend Erin begins to unravel. Starting to drink and party again and turning to her messed up mother because no one else will cut her any slack to just mess around. She leaves Voight and the police squad leaving her in a very interesting place. Watching her recover and come back from this is going to give her a great chance to grow as a character and hopefully we'll see her back with the Intelligence Unit after just a few episodes!
Once Upon a Time- Sunday, September 27th at 8/7 Central on ABC- Another show with a great cliffhanger and a wonderful chance to see a character develop and change. We saw Once end with Emma taking Regina's place and becoming the Dark One. Seeing Emma, who's always been walking the straight and narrow path, now as a villain is going to be a great story and hopefully her parents, Henry and Hook can bring her back from this evil side, after a few dramatic events of course!
Steadiest Shows for a Good Watch:
Blue Bloods- Friday, September 25th at 10/9 Central on CBS- Blue Bloods is one of our favorite shows. It's an easy watch, has just enough drama that it's great but not too much that you're overwhelmed with it all. It's a great show without all the dramatic cliffhangers but with good family values and some great cop stories.
Modern Family- Wednesday, September 23rd at 9/8 Central on ABC- Modern Family is one of our favorite shows to turn on when we need a good laugh and just something enjoyable to watch. No cliffhangers just good laughs!