Hi, I'm Sara from Dinner at the Zoo and I love all thing pumpkin! Doesn't everyone this time of year?! I especially love the pumpkin and chocolate flavor combination, so I created this Pumpkin Chocolate Swirl Bread for a fun twist on the old classic pumpkin bread.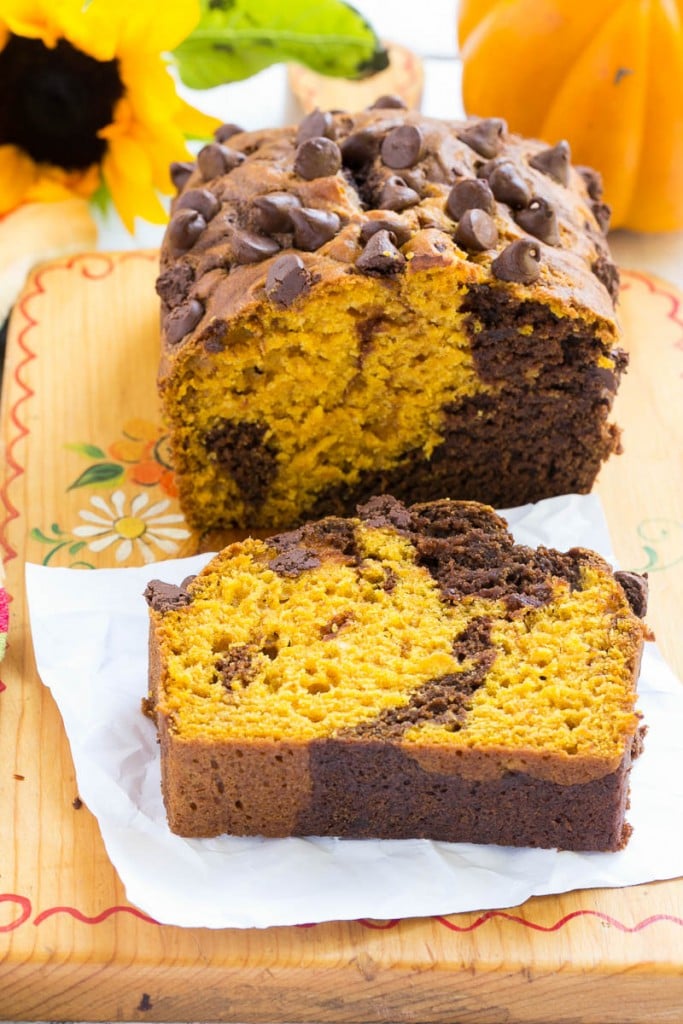 I started with a lightly spiced pumpkin bread batter. After the batter was finished, I divided it into two bowls; one bowl stayed as is, the other had a generous amount of melted chocolate mixed in. The batters get put into the pan in alternating layers and then swirled with a knife or toothpick to get that pretty marbling effect.
I finished off the pumpkin chocolate swirl bread with a handful of chocolate chips on top – you can never have too many chocolate chips! It looks like an ordinary pumpkin bread on the outside, but people will be so surprised when they cut into it and find the chocolate swirl inside.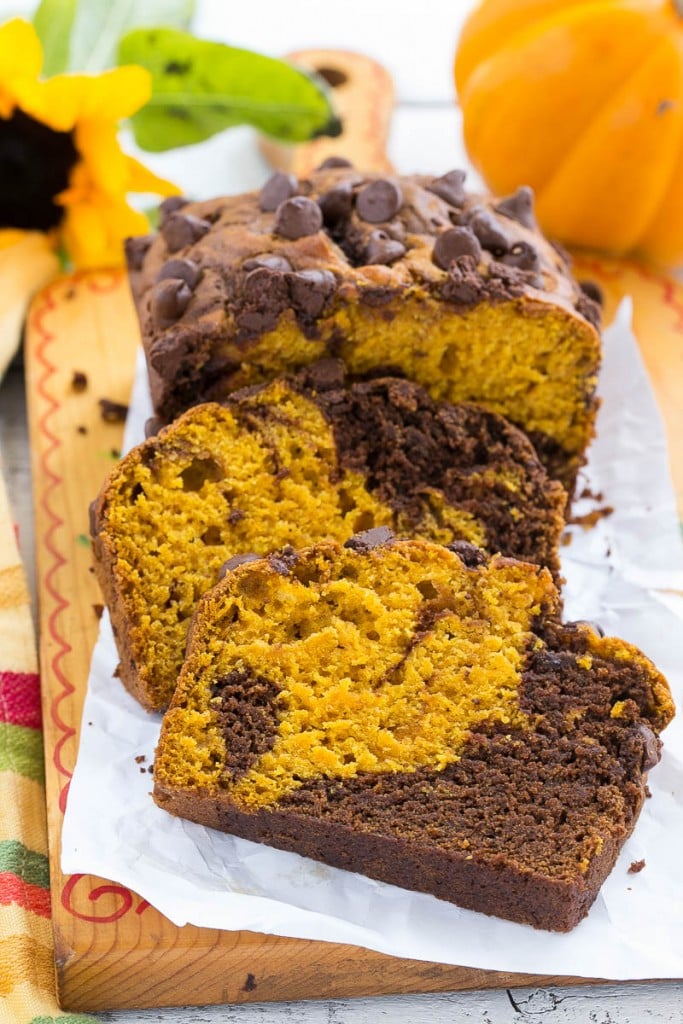 For more great recipes you can visit my website Dinner at the Zoo. You can also find me on Facebook, Pinterest and Instagram!
Pumpkin Chocolate Swirl Bread
Author:
Prep time:
Cook time:
Total time:
A pumpkin bread with a chocolate swirl in the middle.
Ingredients
1 and 1/2 cups all-purpose flour
1 cup sugar
1 teaspoons baking soda
1/2 teaspoon baking powder
1/2 teaspoon ground cinnamon
1/4 teaspoon salt
1/3 cup canola oil
2 eggs, lightly beaten
1 cup of canned pumpkin
1 teaspoon vanilla
1 cup chocolate chips, divided
cooking spray
Cooking spray
Instructions
Preheat oven to 350°. Grease an 8 1/2 inch or 9 inch loaf pan with cooking spray..
Combine flour and next 5 ingredients (through salt) in a large bowl; make a well in center of mixture. Combine canola oil, eggs, and pumpkin in a medium bowl; stir with a whisk until smooth. Add to flour mixture, stirring just until moist.
Divide the batter into 2 bowls. Melt 1/2 cup of chocolate chips, let it cool slightly.
Stir the melted chocolate into one of the bowls of batter.
Alternate between spooning each color of batter into the pan – you want it to look like a checkerboard when you're done. Use a knife or skewer to swirl the batters together.
Sprinkle the remaing 1/2 cup of chocolate chips over the top and place in the oven.
Bake at for 50-60 minutes or until a wooden pick inserted in center comes out clean. Cool on a wire rack for 10-15 minutes; remove from pan.