My contributor Rebecca from Rebecca Chapman is sharing her Tips for Preparing for Holiday Guests!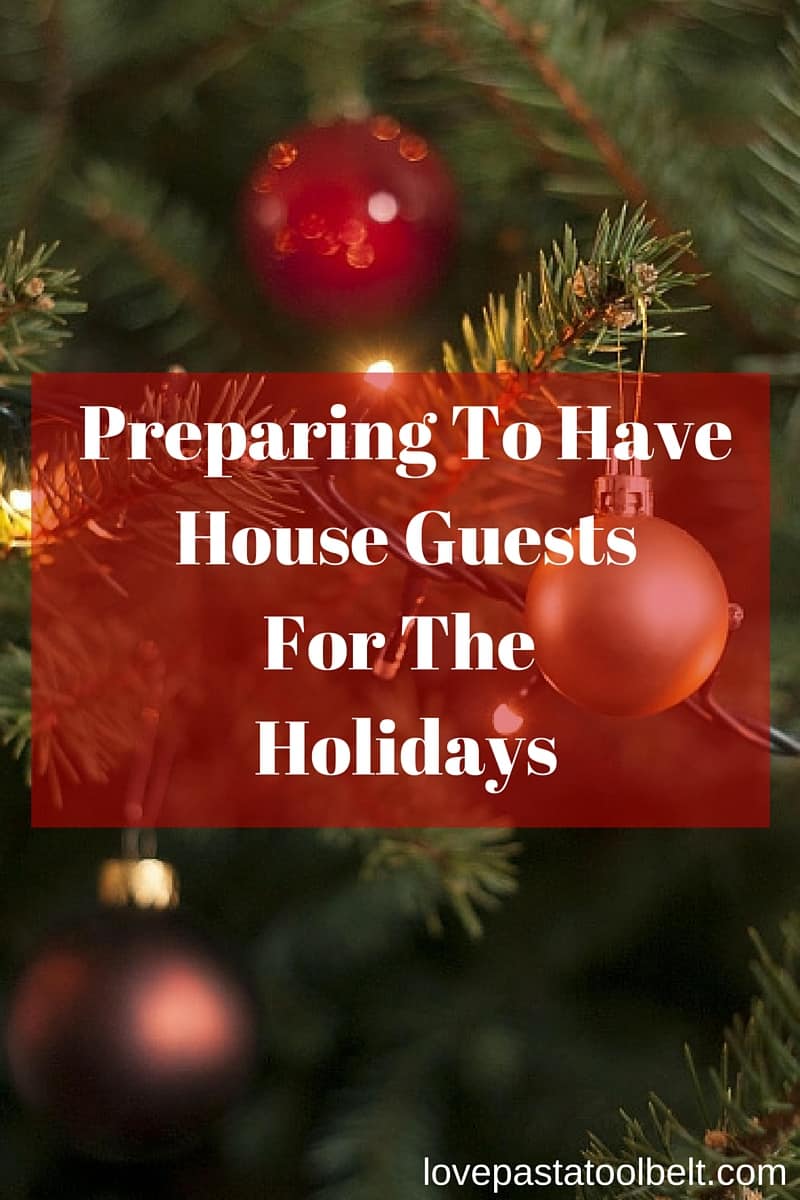 As we get closer and closer to Christmas, many of us are preparing to have guests come stay with us for the holidays. This year, my parents are coming to visit my husband and I, and not only will it be their first experience with a non-Californian winter, it will be the first time they see our new house. As exciting as it is to have family in town, it can also be stressful to prepare to have them stay with you. However, with a little bit of preparation, having house guests for the holidays can be a much more enjoyable experience.
1. Prepare A Space For Guests To Sleep
This could mean a full guest room or an office with bed. Whatever it is, make sure your guests have somewhere comfortable to sleep that has a bit of privacy. Give them freshly cleaned sheets and plenty of extra pillows and blankets.
2. Give Them Space To Store Their Items
I like to make sure I have space in a closet for my guests to hang up their clothes, but you may not have this luxury in a house with little storage space. If you don't have closet or drawer space, make sure guests have at least have enough floor room to fully open their suitcase and be able to pull out all of their items.
3. Stock Up On Bathroom Essentials
Keep extra toiletries on hand in case your guests happen to forget anything. Be sure that your guests know which towels to use for showers and that they have plenty of extra towels in a variety of sizes.
4. Ask About Food Preferences
What do your guests like for breakfast? Are they allergic to anything? Do they drink coffee in the morning and what do they take in it? These are questions to ask before your guests arrive so you can stock your kitchen with the items that they like and avoid any problem foods during meals. Be sure to show your guests were snacks, dishes, and utensils are when they arrive so that they can make themselves at home.
5. Have A Basic Schedule
Let your guests know a tentative schedule for the days they are with you. Will you need them to wake up at a certain time? Do you have other commitments that you need to schedule around your visitors? Make sure they have a heads up so their aren't any surprises or stresses later.
6. Ask Your Guests What They Want To Do While In Town
There may be certain places they want to visit or restaurants they want to eat at. Make sure that you've discussed these desires beforehand so that they can be worked into the schedule and that no one feels like they missed out during their visit.
7. ENJOY EACH OTHER'S COMPANY
The only true rule that should be followed. Remember that visitors eventually go home and that their visit is temporary. Use the time with them to have fun and not to stress over what wasn't cleaned, or what places weren't visited.
Are you having visitors this year? How are you preparing for them?
Facebook | Twitter | Instagram | Pinterest | Bloglovin'