Work from home? My contributor Charlene has 15 Tips for Staying Focused While Working From Home!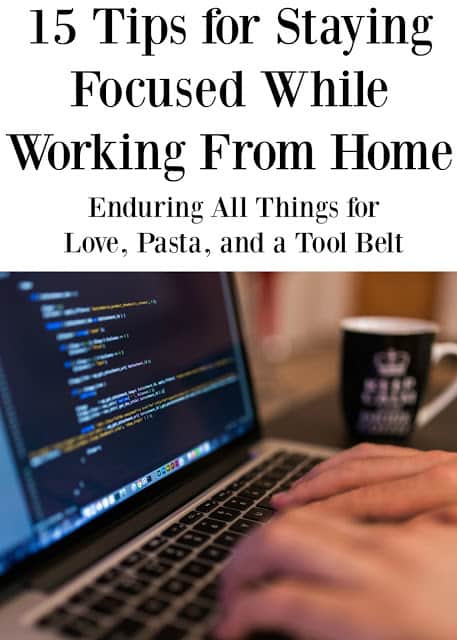 Working from home can be difficult at times. As I've mentioned here before, I am a Junior Developer for an accounting software company and I'm also a blogger. Both of these jobs I do from my home office. The software company is based in Atlanta, Georgia and I was very blessed that they wanted to keep me on to work remote when my husband and I moved to Ohio almost 4 years ago.
I am an introvert and don't need a whole lot of human interaction to be happy. Also, I'm a southerner at heart and hate the winter weather here in Ohio. So most days, I am very thankful for my job and being able to work from home and not having to leave the house. But I would be lying if I said it didn't come with its challenges. Namely, the challenge of staying focused. So I decided to give you some tips to make it a little easier today!
Get up when your alarm goes off no matter what
My (first) alarm goes off at 7:30 and I don't have to be "at work" till 8. It's so tempting to sleep longer and roll out of bed just in time to log in. But if I can get up 30 minutes before I have to log in, I can wake up slowly, get some coffee in me and read some scripture. The whole day goes so much better and I don't feel groggy all morning.
Make coffee the night before
My coffee maker has a timer setting. I can put the coffee in the night before and set it to brew at 7:30 am. Then when I'm tempted to stay in bed, I smell the coffee and it's a pretty good motivator. Plus, nobody wants to have to actually make coffee when they're still half asleep in the morning. I've made plenty of messy kitchens that way.
Change out of your pajamas
Even if you just put on lounge wear or active wear, changing your clothes helps get you mentally ready for the day ahead. If you stay in the same clothes you slept in, it could seem like you never really got out of bed.
I'll admit, I don't shower every day. Especially on days I don't go anywhere (which is most days – thanks to working from home). And I almost never shower in the morning. I'm a night showerer. But on the days that I do make the effort to shower or at least change and put some deodorant on, I am so much more productive.
Leave your phone in the other room
This is a tough one, but I find myself on my phone far too often during the work day. I try to leave it in my bedroom during the day and just check it every once in a while.
Keep your space clean and organized
I don't know about you, but a cluttered office space kills my creativity and motivation. I try to keep things tidy but junk always seems to pile up. I make a point to tidy up every Friday before I sign off for the weekend.
Listen to non-lyric music
I have to have music on while I'm working. But sometimes, if it's a song I know and love, I end up singing and jamming instead of working. Classical or piano music helps me focus.
Water really is amazing. It wakes you up and gives you energy. It helps with headaches, and bloating, and with focus. It's a miracle drink!
This extension is so cool. You can create a list of websites that you want to limit your time on per day. Or if you have a lot of websites you shouldn't be on, you can do a list of allowed sites. I have it set up so that all social media and blog related websites are on my list. Between the hours of 8 AM and 5 PM, I can only spend 10 minutes total on these websites. This is a big contender in my focusing on work during those hours.
I love sitting on an exercise ball at my desk. Not only is it good for my core strength and posture, it helps me stay focused. Have you ever leaned back in your chair and dozed off, whether literally or mentally? Sitting on an exercise ball prevents that.
I have a schedule literally written out on paper and taped to the side of my computer screen. Not that I always follow it, but it's a good reminder sometimes. I literally scheduled times to take a break from development work and read blogs, check social media etc.
Make your office space inspirational
I wrote a post a couple months ago for Emily about my
gallery wall in my office
. If I'm not inspired by my work space, then I can't be creative or focused in my work. It's important to me that the space reflects me. I want to switch out my desk for something more trendy next.
For some reason, candles just make a space feel more inviting to me. I want to spend more time in the office when there's a candle lit. The scent and the flame also help me focus better.
Sometimes you simply need a change of scenery, am I right? Sometimes, just for a change, I'll take my laptop to Starbucks and work. Or to the library for even fewer distractions. I don't actually do that for development work that much because I have everything set up at my home desk including an external monitor and a VoIP phone, but I do it for blogging quite a bit.
Sort of on the other end of the spectrum from what we've been talking about, when you work from home, sometimes it's hard to step away when you get engrossed in your work. Whenever I go to the office (
I have to travel to the home office about once every couple months
), I'm always so amazed at how much people talk and socialize. When you work from home, you don't get that. Stepping away from the computer to go for a walk or something is good for your focus. You need a break every once in a while.
So what do you think? Do you struggle to focus when you work from home? What tips could you add to my list?
Thanks for reading!