Enjoy a fun treat with these Pink Lemonade Macarons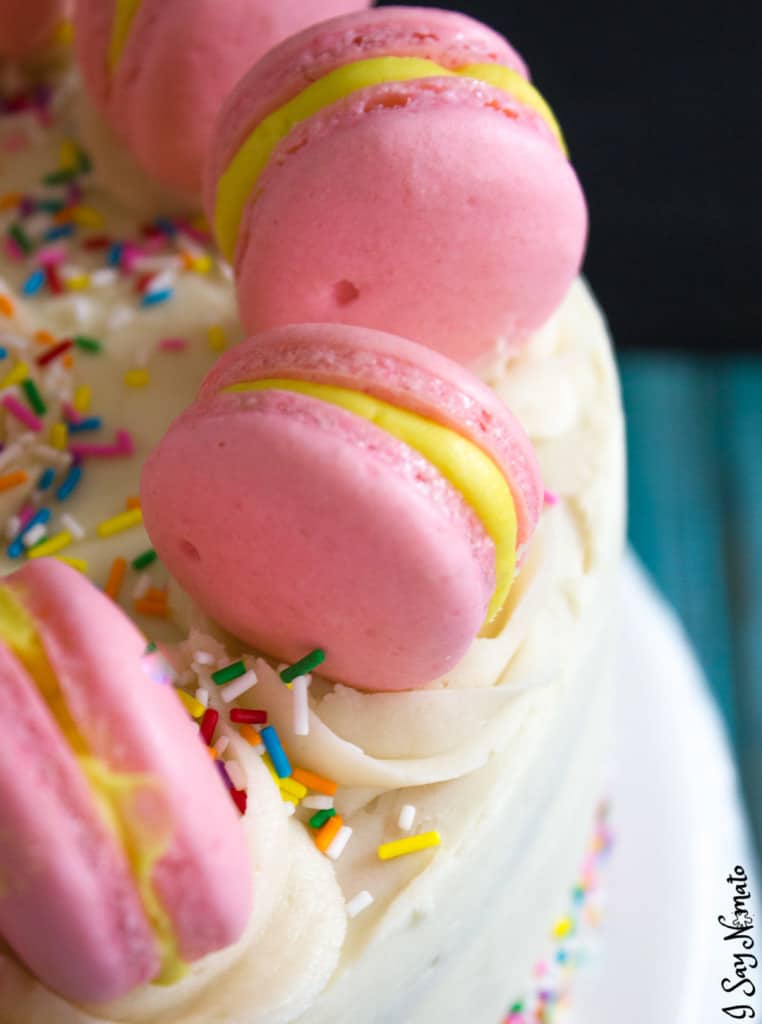 Hello! My name is Cristina, and I blog over at I Say Nomato, a site dedicated to all the wonderful things you can still eat even when peppers, tomatoes and white potatoes are off the table. I use only fresh ingredients and make everything from scratch, with a focus on using more local and less processed food. If that's your thing, come and visit, allergies or not!
Thank you so much to Emily here at Love, Pasta and a Tool Belt for a chance to be able to come and share this amazing Pink Lemonade Macarons recipe on your beautiful blog! (Congratulations!)
Today we're making MACARONS! Who doesn't love a good macaron? They're just so small and adorable, but they can be tricky. I documented my first attempt at making macarons in my Mint Chocolate Macaron recipe, but I have definitely made some changes since then. These are the result of attempt #3. I adapted Eat Live Travel Write's step-by-step instructions with a couple changes to make these gorgeous Pink Lemonade Macarons!
First, weigh out your almond flour and powdered sugar. This step is important to keep accuracy – cup measures will not do here.
Pour them into a bowl and mix, or to break down the almond flour even further (mine was a little grainy!), toss them both in a food processor to mix! Pulse them about 10 times for 10 seconds, until everything is all mixed together and fluffy.
Now the fun part (JUST KIDDING – this is the longest part of this whole recipe!). Pass the entire mixture through a fine sieve. Use your hand if necessary. If you end up with some big grainy pieces, don't try to force them through, instead set them aside for a different recipe (almond pie crust?).
Set that aside, it's meringue time! First, make sure that your whisk and bowl are completely clean. If they're even a little oily, your meringue won't set up, so if you're afraid just take a little lemon juice and wipe them down.
Toss in your egg whites, and beat on a low speed until they're nice an frothy!
Almost there! Add your white sugar a little bit at a time, nice and slow so that they get absorbed into the meringue.
Keep beating on a low speed until hard peaks start to form. Add in your almond flavour and pink food colouring (if you can, use a gel or powder food colour so you're not adding any additional liquid to the mix! if not, it's fine, you'll just have to beat for a little longer). For me with my Kitchen-Aid on 2, it was about 5 minutes.
Now combine your meringue to your almond flour mixture.
Fold them together! This part you really want to go easy on – try to get everything mixed in no more than 35-40 folds so you don't lose too much air!
Eventually it will become almost liquidy and sink back into itself.
Fill a pastry bag fitted with a round nozzle (I used a Wilton 12). I find the easiest way to do this is to put the bag in a tall cup and fold it over the sides, or else it just gets everywhere!
Cover baking sheets with parchment paper (you can stick it down with a little batter under each corner), and start dispensing the macarons. Make sure you give them a little bit of room (I did not!), because they will flatten a bit. Dispense from a 45 degree angle, and just release pressure and pull away.
Set them aside for at least 30 minutes, until the top gets a little hard to the touch. This is important for getting that nice dome with little feet! On a rainy day or humid place, I'd say leave them for longer.
Your oven should be at 320°. Different people swear by different temperatures, but at one point I turned these down to 280° because some were getting a little brown on the top while the insides weren't set yet, so it really depends on your kitchen.
How do you know when they're done? A finished macaron will just lift off in one piece from the parchment. It's about 12 minutes, but I find it varies based on the weather, your oven… many things!
They should have a beautiful domed cap and 'feet' at the bottom.
I slapped some lemon buttercream in the middle, and tossed them on top of a Pink Lemonade Ombre Layer Cake.
And there you have it! Perfect, light, chewy crisp macarons!
If you would love to see more recipes like this one, come visit me at I Say Nomato!
Pink Lemonade Macarons
Author:
Ingredients
Cookies:
115g (4oz) ground almond flour
230g (8oz) powdered sugar
144g (5oz) room temperature egg whites (~4 medium egg whites)
72g (2.5oz) white sugar
OPTIONAL 1/4 tsp almond extract and/or lemon extract
Pink food colouring, preferably powder or gel.
Lemon Buttercream:
1/4 cup butter
1 cup powdered sugar
1-2 Tbsps heavy cream or milk
1 tsp lemon juice or 1/2 tsp lemon extract
Yellow food colouring if desired, powder gel or liquid is fine.
Instructions
Before we start, it is important for me to note that macarons are a little finicky, and many of the times in the instructions below might be different for you based on things like the humidity of your kitchen. A little trial and error may be necessary!
Weigh out your almond flour and powdered sugar, and place in a bowl together. Depending on how grainy or sticky your almond flour is, you can put the mixture in a food processor and pulse 10 times for 10 seconds.
Pass the mixture through a fine sieve. This part takes some time, and you may have to use your hand. If there are any very large grains, don't push them through, just set them aside for another recipe.
Set the almond flour and powdered sugar mixture aside.
In a stand mixer, beat your egg whites until they are frothy, and then add your white sugar a little bit at a time.
Beat on a low-medium speed until stiff peaks form (it was about 5 minutes for my mixer)
Add your food colouring and flavour extract, and beat for another 30 seconds or until evenly distributed.
Gently fold your meringue and your almond flour mixture together. Be careful here, you don't want it to deflate. Try to fold it no more than 35-40 times. It should become almost liquidy and sink back into itself.
Place parchment paper onto two flat cookie sheets. You can make it stick with just a little batter under each corner.
Place the mixture in a pastry bag with a large, round nozzle (I used Wilton 10). Squeeze the macarons onto your baking sheets, holding your pastry bag at a 45° angle (see gif above!), and just release the pressure and pull away once you've got a nice circle 2 inches in diameter.
Set your macarons aside for at least 30 minutes, or until the top of the dome hardens a bit. Depending on how humid your kitchen is, it might take an hour or more, but that is how you get that really nice dome and the little 'feet'.
Preheat your oven to 320°F.
Bake the macarons for about 12 minutes. Keep a close eye on them. I had to turn my oven down to 280°F because some of them were getting brown but the inside wasn't cooked all the way through. You'll know they're finished when they just come off the parchment paper leaving nothing behind.
In a bowl, mix all buttercream ingredients. It should be nice and smooth, thin enough to spread, but thick enough to be frosting.
When the macarons are cool, make sandwiches with the lemon frosting in the middle. Enjoy!