One thing I love about fall is apples. Everyone is all about the pumpkins but for me it's apples. I love to go pick apples and try out all things apple. When I saw this recipe for Apple Cinnamon Bread I knew that I had to use it. I found this recipe over at All Recipes.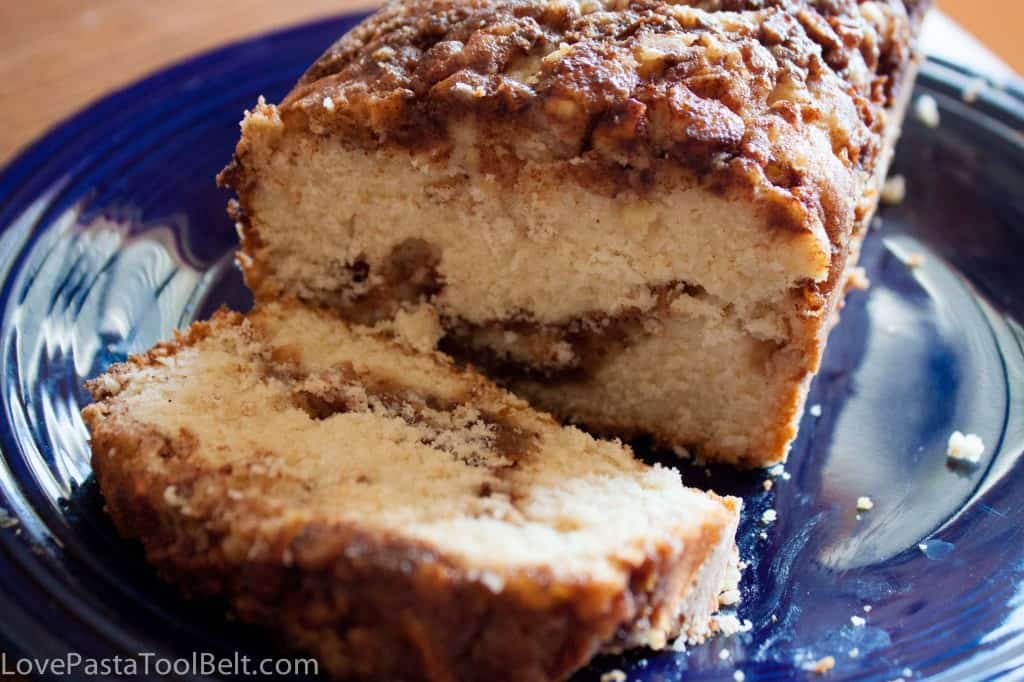 Apples are one of my favorite things to cook with but I am awful at peeling apples. Until I discovered this amazing apple peeler and corer and now I am all about making every delicious apple recipe out there!
Apple Cinnamon Bread
Author:
Prep time:
Cook time:
Total time:
Ingredients
1/3 cup brown sugar
1 teaspoon ground cinnamon
2/3 cup white sugar
1/2 cup, butter softened
2 eggs
1 1/2 teaspoons vanilla extract
1 1/2 cups all purpose flour
1 3/4 teaspoons baking powder
1/2 cup milk
1 Granny Smith apple, peeled and chopped into small pieces
Instructions
In a small bowl mix together the brown sugar and cinnamon
Take a medium bowl and beat together the white sugar and melted butter with an electric mixer until smooth and creamy.
Take the eggs and beat them into the sugar mixture one by one until smooth. Then add the vanilla extract.
In another bowl combine flour and baking powder and then mix it into the sugar mixture until combined.
Add milk into flour and sugar batter and mix until batter is smooth
Grease loaf pan and lightly flour
Pour half of the batter into the loaf pan
Peel and chop the apple into small pieces
Sprinkle half the apples and then half of the cinnamon/brown sugar mixture onto batter in pan and pat lightly into batter.
Pour remaining batter on top
Sprinkle remaining apples and cinnamon/brown sugar mixture onto top of batter and lightly pat apples down and then swirl the cinnamon sugar mixture around on top.
Bake at 350 for 40-55 minutes, until a fork comes out clean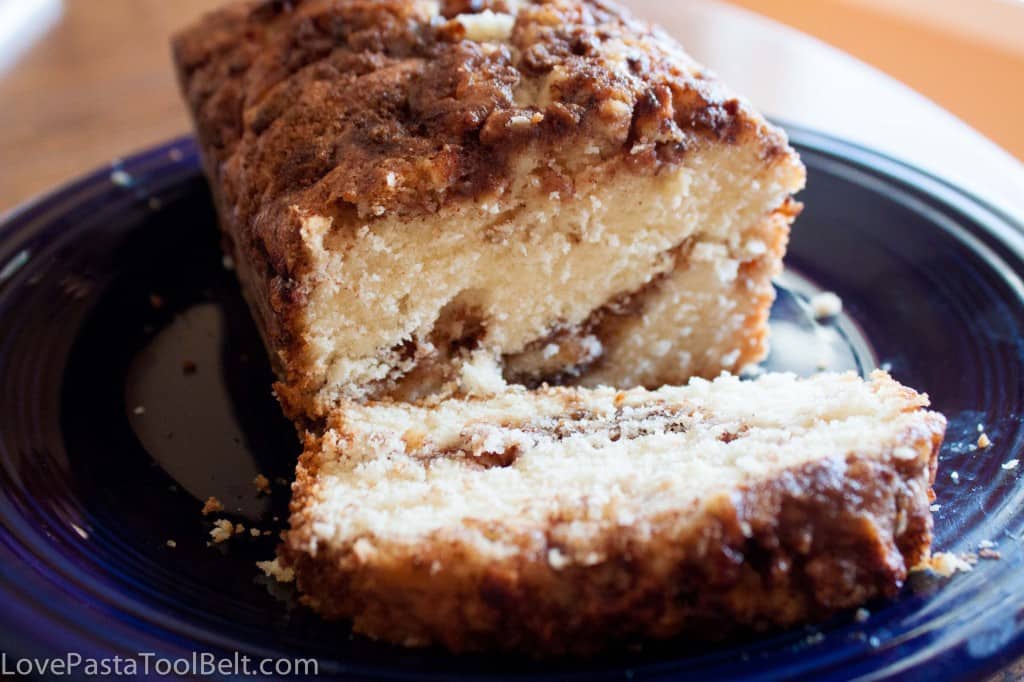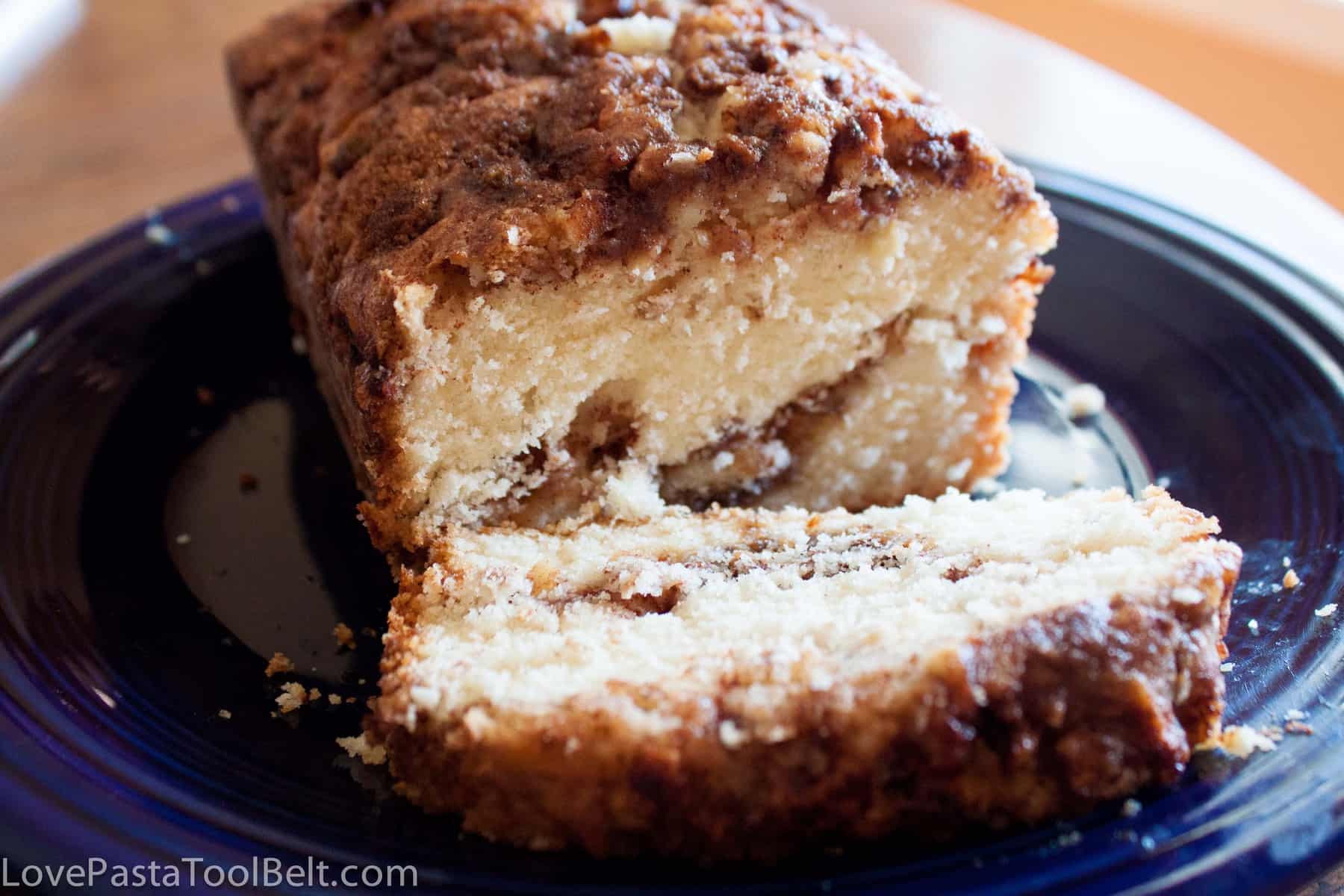 It's a lot of steps but really quite easy and so delicious. We have all been snacking on it this week and loving it. I can't wait to make it again. I want to go apple picking soon. Do you have any favorite apple recipes? I am always looking for new apple dishes to try!