Today I have for you our Kitchen Reveal: Before and After. I am so excited to share this room with you. It's probably the biggest transformation of all of the rooms in our house, so far. We have put a lot of work into this room and still have more we want to do. But right now I am loving it.
The first thing we did I talked about in our Living Room Reveal. We took out a wall. As you can see from the pictures this wall was blank on both sides. It didn't house any appliances or cabinets so we knew we wanted  it gone. Easier said than done. This wall was a low bearing wall so we called in professionals to help us out. We (or rather Tyler) did the demo on the drywall and then we had someone come in and take out the studs and put in a beam and fix everything up. It opens up the room so much, I love it!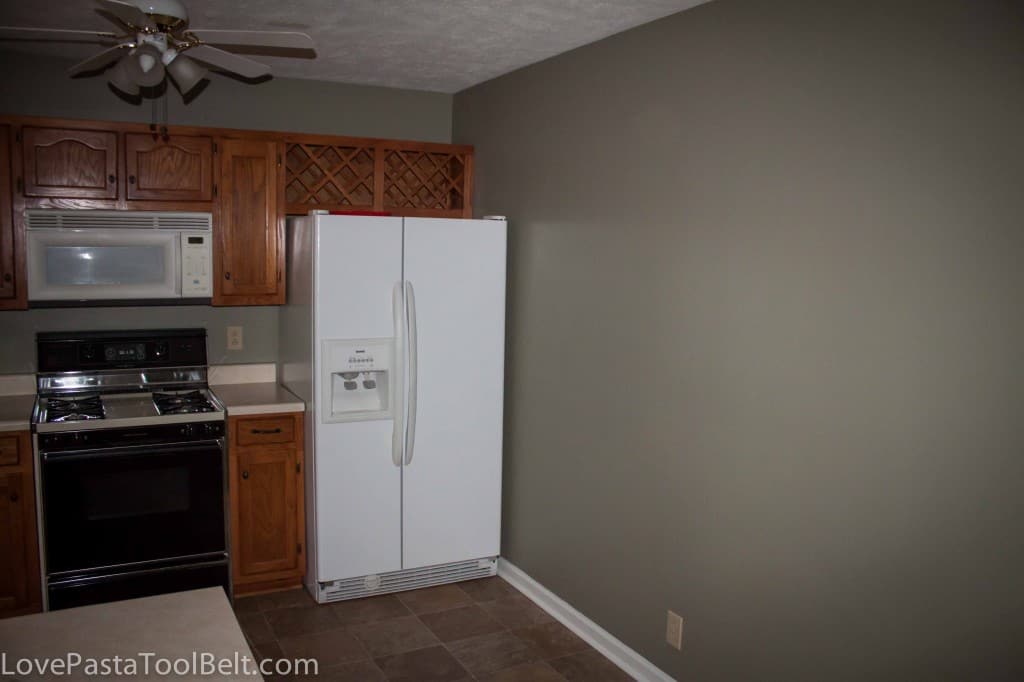 The biggest thing that really changed this kitchen was painting the cabinets. I started this project with cleaning, sanding and priming (no easy task) and then my dad was kind enough to come in and paint the cabinets for us. You can read about how we painted our cabinets here. I used to say I didn't like white cabinets but then I came to love them. When we found this house I really wasn't a fan of the oak cabinets so we decided to embark on painting them and the result was wonderful. The paint for the cabinets is Benjamin Moore- Satin Impervo in the color Sailcloth.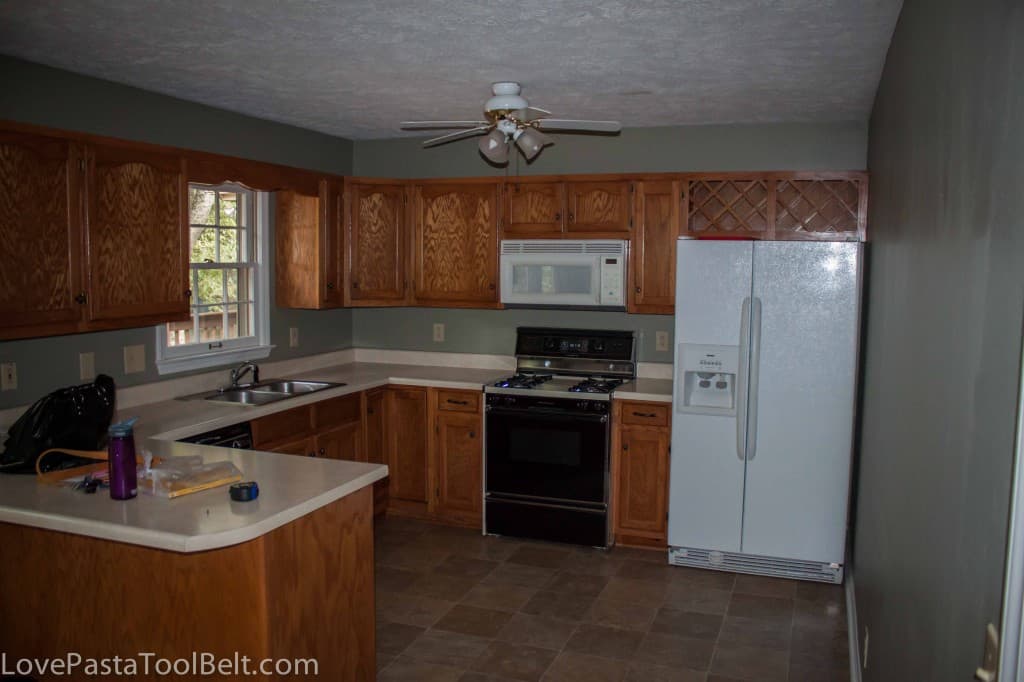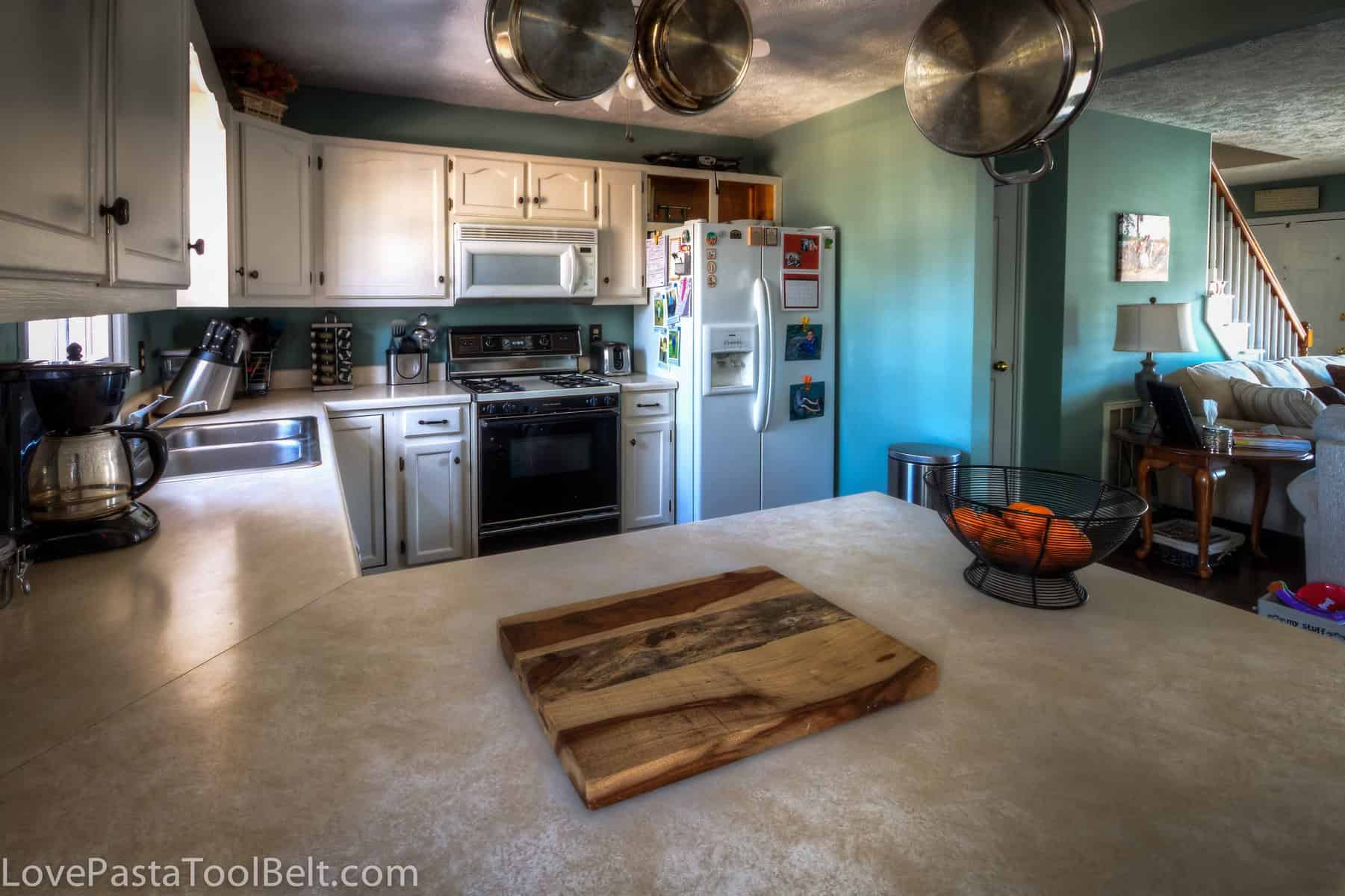 The floors are the same as the Living Room, continuing with our dark hardwood floors. I love the contrast from the dark floors to the white cabinets to the turquoise walls. The appliances seem to be original to the house but they work well. So for now we are sticking with what works but in the future we would love to upgrade to stainless steal appliances.
If you can see in the before and after pictures there was a wine rack above the refrigerator. This is something we did not put to use so a couple weekends ago we busted it out to use it for storage. Our plan is to paint the inside of the open cabinet a contrasting color. Any ideas for a color?
So this is our new kitchen! I would love to hear your thoughts on it and any ideas/suggestions you may have. We are loving it so far and look forward to making more changes to it! Below is our To Do List for the kitchen.
To Do:
1. Add Granite Countertops
2. Backsplash
3. Stainless Steel Appliances
4. Replace lighting
5. Add more seating options