The other day I was strolling through the grocery store and saw a picture of a delicious apple dessert. I decided that I could create it myself without copying a recipe. During the process I was pretty sure I had completely ruined the recipe but that was not the case. These Oatmeal Apple Cheesecake Bars were a huge hit with Tyler and all the family that was in town this weekend for some puppy loving. I always get really excited when I can create a recipe on my own and this is probably the most delicious dessert I've made so far.
Oatmeal Apple Cheesecake Bars
Ingredients
1 1/2 cups graham cracker crumbs
6 TBSP butter, melted
16 oz. cream cheese, softened
1 1/4 cup sugar
2 teaspoons vanilla
Crumble Ingredients:
2 Granny Smith Apples
4 tablespoons melted butter
4 tablespoons brown sugar
4 tablespoons flour
1/2 cup quick cooking oats
Caramel Sauce for topping (if desired)
Instructions
Crush graham crackers and mix with melted butter
Spread graham cracker mixture into a greased 9x13 pan
Cream together cream cheese, sugar and vanilla with a mixer
Place on top of the graham cracker mixture and allow it all to mix together because the crust will not stay put so mix together the cream cheese with the crust.
Peel and chop apples into tiny pieces
Mix together crumble ingredients and apple
Sprinkle crumble ingredients on top of cream cheese mixture
Bake at 350 for 25-30 minutes
Remove from oven and allow to cool then place in refrigerator to let it set
Top with caramel sauce if desired and serve and enjoy!
https://lovepastatoolbelt.com/2014/10/oatmeal-apple-cheesecake-bars/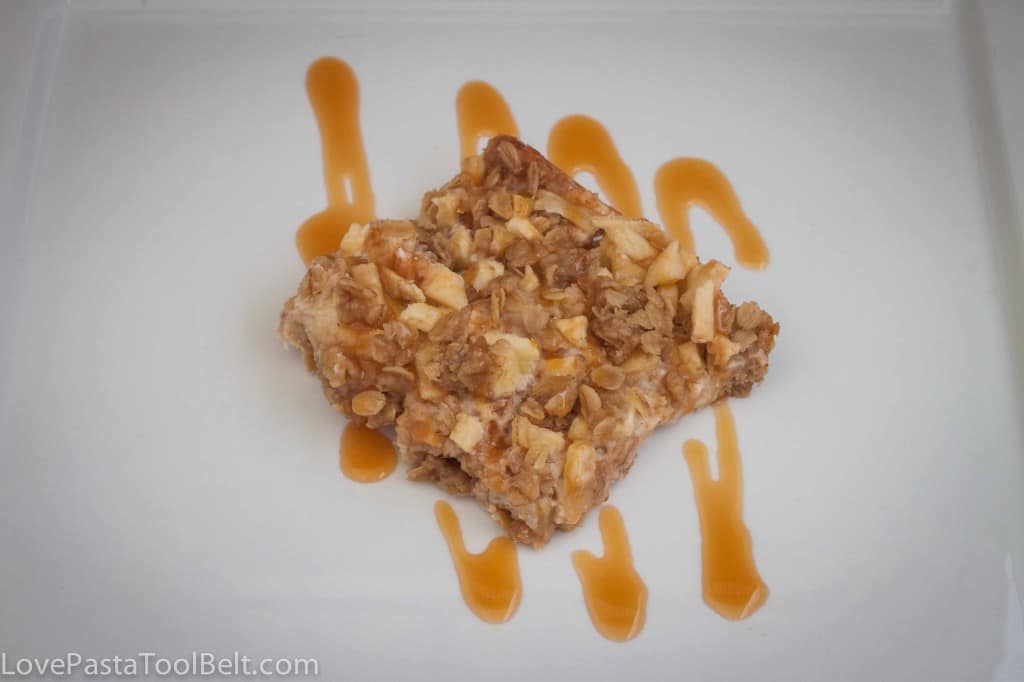 I took a big piece of this dessert out for pictures then took the rest over to share with my family. My aunt and her 3 kids were in town to spend the weekend loving on my sister's dog's puppies. Whew that was a lot of explaining there. Rubi (the dog) had 10 adorable lab puppies who have just reached the perfect age for snuggling and cuddling. So my weekend was spent with 5 puppies in my lap trying to decide which one I want to take home in about a month. It's a tough decision and Tyler says I can only keep one puppy. How's a girl to choose? If you want to see the adorable puppies then make sure you're following me on Instagram where I shared a cute picture this weekend!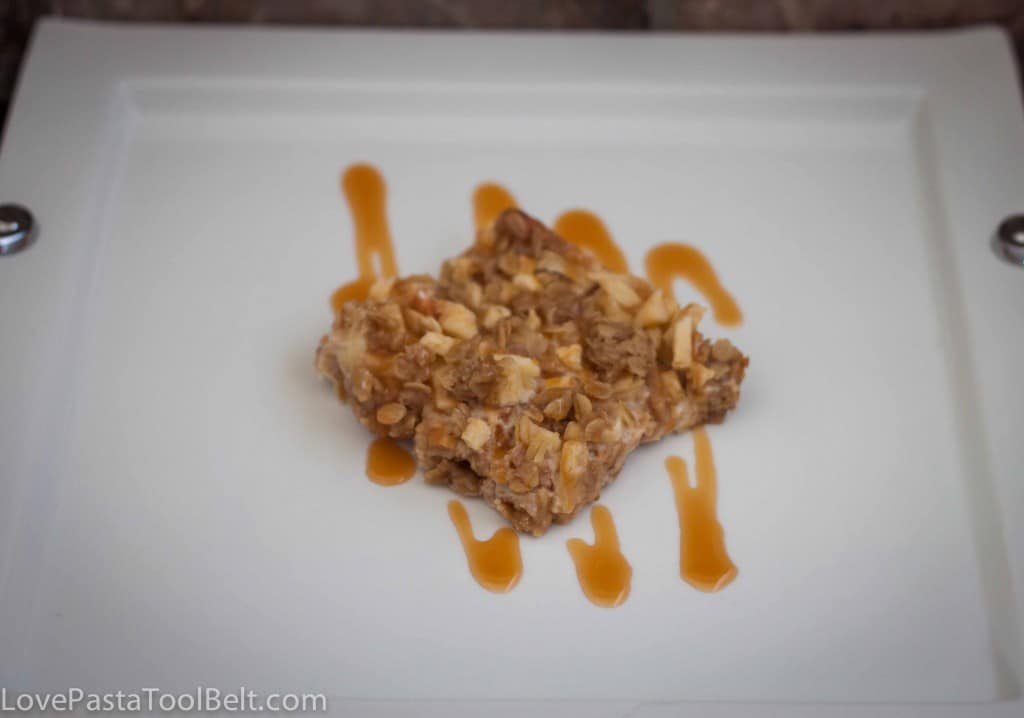 Now excuse me while I go downstairs to see if any of these Oatmeal Apple Cheesecake Bars are left for me to snack on, on this cold fall day! Are you enjoying any fall weather yet?